This spring, Ontarians have an important choice in front of them. Will we elect a government that turns its back on the climate crisis, tramples on endangered species, and appears hell bent on destroying what remains of Ontario's best farmland and wild spaces? Or will we vote to protect this province and the things that make it a great place to live?
The provincial election this June may be the last thing on your mind. I know. It's been a tough couple of years. We're all exhausted. But this June 2nd we need as many Ontarians as possible to vote for the environment.
A coalition of concerned groups are organizing a rally at Queen's Park on May 14th. We need to send a message to elected officials, to the media, and anyone that will listen: Ontarians will not stand for a government that runs roughshod over our environment, bulldozes our communities, and ignores climate change.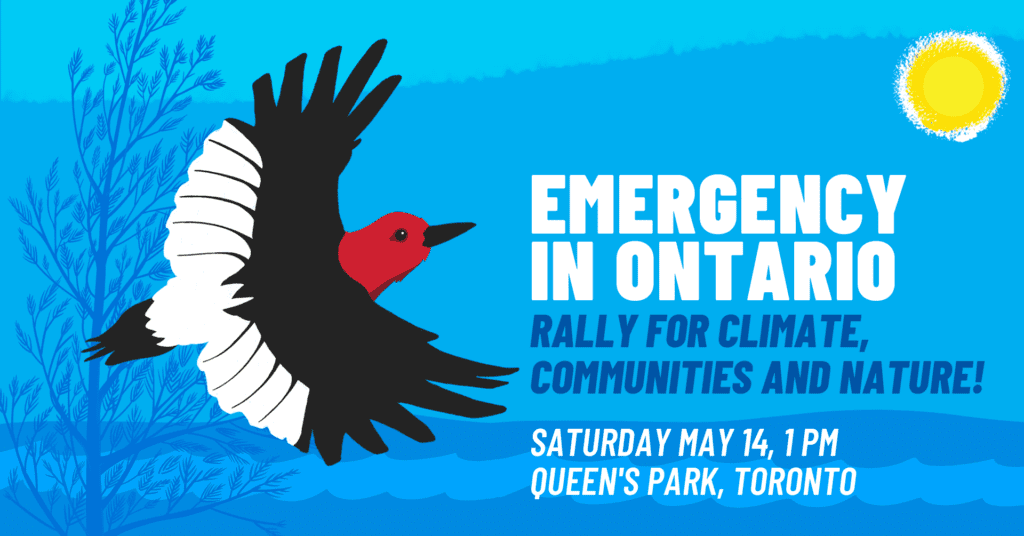 It is not an exaggeration to say that the future of this province – where we live, how we commute, our air and water, our food system, and our reputation in Canada and the world – all hang on the upcoming election. Critical decisions will be made in the next four years and the impacts of these decisions will be hard, if not impossible, to reverse.
For one, this is a critical decade for climate action. The latest report from the IPCC says that greenhouse gas emissions must peak by 2025 and decline steeply. The government that we elect in June will be in power until 2026.
The current Ontario government does not care about climate change. In fact, this government has gone backward on climate action. It fought the carbon tax, cancelled hundreds of renewable power projects, and offered up a sham of an environment plan that has been gathering dust since.
We need a government that will protect farmland, wetlands, and the Greenbelt and not build highways through them like Highway 413 and the Bradford Bypass, which the current government is dead set on building. Indeed, it opted for a route for the 413 that would have the worst impact on the Greenbelt in order to spare a developer's plans for a subdivision.
Speaking of developers, the provincial government's efforts to aid sprawl developers is shocking. It's handing out Municipal Zoning Orders like candy, opening up huge areas to development, giving land speculators and developers the freedom to build whatever they want wherever they want, locking in another 30 years of sprawl – environment and good planning be damned!
If this land is given over to the developers, there will be no going back. Have you ever tried putting toothpaste back into the tube? Yeah, like that. But with thousands of acres of land… Ontario will be forever changed.
With a majority at Queen's Park, the current government has been able to do what it wants. But people have been pushing back – fighting to stop an industrial development in Stratford, saving a wetland in Pickering, building a grassroots movement to stop new highways, and working with municipal councils to pass "no sprawl" plans.
Now this election is our big chance to get leaders in power who understand what's at stake, who will actually listen to the people rather than wealthy developers and their friends – leaders who do much more to improve the lives of Ontarians. Granted, no politician is perfect, but who we elect matters.
And getting people to tune in matters too. Which is where you can play an important role.
Join us at the Emergency In Ontario Rally for Climate, Communities and Nature at Queen's Park (south lawn) on May 14th, 1 pm.
Tell your friends to come too. Share it on your social media. Ontario is yours to protect. Let's make sure all political parties know that!