Join the May 14th Rally for Climate, Communities and Nature!
Ontario's environment is under threat.  
Greenhouse gas emissions are on the rise again, protections for nature are being dismantled, and mega projects are encroaching on communities. 
This spring we have a chance to choose another path - one that prioritizes people and the planet. 
In the lead up to the provincial election, show your support for a flourishing, low-carbon Ontario that offers good green jobs, prioritizes our collective health, and respects Indigenous rights. 
Let's come together and make it clear that we want a government that will take immediate action to bring down emissions, protect biodiversity, and build sustainable communities.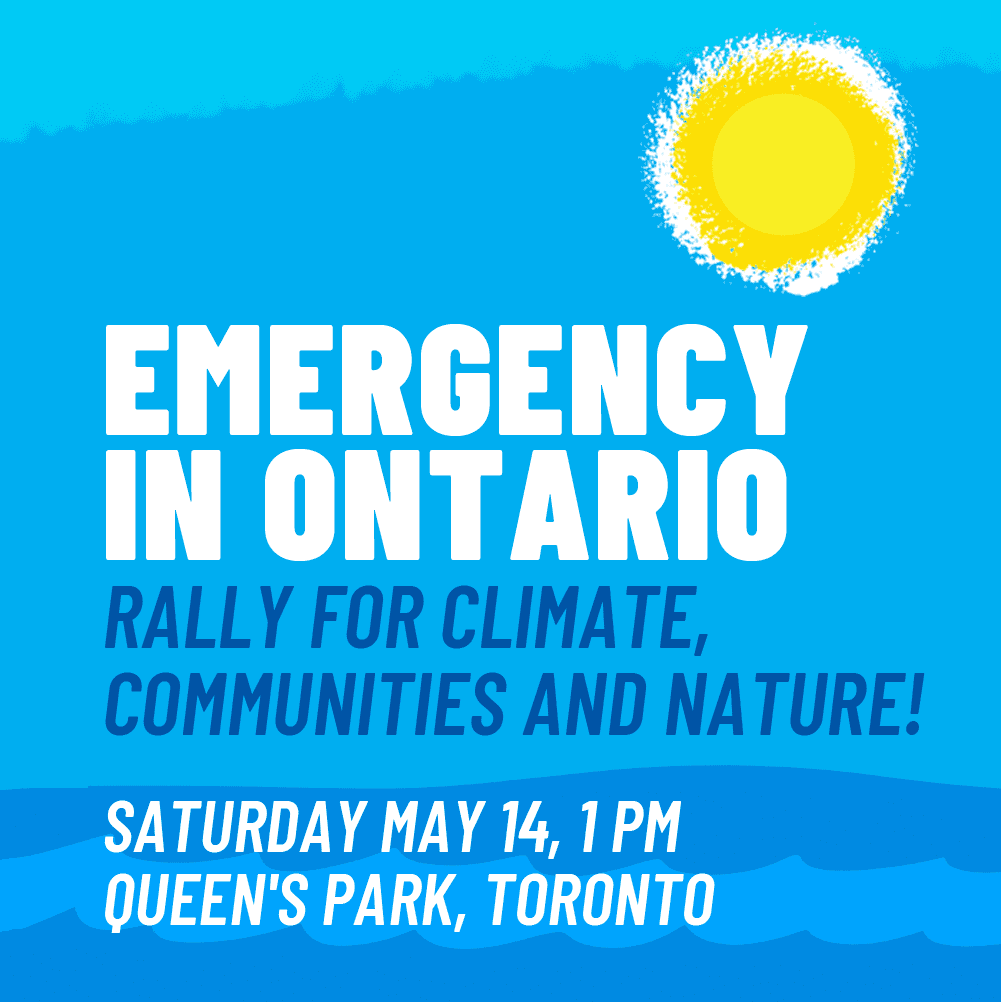 EVENT DETAILS

WHAT:
Public demonstration calling for a government that will act on climate change, build sustainable communities, and protect nature. This is a family-friendly event.

WHEN:
Saturday, May 14th 2022, from 1 p.m. - 3:30 p.m. (EDT)
WHERE:
Queen's Park, south of Legislative Assembly of Ontario
FEATURING:
Opening:
Danny Beaton, Turtle Clan Mohawk of Grand River Six Nations Territory
MCs:
Nigel Barriffe, Urban Alliance on Race Relations

Hannah Conover-Arthurs, Chef, Urban Farmer and Climate Activist in Toronto
Speakers (so far):
Crystal Sinclair, Idle No More Toronto

Andria Babbington, Toronto & York Region Labour Council

Keith Brooks, Environmental Defence

Margaret Prophet, Simcoe County Greenbelt Coalition

Randy Haluza-DeLay, KAIROS

Mili Roy, Canadian Association of Physicians for the Environment (CAPE) Ontario
Performers:
Moskitto Bar
Ron Hawkins
Charles Spearin
Solar Singers
Cassie Norton
Spirit Wind Women's Hand Drum Group
ACCESSIBILITY:
ASL interpreting services will be available
An accessible van will be available for those who have difficulty marching
A kids' area will be organized with arts & crafts and space for strollers
OTHER:
Please bring signs!
This is a zero-waste event. You are encouraged to bring your own water bottles.
If you would like to help promote the rally by postering or flyering in your neighbourhood, please contact Brian Champ at champ.brian@gmail.com.

Tweet your support for the Emergency in Ontario Rally, or download these images sized for Twitter and Facebook/ Instagram and post them on social media to share the Emergency in Ontario Rally, using the hashtags #EmergencyInOntarioRally and #VotefortheEnvironment.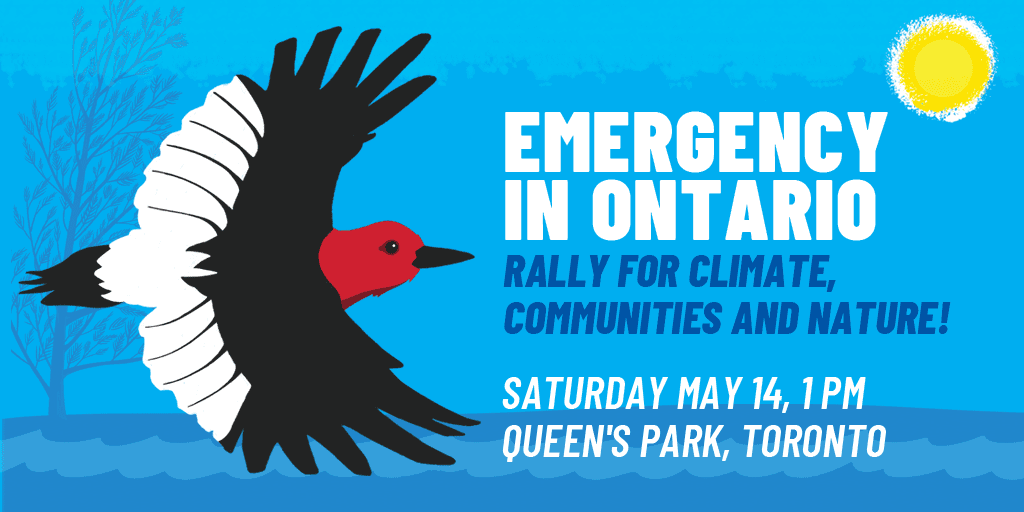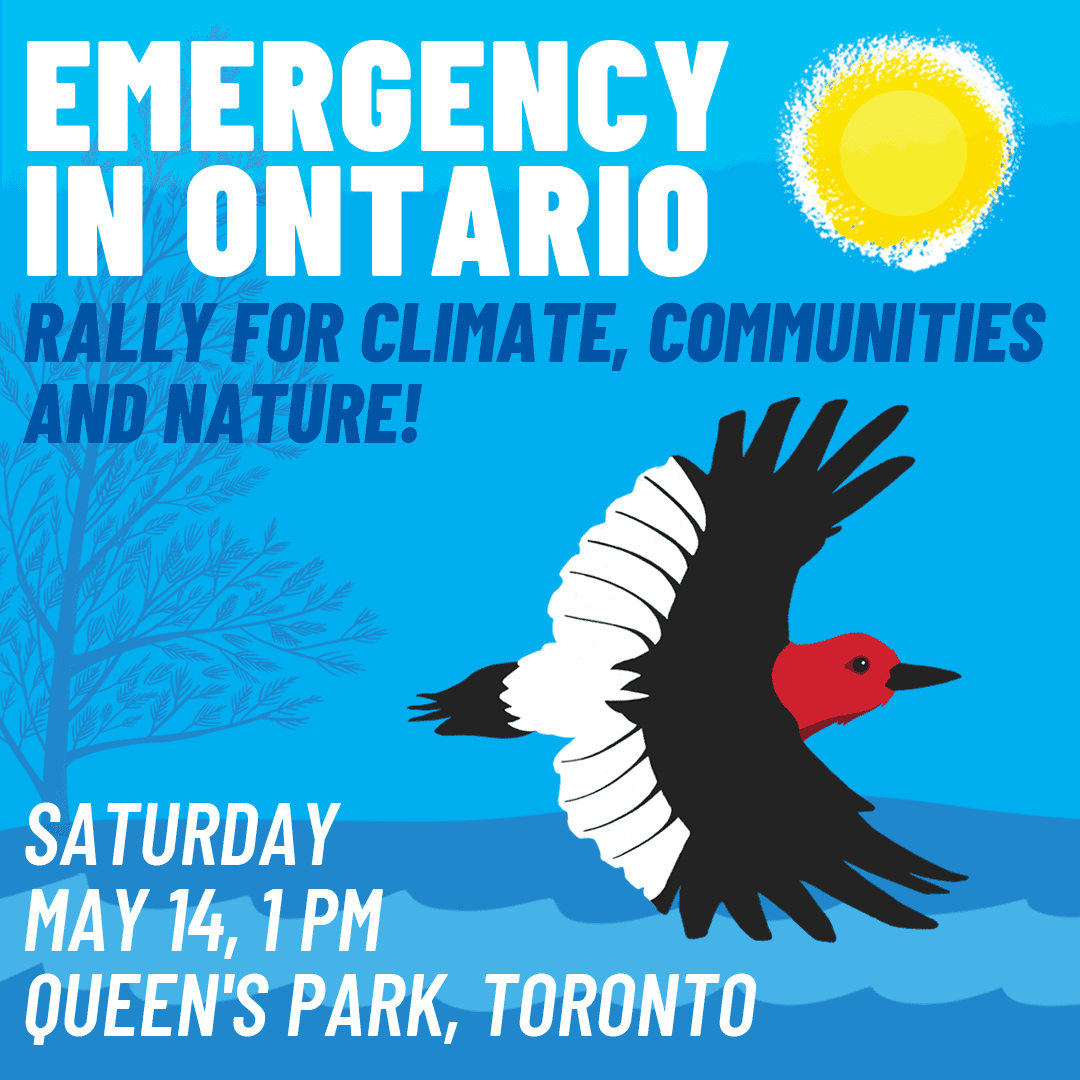 Hosted by:
Canadian Association of Physicians for the Environment (CAPE) - Ontario
Climate Fast
Climate Voice 
David Suzuki Foundation 
Environmental Defence 
For Our Kids Toronto
Greenpeace Canada
Music Declares Emergency Canada
Ontario Climate Emergency Campaign
Ontario Public Service Employees Union - Greater Toronto Area Council
Seniors For Climate Action Now!
Simcoe County Greenbelt Coalition
Steelworkers' Toronto Area Council
Toronto350
Water Watchers
Endorsed by:
Bangladeshi Canadian Community Services
Biodiversity and Climate Action Niagara
Classic Film Fans for the Earth
Community Climate Council
Council of Canadians, Kitchener Waterloo Chapter
London Environmental Network
Naturopathic Doctors for Environmental and Social Trust
Ontario Clean Air Alliance
Parkdale High-Park for Climate Action
Toronto and York Region Labour Council
Toronto Environmental Alliance (TEA)
Sierra Club Ontario - Peel Group
South Bracebridge Environmental Protection Group
Youth Climate Save
Toronto Climate Action Network
Climate Action for Lifelong Learners (CALL)
Stop Sprawl Halton
International Socialists
Spring Magazine/Spring Socialist Network
Wilderness Committee
Halton Hills Climate Action
Noor Cultural Centre
Mobilize TO
Africa Climate Action Initiative