Happy 1st Birthday! 
Dear Federal Oil & Gas Lobby Bot, 
We're so excited that you, dear Federal Oil & Gas Lobby Bot, have turned one year old this month! I remember when we first launched you on twitter at @FedLobBot, so that you could take publicly-available information out of the federal lobby registry, a complicated government website, and make it more accessible for everyone. 
The page hosts all of our monthly round-up reports in which we profile the most active fossil fuel industry lobbyists and the most frequently targeted government ministers and ministries. We also provide background information on the companies and industry groups that are lobbying the most and aim to give context to how their lobbying is influencing and obstructing government action to address climate change. 
We've introduced a new feature on our page: a counter  that keeps track of the total number of meetings the oil and gas companies we're tracking have had this year. This counter is updated every month.
And you've been busy! So far in 2023, between January-September, you've tracked… 
93 meetings with Finance Canada 

197 meetings with Environment and Climate Change Canada

248 meetings with Natural Resources Canada

Minister of Natural Resources, Jonathan Wilkinson took the most lobby meetings of any Minister or MP. He's met with oil and gas lobbyists more than 29 times. That averages out to more than 3 times per month.
Birthdays are a wonderful time to reflect on the year so far. We're so proud of what Lobby Bot has helped us bring to light about the fossil fuel industry's relentless lobbying efforts to delay climate policy, ask for taxpayer handouts, and seek loopholes in government regulations and exceptions for oil and gas projects. Looking back at your first year, there are some moments we will never forget – like when the Canadian Association of Petroleum Producers and the Pathways Alliance topped the list of lobbyists.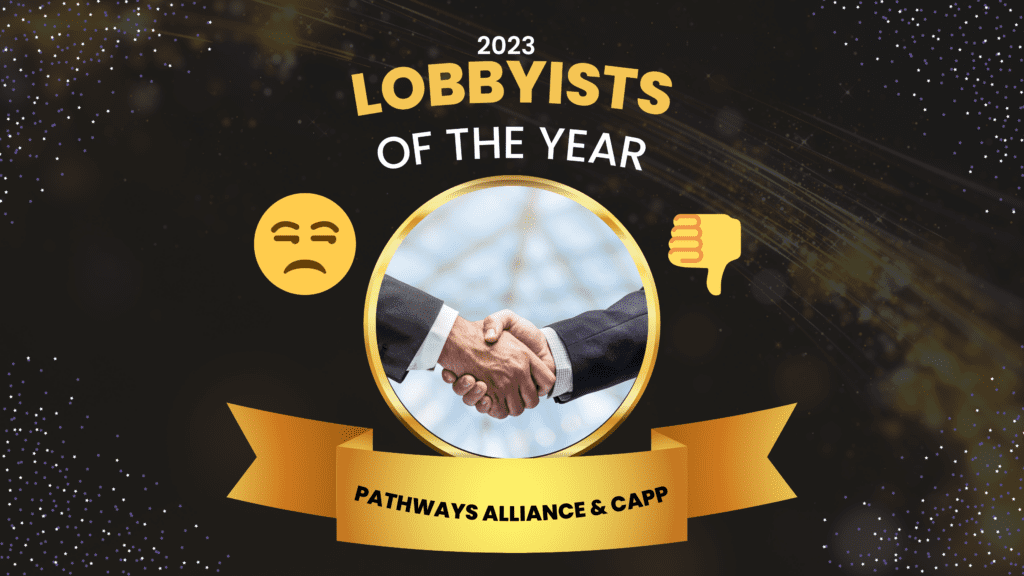 The two foremost industry lobby groups for oil and gas producers, the Canadian Association of Petroleum Producers and the Pathways Alliance, are the top two fossil fuel lobbyists so far this year. 
CAPP has lobbied 74 times between January and September, and the Pathways Alliance has had 69 lobby meetings. Combined, that's 143 lobby meeting registrations. This number doesn't even represent the full scope of their engagement with the government because government initiated meetings (which we know they're having) aren't registered. Plus these numbers don't include the lobbying that their members do as individual companies.
We know it can be a challenge to fight back against an industry with as much money, power and resources as the oil and gas industry. But, there are millions of people in Canada who want to tackle climate change. When we raise our voices together – like calling on the government to stand up to Big Oil – we know it has a powerful impact. 
We're excited for you to continue growing, Lobby Bot. In the coming year, we know you'll share more resources on how supporters can take action and push back against fossil fuel industry lobbying. 
Happy birthday, Lobby Bot! Thank you for being a great help in the fight against Big Oil. 
With love, 
Environmental Defence Canada's Climate Team
Below you can check out the monthly round-up for September's lobbying activity
WHO LOBBIED THE MOST
The companies that held the most lobbying meetings with the federal government in September 2023 were:
Tourmaline Oil Corp. and Pembina Pipeline Corp. tied for 1st place, with 10 lobby meetings each

Enbridge Inc and the Canadian Association of Petroleum Producers tied for 2nd place, with 9 meeting each

Cenovus Energy Inc. had 8 lobby meetings
WHICH MINISTRIES WERE LOBBIED THE MOST
The Ministries that had the most meetings with oil & gas companies and associations were:
Environment and Climate Change Canada (ECCC), and Natural Resources Canada (NRCan), each had 22 meetings with oil and gas lobbyists 

The Privy Council Office had 8 lobby meetings

Innovation, Science and Economic Development Canada (ISED); Finance Canada (FIN); and Global Affairs Canada (GAC) were each lobbied 7 times by the oil and gas industry
WHICH MINISTER WAS LOBBIED THE MOST
These federal ministers each took a meeting with oil & gas companies and associations:
Jonathan Wilkinson, Minister of Energy and Natural Resources

Chrystia Freeland, Minister of Finance and Deputy Prime Minister

Randy Boissonnault, Minister of Employment, Workforce Development and Official Languages

Seamus O'Regan, Minister of Labour and Seniors

Gary Anandasangaree, Minister of Crown-Indigenous Relations