Seems like even oil and gas lobbyists take holidays over the summer – in July, a mere 58 lobby meetings were reported by our lobby bot. That's still more than one meeting per day, but fewer meetings than usual for oil and gas companies.
Despite that summer feeling, one group continued to lobby with full force: Pathways Alliance Inc., which is a coalition of the six largest oil and gas companies in Canada. Together they operate about 95% of Canada's tar sands production. The coalition members include Canada Natural Resources Ltd, Cenovus, ConocoPhillips, Imperial Oil, MEG Energy and Suncor.
The Pathways Alliance had 12 meetings in July with high ranking public servants in Natural Resource Canada (NRCan), Environment and Climate Change Canada (ECCC), Finance and Innovation, Science and Economic Development Canada (ISED), as well as Minister Wilkinson and MP James Maloney. In addition to their lobby meetings as members of Pathways Alliance, the companies that make up the coalition also lobby individually and had 22 meetings with the government in July.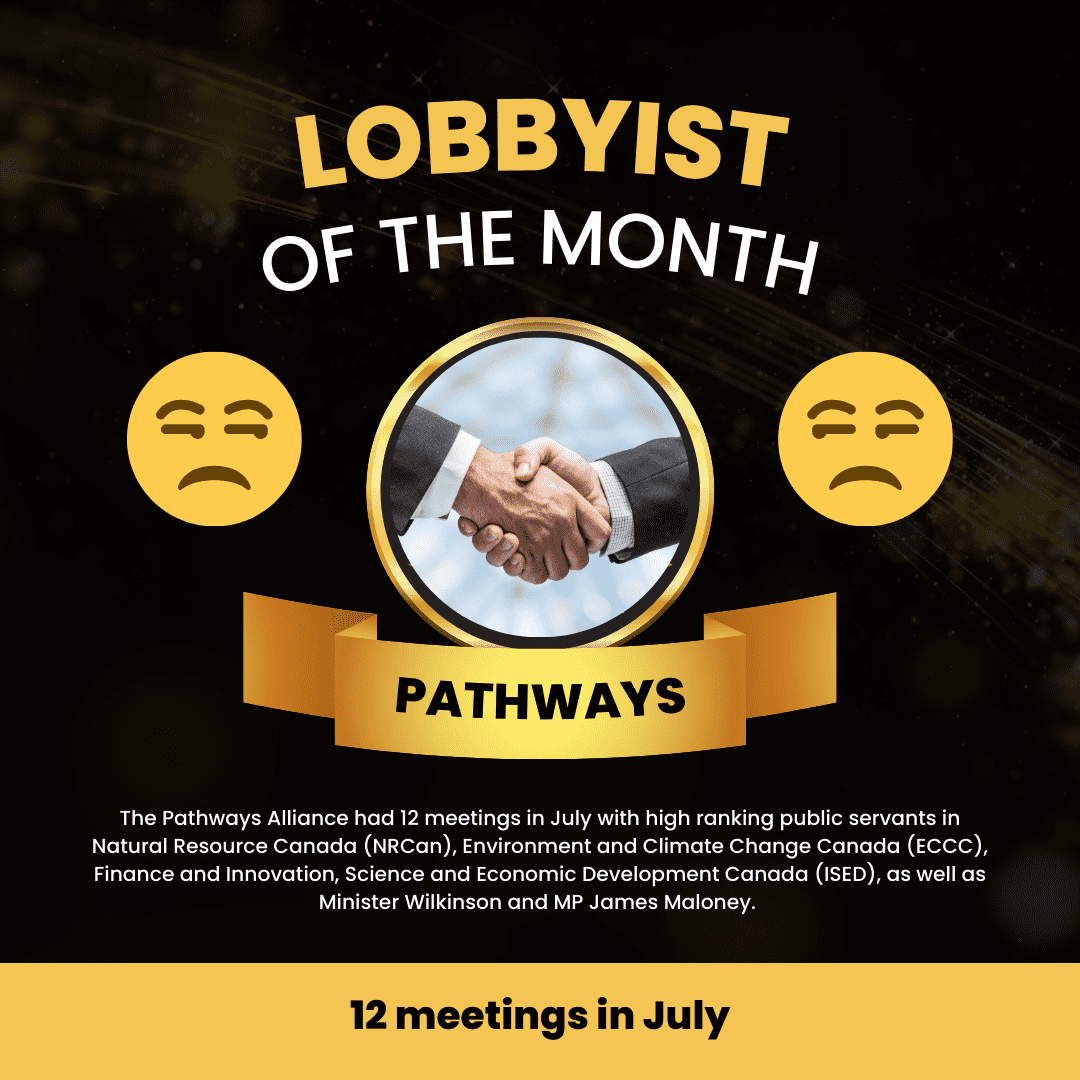 But that's not all, we also know the government has set up a dedicated working group with Pathways Alliance. There's no transparency on the frequency of these meetings yet, as this type of government-initiated process isn't required to be recorded in the federal lobby registry.
And the Pathways Alliance isn't limiting it's influence to lobbying efforts they have been pumping out their "Clear the Air" campaign since the fall of 2022, trying to convince Canadians that the fossil fuel industry wants to reduce its environmental and climate impacts. But not everyone is falling for it, and the advertising campaign is currently under investigation from the Competition Bureau of Canada for false and misleading claims. This type of greenwashing is the industry's attempt to maintain credibility in the eyes of the public and keep their seat at the climate decision making table. They tell the public they support vague and distant climate action like net-zero by 2050, but at the same time lobby against an effective regulation to cap emissions from their industry and internally strategize about how to feed climate denial and doubt. 
Big Oil's rebrand to the Pathways Alliance is a strategic move to build credibility for their climate action claims, and distract us from the fact that they plan to continue to expand oil and gas extraction. They tout a three phase plan between now and 2050, but a brief review of their "plan" shows they only have one real idea – build a giant carbon capture and storage system that is connected to their facilities through a pipeline network, and then continue to extract fossil fuels as long as governments will allow. And, they expect governments – aka taxpayers – to pay for it.
Concern about the project idea, from a nearby community and at least one of the First Nations' whose territory could be impacted by potential pipelines, has started to bubble up. But in the meantime the Pathways Alliance Inc. is throwing millions of dollars in public relations and lobbying resources to try and convince the government, the media and the public that they are not just the same old profit-seeking oil companies – and that makes them real Climate Villains. 
You can tell the government to stand up to Big Oil here. 
Now for the rest of the July lobby numbers:
WHO LOBBIED THE MOST
The companies that held the most lobbying meetings with the federal government in July 2023 were:
Pathways Alliance Inc. – 12 Meetings

Canadian Natural Resources Ltd., Suncor – 5 meetings

Canadian Gas Association (CGA), The Explorers and Producers Association of Canada, and Imperial Oil Ltd.  – 4 meetings each
WHICH MINISTRIES WERE LOBBIED THE MOST
The Ministries that had the most meetings with oil & gas companies and associations were:
Natural Resources Canada (NRCan) – 20 meetings

Environment and Climate Change Canada (ECCC) – 17 meetings

Innovation, Science and Economic Development Canada (ISED) – 8 meetings
WHICH MINISTER WAS LOBBIED THE MOST
These federal ministers took the most meetings with oil & gas companies and associations:
Jonathan Wilkinson, Minister of Natural Resources –  4 meetings

Stephen Guilbeaut, Minister of Environment and Climate Change – 3 meetings 

Randy Boissonnault, appointed to new role as Minister of Employment, Workforce Development and Official Languages, and Anita Anand, Minister of National Defence – 1 meeting each
ICYMI – WE'VE GOT A NEW LOBBY BOT WEBPAGE
Don't forget to check out our new LOBBY BOT landing page! 
You can find all our lobby bot content, see highlights of key lobbying numbers, read more about why lobbying matters and how you can challenge the influence of oil and gas companies – like telling the federal government to put the interest of the people in Canada ahead of the narrow self-interest of oil and gas companies or learning how to meet with your MP and asking them to stand up for climate action.
Until next month's update, follow the lobby bot on Twitter here.