(It's no April fool's day prank) Our lobby bot marked oil and gas industry lobbyists had over 90 meetings with government officials in April. Because April was a short month, that works out to having 5 meetings with oil and gas lobbyists per day at the office. 
That's a lot of face time with the people who are making decisions about how to tackle climate change and regulate the oil and gas industry. 
The most prominent lobby group for the oil and gas industry, the Canadian Association of Petroleum Producers (CAPP), is back on top of the lobby registry for the month of April. You may have heard about CAPP from the many times it has repeatedly lobbied against climate policy; or that time it demanded more subsidies in a secret memo to government during the pandemic; or from its consistent line in the media that Canada should keep expanding oil and gas despite our climate commitments. Now that outright climate change denial is no longer popular with the public, CAPP has switched up their top tactic to urging governments to dilute and delay climate action.
CAPP's current President and CEO is Lisa Baiton – a name you might recognize as one of Canada's fossil fuel executives named in our Climate Villains campaign.

We launched the Climate Villains campaign to call out and hold accountable the people who are blocking climate action in Canada. They're banking on Canada failing to reduce emissions and greenwashing their polluting business ventures in the meantime. You can demand the Canadian government stand up to the oil and gas industry by taking action here.
CAPP met with representatives from a range of ministries, including the Prime Minister's Office (PMO); Environment and Climate Change Canada (ECCC); Global Affairs Canada; Natural Resources Canada (NRCan); Impact Assessment Agency; Innovation, Science and Economic Development (ISED); and with multiple Members of Parliament.
Here are some  highlights from the month:
WHO LOBBIED THE MOST
The companies or industry associations  that held the most lobbying meetings with the federal government in April 2023 were:
CAPP, with 12 meetings

ConocoPhillips Canada Resources Corp., with 11 meetings

NorthRiver Midstream Inc., with 8 meetings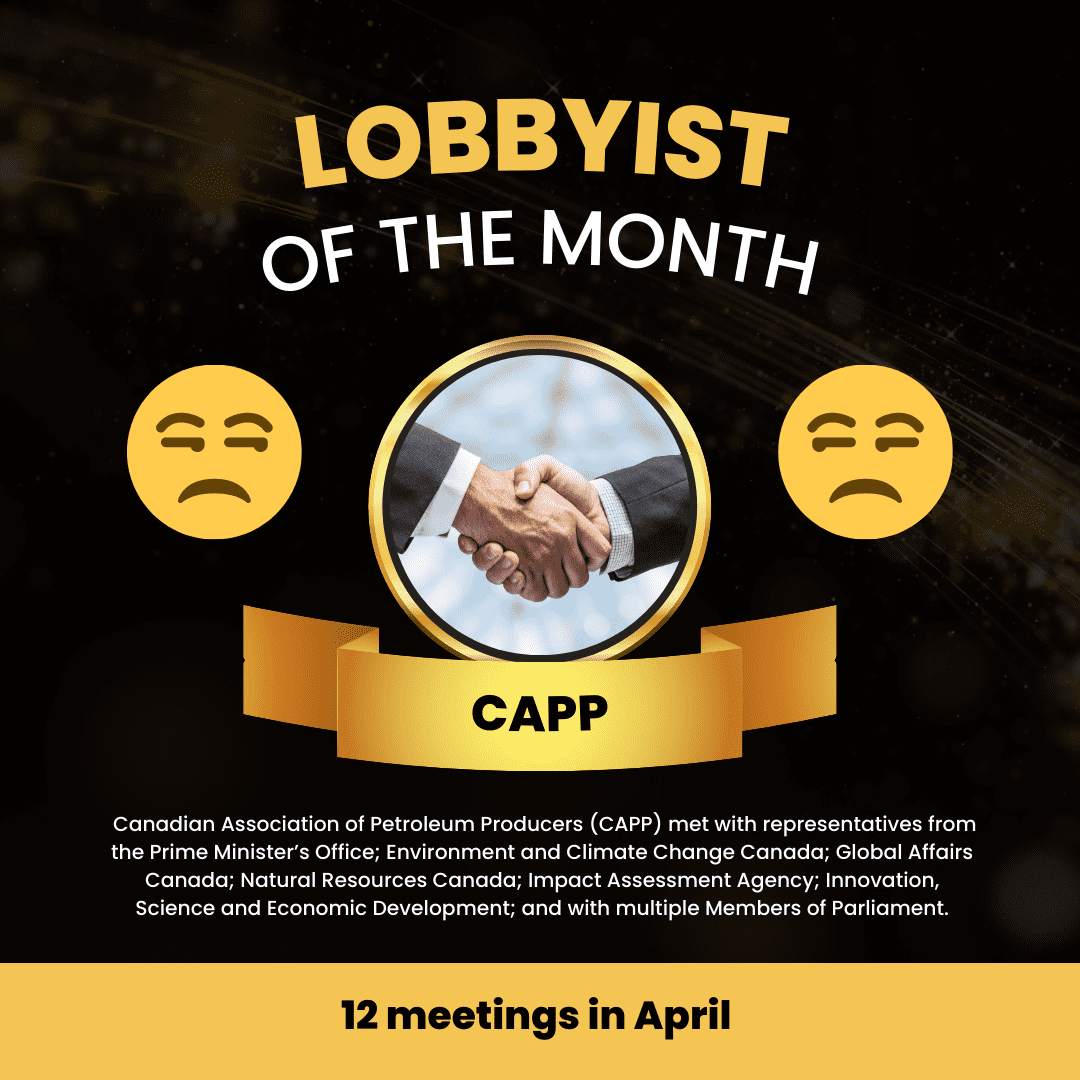 WHICH MINISTRIES WERE LOBBIED THE MOST
The federal bodies which took the most meetings with oil & gas companies and associations were the following Ministries:
Natural Resources Canada, took

30 meetings

Environment and Climate Change Canada, took 19 meetings

Prime Minister's Office, took 10 meetings
WHICH MINISTER WAS LOBBIED THE MOST
These federal ministers took the most meetings with oil & gas companies and associations:
Randy Boissonnault, Minister of Tourism and Associate Minister of Finance, had two meetings with fossil fuel lobbyists; one meeting with CAPP & one meeting with Irving Oil. 

Seamus O'Regan, Minister of Labour, and  Dominic LeBlanc, Minister of Intergovernmental Affairs, Infrastructure and Communities, each took one meeting with oil and gas lobbyists.

The

Prime Minister himself also took one meeting with gas distribution and retail company Parkland Corporation

.
WHY THESE NUMBERS MATTER
Politicians and Ministry staff don't have to take these meetings, but they choose to hear from fossil fuel lobbyists.
The numbers here are under-counts because, while we are tracking over 50 companies and lobby associations, there are even more companies which may engage in lobbying.
In addition, not all meetings and communications that we might consider to be "lobbying" are  required to be disclosed, because of huge loopholes in the federal lobbying law. Lobbyists are only required to register and disclose their lobbying if they are paid on a contract to lobby or are lobbying more than 20 percent of their work time for a business or organization. As well, lobbying about the enforcement of a law or regulation, or about tax credits, which many oil and gas companies lobby for, is not required to be disclosed. Lastly, when lobbyists are invited to speak to decision-makers, those meetings don't need to be disclosed. We know that departments have set up standing meetings with many of the fossil fuel lobbyists – those don't show up in the registry.
Environmental non-governmental organizations (ENGOs), such as Environmental Defence, lobby, but do so in the public interest, not in the private interest, as oil and gas companies do. ENGOs are granted far less access to key government decision-makers.
We need to tell politicians to stand firm on the need for strong climate action – and stop caving in to big oil. Take action today and tell the federal government to put the interest of the people in Canada ahead of the narrow self-interest of oil and gas companies.
Until next month's update, follow the lobby bot on Twitter here.