In August, the oil and gas industry had 64 lobby meetings with the federal government, with the Canadian Association of Petroleum Producers (CAPP) being the most active fossil fuel lobbyist once again. CAPP is the largest oil and gas industry association and lobby group in Canada. It lobbied the government 10 times in August and 65 times throughout 2023 so far.
CAPP has targeted a number of Ministers this year, from key environmental and climate policy maker Johnathan Wilkinson, Minister of Natural Resources, to Labour Minister Seamus O'Regan and Randy Boissonnault in his former role as Associate Minister of Finance.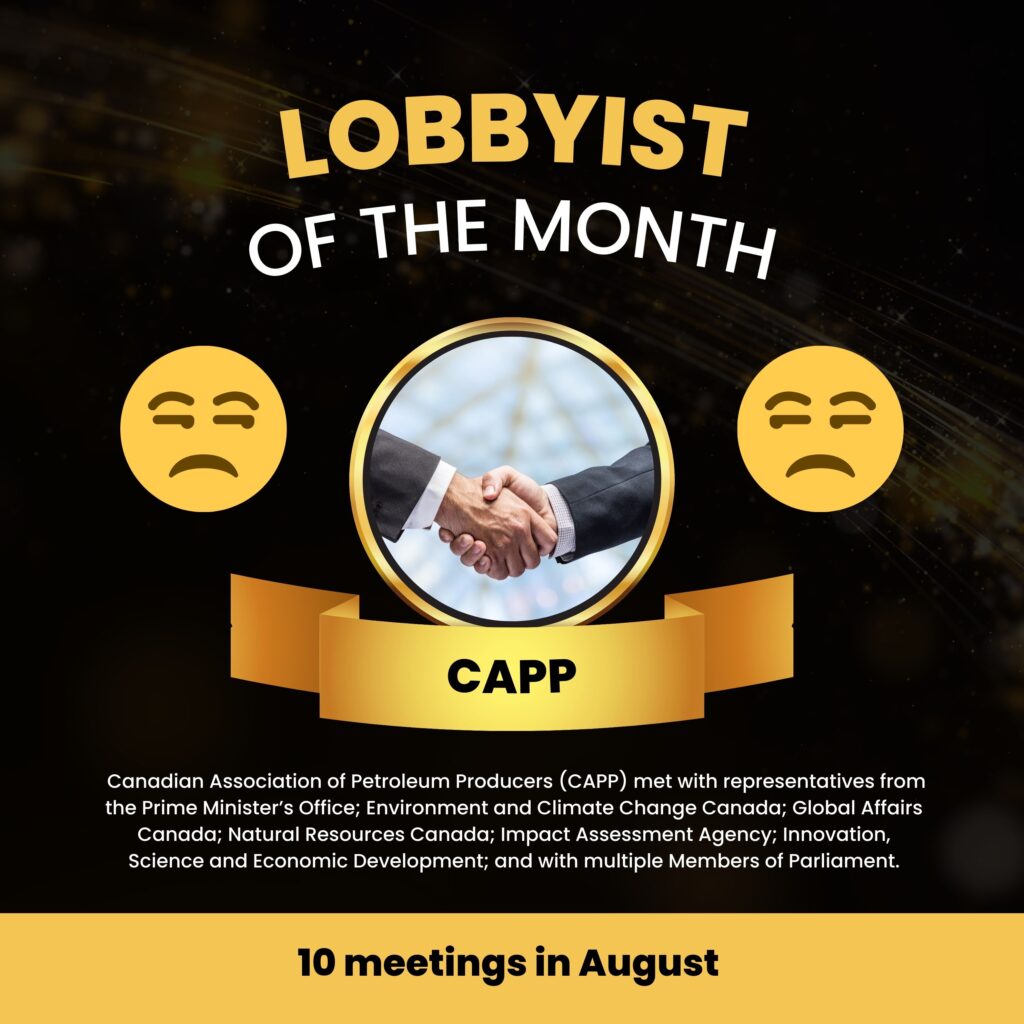 CAPP is well known for lobbying the government directly against climate action and against the industry's own highly promoted net-zero targets. But that's not all, they're also investing heavily in advertising campaigns, both traditional and on social media, to weaken public support for climate policy. 
In 2014 they created their 'astroturf' group, Canada's Energy Citizens, to challenge and mimic the growing success of grassroots climate activists. 
Canada's Energy Citizens is a hybrid marketing and engagement strategy, funded and implemented by the biggest fossil fuel lobby group in Canada. For nearly a decade CAPP has used this facade of public favour for oil and gas to secure both public and political support for the fossil fuel industry. It's a sophisticated advertising scheme that has worked to drum up new and more mobilized public support for CAPP's products. 
The influence doesn't stop there. A number of similar pro-oil groups, either directly supported by industry associations or receiving large amounts of money from oil companies, sprung up around the same time, and have muddled the conversation around climate change and the path forward for an energy transition that supports everyone. This summer another astro-turf group with close ties to CAPP was created. The new Energy United campaign is funded through an institute being lead by former CAPP executives, including former CEO and lobbyist Tim McMillan. 
CAPP paid for Facebook ads posted by Canada's Energy Citizens that have urged people to oppose limits on greenhouse gas emissions from the oil and gas industry. You can learn more here about why a cap on oil and gas emissions is a crucial piece of climate policy here, and counter CAPP's push by sending a letter to the government expressing your support for a cap on oil and gas emissions. 
So, how much is CAPP spending to promote its agenda? Facebook's Ad Library (which provides a range on ad spend) shows that CAPP spent between $82,200 and $104,800 on advertisements that were live in August. They spent roughly $6,300 – $8,300 on promotions from their own Canadian Association of Petroleum Producers page, but a staggering $75,900 – $96,500 through Canada's Energy Citizens. 
In essence, CAPP is not just influencing climate politics through lobbying but also with an enormous budget that promotes their pro-oil agenda, mainly through their fake-grassroots group that's pretending to be part of the charitable advocacy sector.
With so much influence, power, and money behind it, CAPP, and its CEO Lisa Baiton, are absolutely one of Canada's top Climate Villains. 
WHO LOBBIED THE MOST
The companies that held the most lobbying meetings with the federal government in August 2023 were:
Canadian Association of Petroleum Producers – 10 Meetings

Pembina Pipeline Corporation, and Inter Pipeline Ltd. – 7 meetings each 

Suncor, Canadian Natural Resources Ltd. and Imperial Oil Ltd. – 5 meetings each
WHICH MINISTRIES WERE LOBBIED THE MOST
The Ministries that had the most meetings with oil & gas companies and associations were:
Natural Resources Canada (NRCan) – 25 meetings

Finance Canada (FIN) – 15 meetings

Innovation, Science and Economic Development Canada (ISED) – 10 meetings
WHICH MINISTER WAS LOBBIED THE MOST
These federal ministers took the most meetings with oil & gas companies and associations:
Chrystia Freeland, Minister of Finance and Deputy Prime Minister, had four meetings with oil and gas lobbyists from Tourmaline, Suncor, Cenovus and the Pathways Alliance.

Jonathan Wilkinson, Minister of Natural Resources; and Pablo Rodriguez, Minister of Transport –  1 meeting each
As the oil and gas industry continues to pressure the federal government to delay climate policies through their lobbying efforts and advertising campaigns, it's important that the government hears from you. Environmental Defence will keep tracking this fossil fuel industry and advocating in the public interest for ambitious, urgent climate action. Will you join us? 
Take action with Environmental Defence by telling the government to limit Big Oil's pollution today. 
WE'VE GOT A NEW LOBBY BOT WEBPAGE
Don't forget to check out our new LOBBY BOT landing page!
You can find all our lobby bot content, see highlights of key lobbying numbers, read more about why lobbying matters and how you can challenge the influence of oil and gas companies – like telling the federal government to put the interest of the people in Canada ahead of the narrow self-interest of oil and gas companies or learning how to meet with your MP and asking them to stand up for climate action.
Until next month's update, follow the lobby bot on Twitter here.