The cancellation of the environmental assessment of the GTA West highway (aka highway 413) is a game changer. It shows that there is growing provincial recognition that building complete communities rather than highway-led planning is better for our health, our shared climate and our wallet.
It also shows that your voice was heard, and that when we work together, we can defend our farms, forests and watersheds. Thank you for your help in stopping the proposed Highway 413. This is a huge win, and good news for the environment and health of all Ontarians.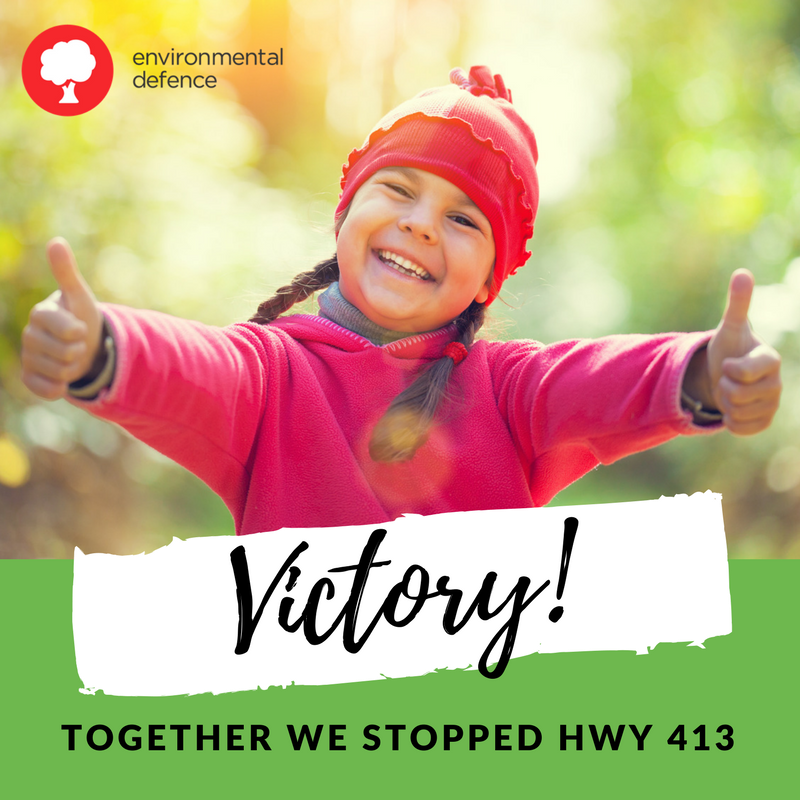 A price too high to pay
Cancelling the Environmental Assessment for the GTA West highway saved taxpayers an estimated $5 billion dollars in construction costs, excluding the cost of land expropriation and maintenance. And that's only the financial price, the cost of sprawl, health and climate impacts meant moving ahead with this highway would have been irresponsible. But thanks to the voices of people like you, no highway will be built through prime farmland and forests on the edge of Ontario's Greenbelt.
The report by the GTA West Corridor Advisory Panel concluded that alternative options like congestion pricing, truck lanes on the 407 and better land use management could reduce travel times to get the region moving. With more people moving to our cities every year, it's important to find new ways to reduce congestion. Getting out of our cars is good for our health. Air pollution from traffic is the largest source of air pollution in the GTA. One in three Canadian homes experience the health impacts of air pollution from tail pipes.
Moving to low carbon communities
Fortunately, the revised Growth Plan and Metrolinx Plan provide a framework for building complete communities and move away from costly urban sprawl. Building complete communities means building more housing types with a mix of shops and services placed in close proximity to each other providing the density needed to support transit. Instead of getting in the car to shop, go to the dentist or hit the gym, people will be able to walk, take public transit or ride their bike to access services.
Public transit is also the most efficient way to move people. For example, one GO train can move 1,670 people and produces less than half of the GHG emissions per passenger than a car. More people in trains or buses also makes room for improving the flow of goods and people across the region. New highways, by contrast, don't reduce traffic because they just encourage more people to drive, quickly filling up with the traffic they were meant to address.
Today's cancellation of the Environmental Assessment could signal the end of highway-led sprawl and the beginning of low carbon city building. It's time to work together towards building the healthy, complete communities we want.
Thanks again for all your help. This victory would not have been possible without you.