In 2022 Ontario imposed THE BIG SPRAWL, a set of policies designed to enrich land speculators by pushing 81 per cent of new households and jobs over the next 30 years into car-dependent suburbs, often on farmland, and to exclude them from the walkable & transit-friendly existing neighbourhoods where people want to live and work.
Unless we stop it, THE BIG SPRAWL will destroy green space, worsen urban flooding, waste millions in extra infrastructure costs, prevent us from meeting our climate change targets, and squander the millions of new homes and workplaces that are our last best chance to repair the post-war suburbs Ontario is saddled with already.
See below to find our more about THE BIG SPRAWL and how you can help fight it.
Put your cursor or finger in the circle with the arrows to slide back and forth on the map to see all the farmland and natural areas (in green) that will be lost and paved over if the Big Sprawl goes ahead.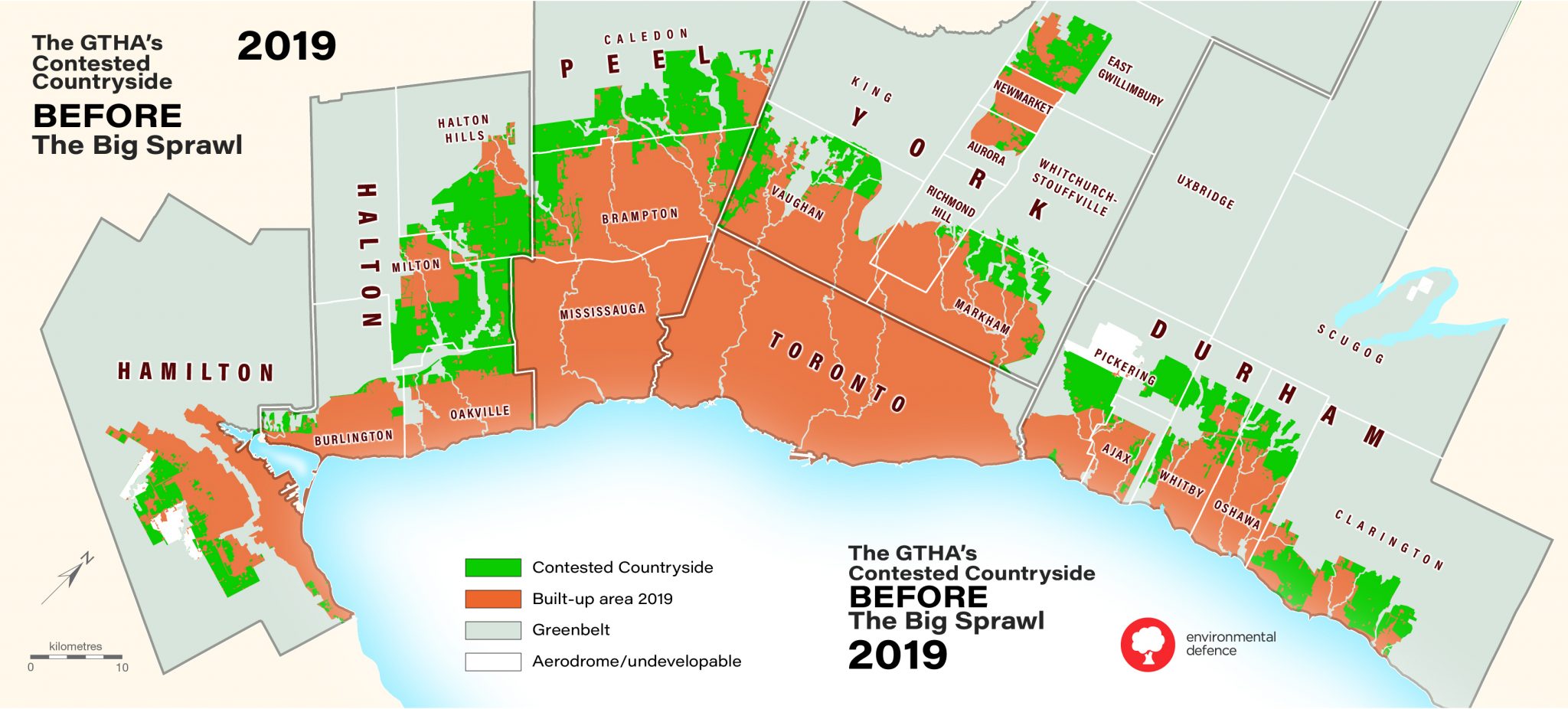 WHAT IS THE BIG SPRAWL?

Large swathes of Ontario's best farmland, most vital natural heritage, and most beautiful rural landscapes, are at risk of being swallowed up by car-dependent sprawl. Between now and July 1, 2022, the provincial government will be forcing Greater Golden Horseshoe municipalities to engage in processes that the province has rigged to rapidly expand the territory available to developers, and lock in 30 more years of outdated and environmentally damaging residential and commercial sprawl.
CANCEL THE BIG SPRAWL

There's still time to cancel THE BIG SPRAWL entirely.  While the Ontario government is scrambling to railroad municipalities into locking in sprawl, it cannot force them to finalize their new boundaries until July 1st, 2022 – after the next election.
Tell your MPP, and the leader of every provincial party, to SCRAP THE BIG SPRAWL and accommodate the Greater Golden Horseshoe's jobs and growth within the land already approved for development.
FIGHT THE BIG SPRAWL LOCALLY

Though the Big Sprawl is meant to railroad municipalities into expanding outwards, the actual policy documents do not succeed in mandating it. By rejecting flawed assumptions, and resisting backdoor arm-twisting, Greater Golden Horseshoe regions are legally entitled to accommodate all their growth within existing urban boundaries instead. Residents in every GGH municipality are fighting, and often making real progress, in winning fixed settlement area boundaries locally.
Watch the How to Stop Big Sprawl Webinar
Smart Growth Toolkit
Greener, walkable communities are possible. But, we need citizens like you to get involved in building better communities.
That is why we created a resource guide to get community planning right.
Learn more about the Big Sprawl and protecting Ontario's environment.
Sign up for our newsletter.