We just got the data for January 2023 about the amount Canada's oil and gas industry lobbied the federal government. At the start of the new year, not much changed, with the lobbying continuing at a rapid pace.
The oil and gas industry's lobbyists met with federal government officials a minimum of 86 times in January. That's more than four times per working day that government officials took meetings from an industry trying to delay climate action and get more subsidies, at a time when they are making record profits.
See the September, October, November, and December highlights as well.
For the second month in a row, Irving Oil was the busiest oil and gas industry lobbyist targeting the federal government. Irving, which before these two months rarely cracks into the top three busiest lobbyists in the industry, had 18 meetings with federal officials in January, after having a whopping 31 meetings in December. Irving Oil is the dominant energy company in the Maritimes. The oil company is owned by a powerful family dynasty that controls much of New Brunswick's economy. In Saint John, the company operates the largest oil refinery in Canada.
Irving held meetings with officials from several different ministries, including Infrastructure Canada, Veterans Affairs Canada, Atlantic Canada Opportunities Agency (ACOA), Environment and Climate Change Canada (ECCC), and the industry's most targeted ministry, Natural Resources Canada (NRCan).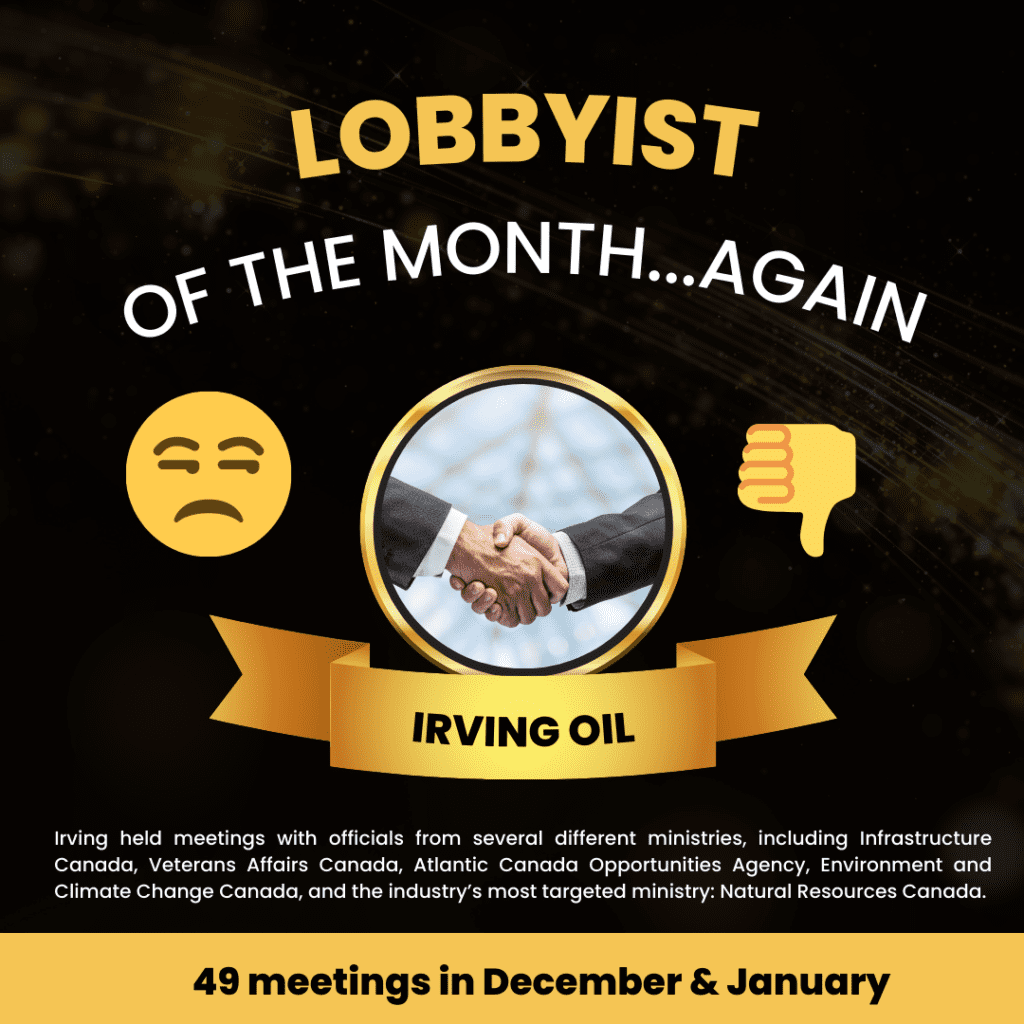 Unfortunately, it's unlikely we'll ever know what was discussed in these meetings. It is not made public and can only partially be uncovered eventually through access to information requests. Earlier this winter, The Hill Times asked Irving Oil what their lobbying priorities were, but they didn't get a response.
Here are the other highlights from the month.
WHO LOBBIED THE MOST
The companies that held the most lobbying meetings with the federal government in January 2023 were:
Irving Oil, with 18 meetings
Imperial Oil, with 12 meetings
Tourmaline Oil, with 9 meetings
WHICH MINISTRIES WERE LOBBIED THE MOST
The federal bodies which took the most meetings with oil & gas companies and associations were the following Ministries:
1. (tie) Natural Resources Canada (NRCan), took 18 meetings
1. (tie) Environment and Climate Change Canada (ECCC), took 18 meetings
3. Innovation, Science and Economic Development Canada (ISED), took 8 meetings
WHICH MINISTER WAS LOBBIED THE MOST
These federal ministers took the most meetings with oil & gas companies and associations:
Jonathan Wilkinson, Minister of Natural Resources, took 2 meetings
Stephen Guilbeault, Minister of Environment and Climate Change Canada; Chrystia Freeland, Deputy Prime Minister and Minister of Finance; and Randy Boissonnault, Minister of Tourism and Associate Minister of Finance, each took 1 meeting
The Deputy Prime Minister also met with the CEO of Cenovus, Alex Pourbaix, in December 2022. That lobbying meeting was reported late to the lobbyist registry by Cenovus, so did not count in our December tally.
WHY THESE NUMBERS MATTER
Politicians and Ministry staff don't have to take these meetings, but they choose to hear from fossil fuel lobbyists.
The numbers here are under-counts because, while we are tracking over 50 companies and lobby associations, there are even more companies which may engage in lobbying.
In addition, not all meetings and communications that we might consider to be "lobbying" are  required to be disclosed because of huge loopholes in the federal lobbying law. Lobbyists are only required to register and disclose their lobbying if they are paid on a contract to lobby or are lobbying more than 20 percent of their work time for a business or organization. As well, lobbying about the enforcement of a law or regulation, or about tax credits, which many oil and gas companies lobby for, is not required to be disclosed. Lastly, when lobbyists are invited to speak to decision-makers, those meetings don't need to be disclosed.
Environmental non-governmental organizations (ENGOs), such as Environmental Defence, lobby, but do so in the public interest, not in the private interest, as oil and gas companies do. ENGOs are granted far less access to key government decision-makers.
We need to tell politicians to stand firm on the need for strong climate action – and stop caving in to big oil. Take action today and tell the federal government to put the interest of the people in Canada ahead of the narrow self-interest of oil and gas companies.
Until next month's update, follow the lobby bot on Twitter here.