It's time for another round-up of lobbying of the federal government by Canada's oil and gas industry, and this time we'll be highlighting something we haven't focused on much before: which Members of Parliament (MPs) were lobbied the most.
The data here, the most recent available, is for the month of November 2022. See the September and October highlights as well.
First, the basics. Oil and gas industry lobbyists met with federal government officials a minimum of 130 times in November. That's almost six times per working day that government officials took meetings from an industry trying to delay climate action and get more subsidies.
The most lobbied federal ministry, as usual, was Natural Resources Canada (NRCan), followed by Environment and Climate Change Canada (ECCC) and Finance Canada.
While several MPs and their staff get lobbied every month, November was exceptionally high. In September and October there were around 30 lobbying meetings per month with MPs or their staff. These are not ministers, which we count separately. These MPs are predominantly from the Liberal and Conservative parties.
In November, there were 43 lobbying meetings with MPs who are not ministers, or their staff. Part of the bump can be attributed to the busiest lobbyist in the industry in November: Enserva, formerly known as the Petroleum Services Association of Canada. Members of the group are hoping for more oil and gas drilling and operations in 2023, buoyed by recent high energy prices. Like with all federal lobbying, details of what they discussed is not made public.
What we can see are the highlights. Here they are.
WHO LOBBIED THE MOST
The companies that held the most lobbying meetings with the federal government in November 2022 were:
Enserva (formerly the Petroleum Services Association of Canada), with 16 meetings
TC Energy, with 13 meetings
Canadian Association of Petroleum Producers (CAPP), with 12 meetings
WHO WAS LOBBIED THE MOST
Aside from members of the House of Commons (ie. MPs, see below), the federal bodies which took the most meetings with oil & gas companies and associations were the following Ministries:
Natural Resources Canada (NRCan), took 21 meetings
Environment and Climate Change Canada (ECCC), took 19 meetings
Finance Canada, took 13 meetings
WHICH MINISTERS TOOK THE MOST LOBBYING MEETINGS
There was a four-way tie for the most lobbied Minister:
Chrystia Freeland, Deputy Prime Minister and Minister of Finance; Seamus O'Regan, Minister of Labour; Jonathan Wilkinson, Minister of Natural Resources Canada; and Dan Vandal, Minister of Northern Affairs and Minister for Prairies Economic Development Canada, all took two meetings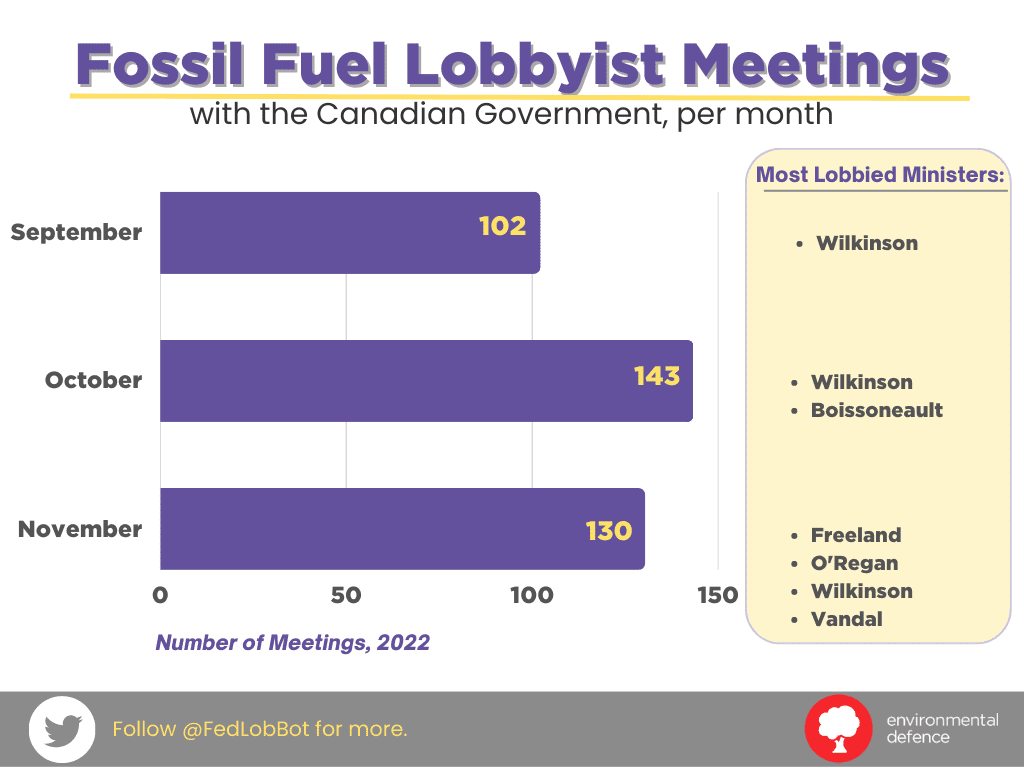 *NEW* WHICH MEMBERS OF PARLIAMENT TOOK THE MOST MEETINGS
The most lobbied MPs were:
Gérard Deltell (Conservative Party, representing the riding of Louis-Saint-Laurent), took seven meetings
Greg McLean (Conservative Party, Calgary Centre), took six meetings
John Aldag (Liberal Party, Cloverdale—Langley City), took five meetings
Julie Dabrusin (Liberal Party, Toronto—Danforth), Jasraj Singh Hallan (Conservative Party, Calgary Forest Lawn), and Shannon Stubbs (Conservative Party, Lakeland), took four meetings each
WHY THESE NUMBERS MATTER
These politicians don't have to take these meetings, but they choose to hear from fossil fuel lobbyists.
The numbers here are under-counts because, while we are tracking over 50 companies and lobby associations, there are even more companies which may engage in lobbying.
Environmental non-governmental organizations (ENGOs), such as Environmental Defence, lobby, but do so in the public interest, not in the private interest, as oil and gas companies do. ENGOs are granted far less access to key government decision-makers.
We need to tell politicians to stand firm on the need for strong climate action, like implementing a hard cap on oil & gas industry emissions, and not handing out subsidies to these companies.
Until next month's update, follow the lobby bot on Twitter here.