Ontario spent years on a plan to grow smartly – to build a variety of housing in the places people want to live, while protecting the environment. But many developers weren't happy. They felt there were too many rules and wanted changes that benefited their industry.
Last week, the Ontario government introduced a new housing plan in the legislature. The More Homes, More Choice bill (Bill 108) is a sprawl developer's dream come true. Bill 108 amends 13 different pieces of legislation, and many of these policy amendments diminish the voice of citizens in shaping their communities, put communities at risk and threaten long fought environmental protections. The amendments include:
removing rules that protect endangered species
removing rules that control flooding
reducing the density targets that help limit sprawl
bringing back the old Ontario Municipal Board (OMB) rules for managing land use disputes that favours rich developers
weakening environmental impact assessments
reducing costs for developers, such as development charges that help fund parks and community centres
Called visionary by the housing industry, the Housing Plan enabled by Bill108 makes it easier and cheaper for developers to build housing, but doesn't mean that the housing built will be more affordable. For communities, recent provincial policy changes reduce opportunities for public involvement, download development costs to municipalities, and increase sprawl and farmland loss.
Bill 108 delivers what developers asked for. Bill 108 means reduced costs for developers and higher costs for everyone else.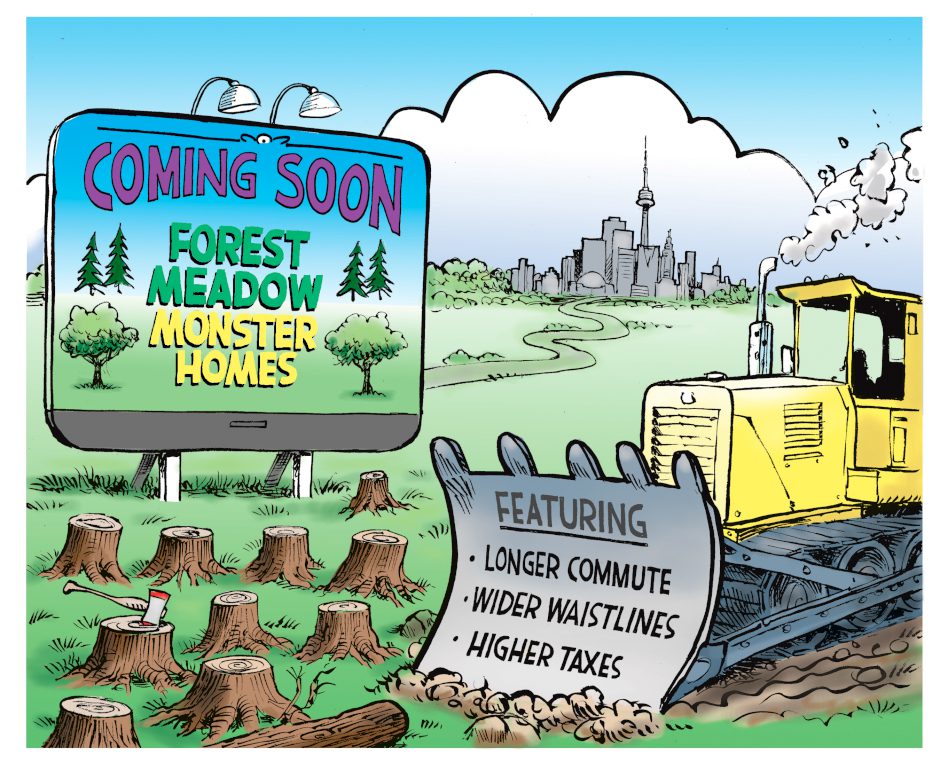 How does Bill 108 affect my community?
Expect more greenfield sprawl developments on farmland. The new Growth Plan lowers the number of houses per acre and allows expansions of settlement boundaries. Low density growth costs us all in higher taxes, a longer commute and air pollution from increased commuting. In cities, Bill 108 supports more housing and rental housing, but if recent trends continue. it's likely much of the housing will be luxury units. There is a piece of good news – around major transit stations expect more mid-rise development within a 10 minute walking radius. There are also incentives to build low-income housing near public transit.
But other changes are problematic and undemocratic. For instance, the Local Appeal Planning Tribunal, formerly known as the OMB, will now limit citizens groups from launching appeals. Municipalities also lose out, as the legislation reverts back to giving the final say on land use planning decisions to an unelected tribunal, rather than your elected municipal council. Expect less parkland as Bill 108 changes the funding formula for park space and amenities like libraries.
Does the Bill make housing more affordable?
Before the legislation was introduced, the CMHC noted, "Across Ontario, prospective buyers should expect more choice by 2020 while owners and investors should dampen their price and return expectations." In other words, house prices in Ontario are already on their way down from a high in 2017, but it's unclear if prices will ever become affordable in Toronto.  Many issues affect the affordability of housing – from low wages to factors beyond provincial jurisdiction – as noted in our blog. But supply isn't an issue – it's low income housing that's needed. Right now there are thousands of housing units approved to be built. By 2031, over 700,000 units are coming into the resale market with over 300,000 acres of land designated for new housing and employment uses. Allowing more low density sprawl development does not make housing more affordable.
Bill 108 losers are citizens, endangered species and the environment. When all the wins for the development industry are considered, opening Ontario 'for business' takes on a whole new meaning.