Did you know that Ontario is Canada's second-biggest carbon polluter? This means that Ontario has the power to either accelerate Canada's efforts to cut carbon pollution, or hold back the country's progress in a big way. In less than one year, Ontario has moved from a leader to a significant roadblock in Canada's climate change action.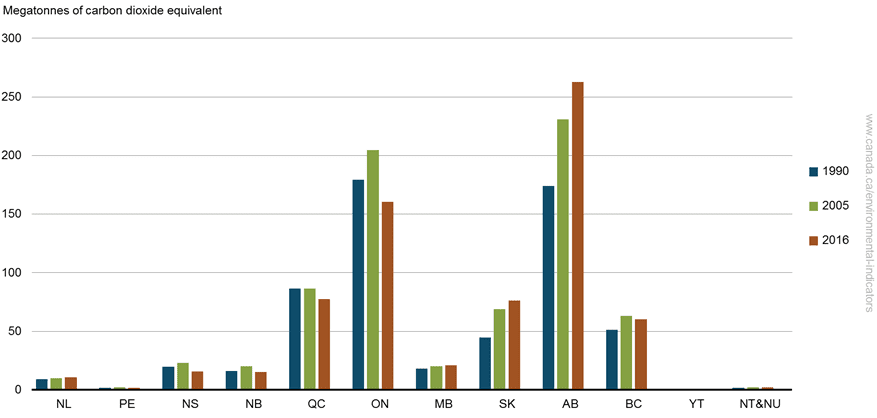 Previous Ontario action to ban coal, put a price on pollution, increase renewables in our electricity supply, and introduce programs to help people reduce emissions made a big difference – not just in helping Canada cut carbon pollution, but also in improving our health and building a thriving clean technology sector.
But, Ontario's new plan to address climate change scales back ambition dramatically, with the excuse that Ontarians have done more than enough already. This is a weak and embarrassing approach to a global crisis, particularly since pollution doesn't respect borders. If your home was threatened by a major flood, would you stop preparing for it once you'd piled up a few sandbags? No – hopefully you'd do as much as you can to protect your home and loved ones, knowing what's at stake.
Can Ontario afford to take stronger action on climate change?
Absolutely. Ontario has the means and the know-how to take stronger action while maintaining a strong economy. We can see this if we look at the evidence. Provinces like Quebec and B.C. continue to lead the country in economic growth while taking strong action on climate change, and have been doing so for many years. Ontario's own experience implementing its cap and trade system shows that employment and GDP can grow alongside strong climate action. The economic arguments against taking action simply don't hold up under scrutiny. In fact, we're seeing mounting economic evidence that not taking action will cost governments far more. That's why scaling back action is unnecessary and unacceptable.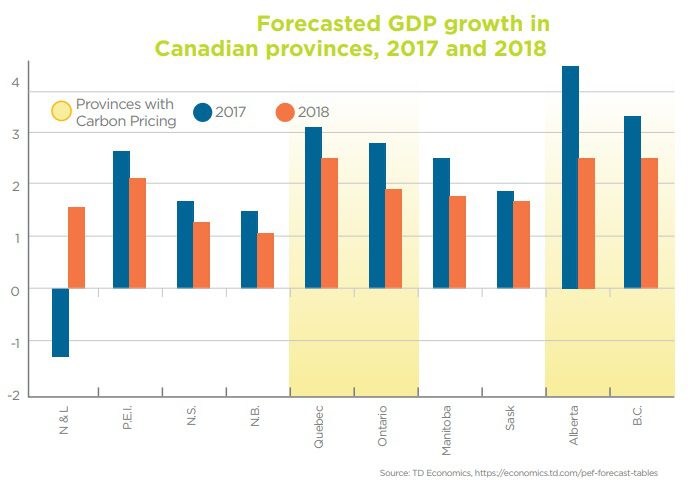 (From: Clean Economy Alliance Year One Progress Report)
What is Ontario actually planning to do about climate change?
Ontario's new government says it's serious about addressing the climate crisis –  but has scrapped most of Ontario's programs and policies to reduce greenhouse gas emissions.
Ontario put out an Environment Plan in an attempt to show how the government plans to reduce emissions without pricing carbon. Although it does introduce some worthy ideas to reduce emissions from buildings, transportation, and waste, the plan falls short on commitments to turn these ideas into action. When compared to action plans from provinces like B.C. and Quebec, Ontario's plan reads like a vague preamble. It was clearly rushed out the door so Ontario could use the plan in its legal challenge to the federal government's plan to price carbon.
The plan also announces new, weaker targets to reduce polluting emissions. This is unacceptable after recent alarm calls from scientists warned governments must take unprecedented action to limit warming to 1.5 degrees to prevent massive devastation to the planet and human health. Ontario could have heeded this call with strong, sustained action, but instead chose not to.
For more information on what's actually proposed, you can read our blog analyzing the plan, or a longer analysis we submitted to the government as part of their consultation.
How can you push for stronger action from the provincial government?
Ontario may have hit the pause button on climate action for now., But, if the people they represent raise their voices and demand more, this will change.
Here are a few ways Ontarians can help push for stronger action, and some ideas for what to ask for.
Contact your MPP with an email or phone call.
Signing petitions always helps, but a more personal email or call to your local representative makes an even bigger impression. Let them know you want to see more action on climate change than what's included in Ontario's Environment Plan, including:
Stronger, science-based greenhouse gas reduction targets for 2030 and 2050 which aim to limit global warming to 1.5 degrees Celsius
Real commitments and funding to reduce emissions from transportation, i.e. programs to help Ontarians shift to zero emission vehicles, GO transit  electrification, and a commitment to smart, evidence-based public transit expansion
New programs to help Ontarians save on energy bills by making their homes and businesses more energy-efficient
A plan to require new buildings to be zero carbon by 2030, and a commitment to integrating this requirement into the Ontario Building Code
A commitment to increasing the amount of locally-produced renewable energy in Ontario's electricity supply, instead of relying on imported fossil fuels
You can find more details on these and other ideas for enhanced action in this People's Climate Plan, as well as our Pollution Solutions report.
Talk about the need for stronger climate action with friends and family.
New research is emerging on how to talk about climate change in a way that doesn't make people tune out. Studies show that stepping back and hearing what others think before diving into your ideas for climate action makes a big difference. You can start the conversation by sharing a personal story about climate impacts you've experienced, and asking others about their experiences. When you listen first, you can meet people where they're at, making for a much more persuasive conversation than using statistics and numbers. Check out George Marshall's work for more on this.
Join a local group pushing for strong environmental policies.
If you care about this issue, chances are a lot others in your community do too. Check out this list to see if there's a group working in your area. If not, dig around on Facebook and Twitter to see whether you can find informal neighbours groups or other like-minded folks. And if you can't find a group that matches what you're looking for, pull a few friends together and start one. After all, numbers make a difference.
If you live in Ontario, there is no reason to feel powerless to act on climate change. You can help tip the scales by showing strong public support for increased action from your provincial government, and make it clear that you won't accept anything less.
Stay informed about Environmental Defence's work on climate change. Join our email list.