After axing most of the province's programs that reduced greenhouse gas (GHG) pollution, the Ontario government's promised plan to address climate change has finally arrived. But does the plan have what it takes to do Ontario's fair share to reduce carbon pollution?
We've scored the plan in ten key areas. This was a tough task given that the plan includes few specifics in its proposed actions. While there are commitments to "investigate" or "consider" promising policies, we've decided not to count any actions without commitments behind them. This led to a total score of 2 out of 10 – a failing grade by any standard.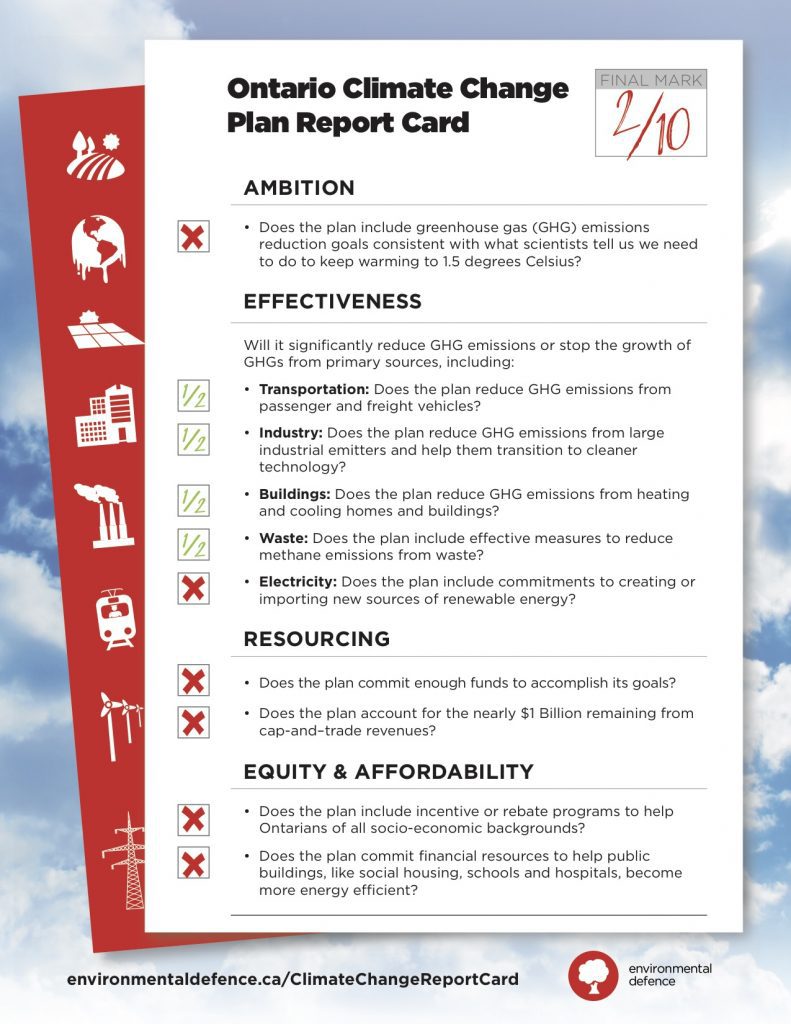 Does the plan include greenhouse gas (GHG) emission reduction goals consistent with what scientists tell us we need to do to keep warming to 1.5 degrees Celsius?
This is a clear no.
The plan includes new, weaker targets which we now know will put us on a pathway closer to 4 or 5 degrees of warming. This flies in the face of recent alarm calls from scientists telling us we must take unprecedented action to limit warming to 1.5 degrees, in order to prevent massive devastation to the planet and human health. If two degrees of warming is very bad, 4 or 5 degrees is unimaginable.
Here's the confusing part: Ontario's new targets do match Canada's federal goals. Sounds good, right? It's not that simple. What Canada actually committed to in Paris was to keep warming to well under 2 degrees. The science now tells us Canada's federal emissions reduction goals won't meet this commitment. This is why weakening Ontario's targets will actually take Canada farther from meeting its goals.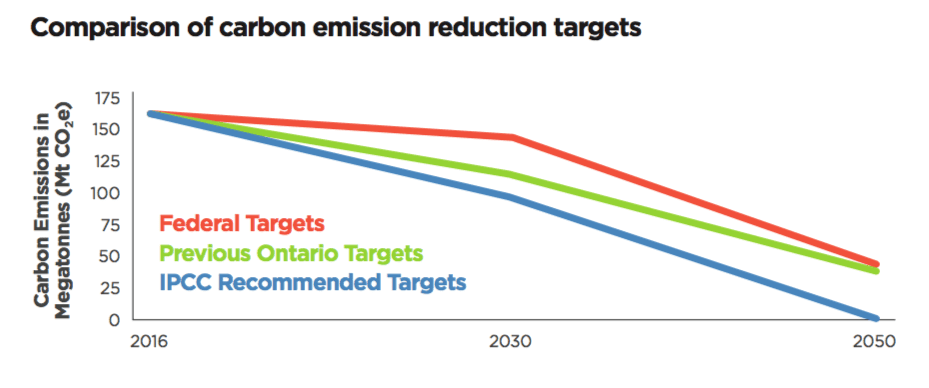 Will the plan significantly reduce GHG emissions from primary sources?
Not much.
Most of the reductions relied on to meet the new goals happened under previous governments. Instead of stepping up action, they've moved the bar closer to where we're at, aiming for 18 mega tonnes of reductions by 2030 instead of the 46 mega tonnes the previous Ontario plan aimed for.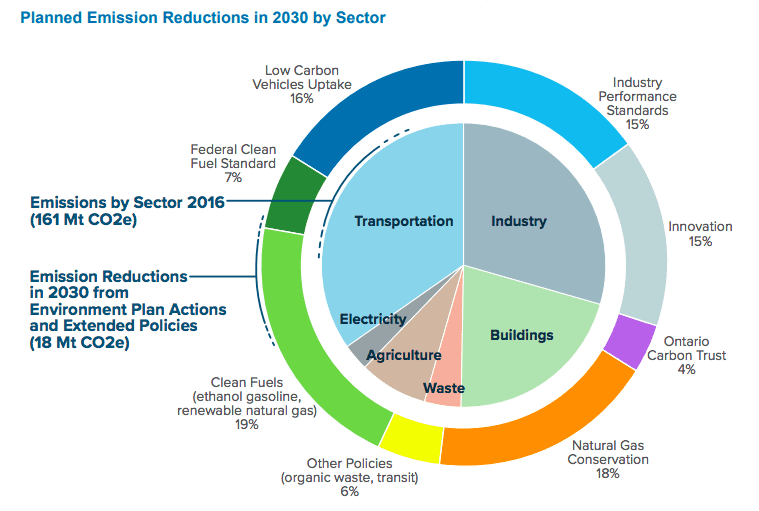 It's possible that this is achievable, but there are no timelines and few clear commitments. For example, "innovation" is tied to the proposed Carbon Trust, a fund to "use public funds to leverage private investment in clean technologies." The four sentences they've devoted to explaining this fund do not explain how exactly it will account for 15 per cent of Ontario's carbon pollution cuts.
Transportation: Does the plan reduce GHG emissions from passenger and freight vehicles?
We gave half marks for this one. 
Ontario's $5 billion commitment for subways gets a mention, but is not technically included in the plan. The biggest GHG reductions from Transportation are actually from switching to cleaner fuels. This is achieved by upping the ethanol content in gasoline, and implementation of a federal Clean Fuel Standard which accounts for 7 per cent of Ontario's overall GHG reductions. It's an interesting choice to include some federal policies in the plan, but not factor in the federal carbon price, which will bring additional emissions reductions.
There are no commitments to help Ontarians transition to active transportation methods like cycling or walking, and few details on supporting a switch to cleaner vehicles (i.e. electric cars). This doesn't stop 16 per cent of Ontario's planned GHG reductions being credited to "low carbon vehicles uptake." Since this number was pulled from a 2017 energy plan which relied on the now cancelled electric vehicle subsidies, they'll need more action to meet this target.
Does the plan reduce emissions from large industrial emitters and help them transition to cleaner technology?
It's possible, but there aren't enough details to say for sure. Half marks.
The biggest plank is a pricing system that's remarkably similar to the federal price on carbon for industrial polluters. The specifics will be negotiated with industry, so we don't know whether it will be weaker or stronger than the federal system, or whether they'll provide funds to offset the costs passed down to consumers from this price. It's interesting to see that Ontario has quietly come to the conclusion that a price on pollution is an effective tool.
The plan also includes $350 million for the Ontario Carbon Trust to support clean technologies, and $50 million for a reverse auction system where companies are paid to take on projects to reduce GHG emissions. The Carbon Trust fund is promising, but lacks detail. The reverse auction system is based on an Australian system which has failed to meet its goals (and the idea of paying polluters to do their fair share doesn't sit well with many).
Does the plan reduce GHG emissions from heating and cooling homes and buildings?
Half marks here for potential, but no firm action.
The plan mentions an expansion of natural gas conservation programs – this could lead to huge GHG reductions if implemented. That's the kicker here – if implemented. The plan relies on this single policy to deliver 18 per cent of Ontario's total reductions by 2030. But the fine print states that this policy "would be subject to discussions with the Ontario Energy Board." This is a commitment to process, not action.
Other policies of note include reviewing the Ontario Building Code with a mind to increasing energy efficiency standards, a voluntary display of home energy efficiency information on real estate listings, and voluntary renewable natural gas programs for customers.
Does the plan include effective measures to reduce methane emissions from waste?
Sort of – enough to gain a half mark.

When food and organic waste breaks down in landfills, it creates methane, a potent greenhouse gas. The plan acknowledges that preventing methane emissions means preventing organic waste from getting to landfills in the first place. This is a good start. There's a firm commitment here to expanding green bin collection systems in big cities. There is also a commitment to "develop a proposal to ban food waste from landfills" which stops short of committing to a ban.
Does the plan include commitments to creating or importing new sources of renewable energy?
No. (Spoiler alert, the remaining sections all received zero marks)
In theory, the Ontario Carbon Trust or reverse auction could end up supporting some renewable energy solutions. But given this government's targeted action to dismantle all investment in renewable energy for the foreseeable future, strong action here is a longshot.
Does the plan commit enough funds to accomplish its goals?
No.
First of all, some of the plan's relied-on GHG reduction measures remain unfunded. The electric vehicle uptake calculation relies on subsidies to encourage sales, but the plan contains no subsidies to replace the ones they cancelled. It's also unclear how proposed tax incentives will factor into provincial budgets, and whether rebates will be necessary to offset some of the cost increases from policies like raising ethanol requirements for gasoline, which will have a small impact on gasoline prices.
Second, $400 million to support clean technology and a reverse auction (out of the $500 million for the whole plan) sounds like a lot. But there is no evidence that this will be enough to achieve the necessary reductions. What we do know is that this plan proposed $500 million in total funding over four years. Cap-and-trade provided $1.9 billion in a single year.
Does the plan account for the nearly $1 Billion remaining from cap-and-trade revenues?
No.
When the new government was elected, nearly $1 billion remained from cap-and-trade revenues. The money was supposed to be used for programs to reduce GHG emissions.
The new plan commits $500 million over four years.  So, where's the other $500 million? Who knows. Seriously, we'd like to know who has this information.
Does the plan include incentive or rebate programs to help Ontarians of all socio-economic backgrounds?
Nope.
The only significant incentives here seem to be for large industrial emitters. As far as we can tell, there will be no measures to provide incentives or offset cost increases for low-income or vulnerable Ontarians, who we know are hardest hit by the growing impacts of climate change.
Does the plan commit financial resources to help public buildings, like social housing, schools, and hospitals, become more energy-efficient?
No.
The plan includes no firm commitments, but does mention an intention to "consider climate change when we purchase goods and services," and some continued efforts to reduce GHGs from programs created under the previous government. For example, the government will "continue to support" purchasing electric ferries, and continuing a long-term plan to make Queen's Park buildings more energy efficient. However there is no new funding to replace programs like the $100 million previously set aside for school repairs, or the funds municipalities were set to receive to upgrade social housing, and which the new government cut.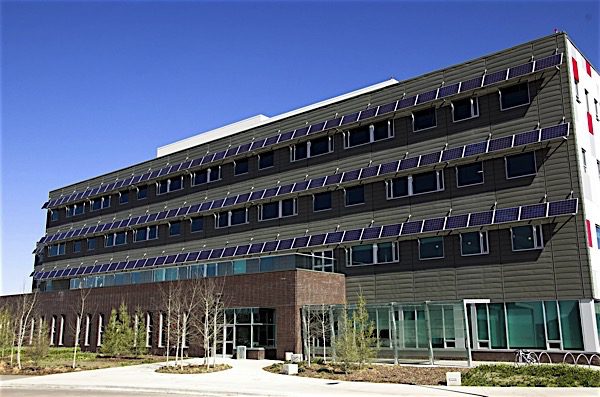 The plan may be vague, but there's a chance we could see more details in the coming months as it goes through consultation and approval. There's also the possibility that with public pressure, more actions will be included. You can give your feedback on this plan through the Environmental Registry of Ontario here until the end of January.