With winter nearing, it's a good time to look back at what we've achieved together this past year. And what a busy year it's been! This month on our blog we're highlighting recent environmental victories your support made possible. For a more detailed list of victories, check out our 2016 Annual Report. In the meantime, here's a snapshot of our recent victories safeguarding Canada's freshwater.
Water plays an important role in many different parts of our lives – from drinking water and growing our food to recreation and industry. That's why Environmental Defence works to keep Canada's waters clean and safe. And thanks to your support, this year we saw some important wins!
STRENGTHENING PROTECTION OF THE GREAT LAKES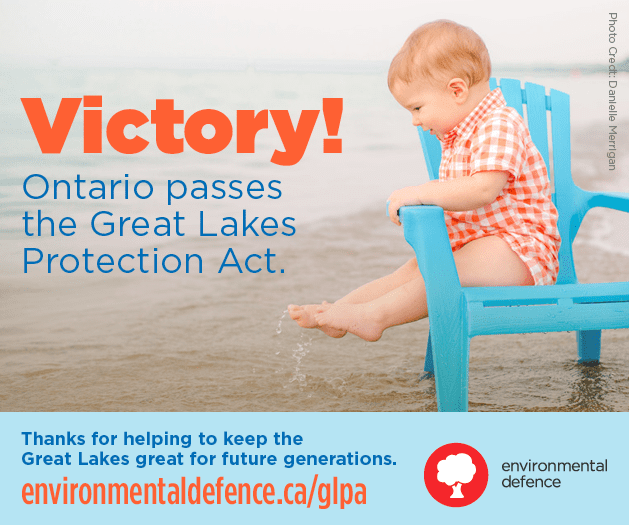 The Great Lakes represent one fifth of the world's available surface freshwater. We work to ensure that these bodies of water are protected for current and future generations. In October 2015, we celebrated great news for the Great Lakes, when the Ontario legislature voted in support of The Great Lakes Protection Act, which included suggestions by us on ways to strengthen it. The new law provides innovative tools to address the complex challenges posed by toxic algal blooms, invasive species, and climate change.
Want to power more victories like this? Donate to Environmental Defence and help defend clean water, a safe climate and healthy communities!
FIGHTING PLASTIC POLLUTION
Another big problem impacting the Great Lakes is plastic pollution. Approximately 80 per cent of litter in the lakes is plastic. And even though Ontario has the Blue Box program, about one billion single-use plastic bottles purchased in the province end up in landfills or the environment each year.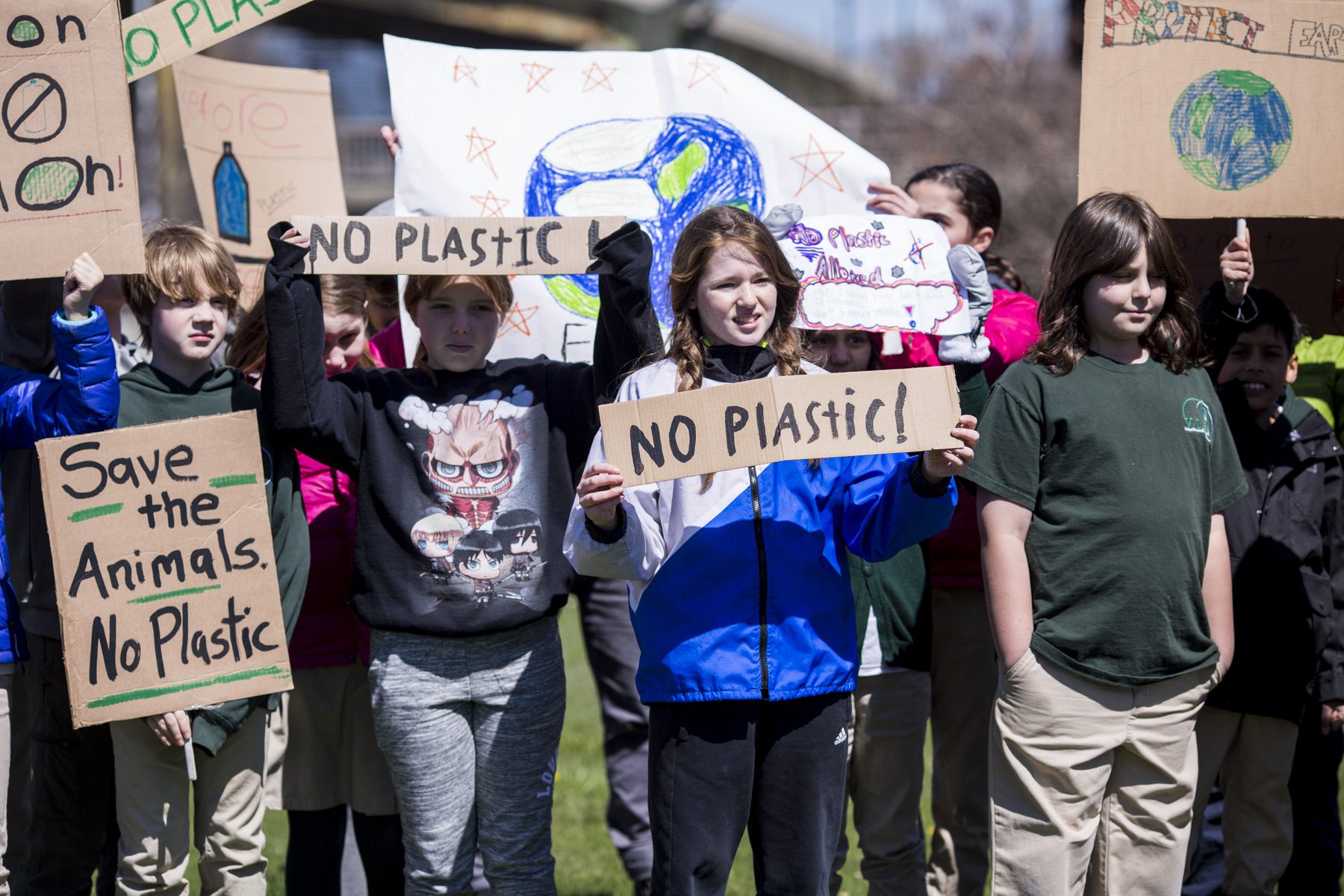 To help find solutions to this problem, in spring 2016 we released our report, Turning the Plastic Tide: How to Protect the Great Lakes and Fight Plastic Pollution. The report recommends that the Ontario government introduce a deposit return program for plastic bottles to reduce plastic waste and generate funds that could go towards protecting the Great Lakes. And with the report's release, we also encouraged concerned Ontarians to have their say and tell Ontario it's time for a deposit return program. Canadian provinces and territories with a deposit-return program recycle over three quarters of their bottles.
PROTECTING CANADIAN SHORELINES
Through our Blue Flag program, we work with shoreline communities to protect sensitive habitats while providing Canadians with safe and clean places to enjoy our waterways. The prestigious eco-certification program recognizes beaches and marinas that meet strict international standards, including water quality, safety, and environmental management and education.
The program continues to expand across the country. This year, a record 26 beaches and seven marinas across Canada flew the Blue Flag! We raised flags at two new beaches: Port Glasgow Beach (Port Glasgow, Ont.) and Victoria Beach (Cobourg, Ont.). We also raised the Blue Flag for the first time in British Columbia – at Gibsons Marina in Gibsons, B.C.
Thank you for supporting our work to protect Canada's freshwater. None of the victories described above would have been possible without you! Thank you for making so much positive change happen!
NEXT STEPS:
We're excited about our recent victories, but we know there's also a lot of critical work ahead.
We'll keep working to make a deposit return program for plastic bottles a reality in Ontario to reduce plastic pollutionin the Great Lakes. You can help! Take action here.
We'll also continue working to increase the number of Blue Flag beaches and marinas across the country, to help protect shorelines and provide Canadians with safe and clean places to enjoy water.
Want to help protect our lakes, rivers and beaches? Donate to Environmental Defence and help power our work to protect Canadians' environment and human health.
Get up-to-date news and tips here on how you can take action to protect Canada's freshwater.