Is this what "social license" looks like? The federal government faces enormous pressure from the oil industry to give the green light to Kinder Morgan's Trans Mountain pipeline and tankers proposal. But the tar sands pipeline poses unacceptable risks to our land, water and shared climate, and its review was mired in controversy and widely seen to lack credibility.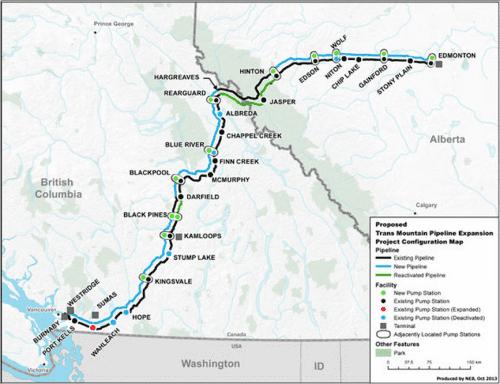 The federal government must decide by December 19 whether or not to allow Texas-based Kinder Morgan to triple the capacity of a 60-year-old pipeline transporting tar sands crude from Edmonton, A.B. to Burnaby, B.C. The expansion would add the annual carbon equivalent of 2.7 million cars to the atmosphere and would increase tanker traffic in Vancouver harbour seven-fold.
The previous federal government introduced changes to the National Energy Board (NEB) pipeline review process in 2012 and 2013, which led many Canadians to believe the review process was rigged in Kinder Morgan's favour. The current government's interim measures for pipeline reviews and Ministerial Panel did little to ease those concerns. British Columbians along the pipeline's proposed route remain overwhelmingly opposed to Kinder Morgan. Last year, the Prime Minister promised to completely restart the review, but since slapped on a band-aid consultation process while relying on the old review to make a decision this fall.
Here are the top 10 reasons the federal government should reject Kinder Morgan (for a complete list, check out our backgrounders):
Just like Energy East, the NEB botched the review process for the fundamentally flawed Kinder Morgan pipeline proposal. Canadians deserve a credible review process for major energy and industrial projects and the present government promised to restore public confidence in the process.
But even the recent Ministerial Panel report concludes that "there remains a strong public perception that there were significant gaps in the NEB review and a sincere concern about the social, economic and environmental impacts of the Trans Mountain Pipeline proposal."
The Kinder Morgan project, and the process to review it, are fatally flawed. It's time for Ottawa to end the charade and reject Trans Mountain.