What do the CEO of Imperial Oil, the head of RBC bank and the head of Big Oil's biggest lobby association, the Canadian Association of Petroleum Producers, all have in common?
They're all committed to using their power to block climate action in order to profit personally from more oil and gas production. And they're preventing efforts to build a healthy, equitable world beyond fossil fuels.
That makes them three of Canada's top 'climate villains'.
That's why we've included them in our brand-new campaign that names and shames the key players in the fossil fuel industry who are guilty of fueling climate chaos and the tactics they use to greenwash and misinform us all.
Why did we launch 'Climate Villains'?
When it comes to climate change, there is a lot of focus on everyday actions we all can take: changing our light bulbs, flying less, etc. Although those things matter and do make a difference, the focus on individual contributions to the climate crisis has been a deliberate strategy by the oil and gas industry to distract from their overwhelming role in causing climate change.
For example, it was actually a big oil company – British Petroleum – that coined the idea of 'carbon footprints' to keep the focus on people like you or me, rather than on the companies who are profiting from fueling the climate crisis.
So we're also going to focus on key individuals – by pulling back the curtain on seven of the most influential players behind Canada's oil and gas industry who are truly to blame for the climate crisis and revealing the strategies they employ.
Who is on the list?
The list includes some names you may have heard and others you may not expect. It includes CEOs of some of Canada's major oil and gas companies. For example, Brad Corson, CEO of Imperial Oil. You'll likely have heard about Corson and Imperial in the news lately. Toxic wastewater from Imperial's tarsands mine in Alberta leaked into areas used for hunting and harvesting by Indigenous communities – and Corson kept it quiet for nine months. Imperial Oil is now the subject of a formal investigation by the federal government.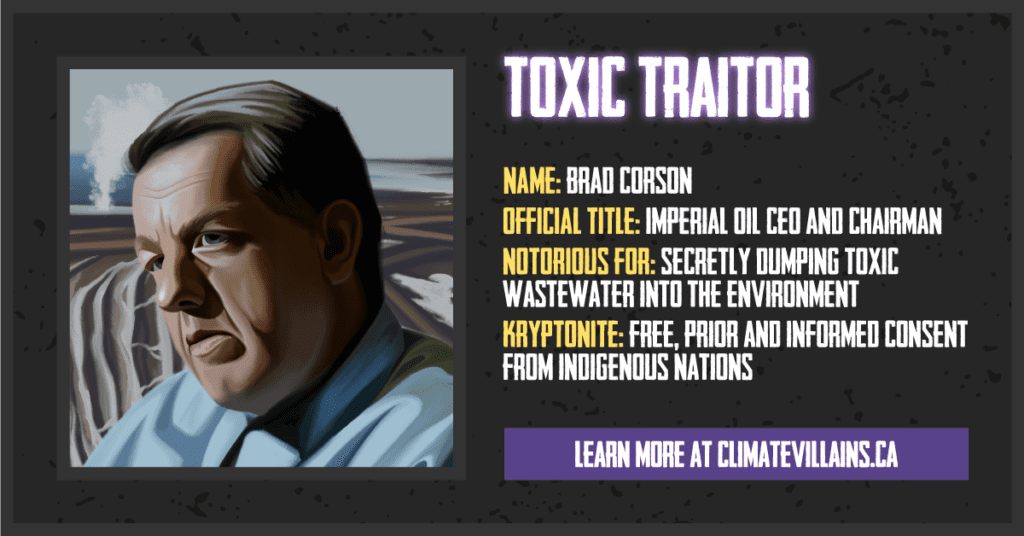 Imperial Oil has known about the link between their fossil fuel products and the climate crisis since the 1970s. Yet Corson continues to oppose climate policy, prioritizing their profits over the future of the planet. And did you know that Corson was Canada's top-paid energy CEO last year, with earnings of over $17 million?!
The list also includes Dave McKay, the CEO of RBC (aka Mr. Money Bags). In 2022, RBC provided more financing to oil and gas companies than any other bank in the world. RBC talks a big game about climate action and "net zero" but since the Paris Agreement was signed in 2015, RBC has poured nearly $350 billion dollars into climate-destroying fossil fuel companies.
What strategies do these villains use?
These climate villains are more concerned about their profits and wealth than the future of the planet – and that means they want to keep producing more and more of their product, fossil fuels. For decades, oil and gas companies employed straight-up climate denial and spread doubt about climate science. But as the climate crisis keeps worsening, and people understand that fossil fuels are the cause of the crisis, climate denial is no longer an option.
Oil and gas companies are now using a range of other tactics to ensure they can keep on digging.
They spend a lot of time and money lobbying governments to provide huge subsidies and to weaken climate action.
They continue to spread lies and disinformation about climate solutions like renewable energy and about their own impacts on the climate and the environment.  They also try to rebrand fossil fuels as 'clean', 'natural' and 'ethical' – when none of these things are accurate.
They support industry front groups who oppose climate action. These groups present themselves as grassroots but are actually industry founded and funded.
They promote false solutions (like carbon capture and storage), which won't actually reduce emissions in any significant way, but do give the industry an excuse to keep on producing.
What can you do?
We've named and blamed the people who are driving the climate crisis – now it's your turn!
Visit the climate villains website to see all of Canada's climate villains.
Nominate a new climate villain on the website.
Share climate villains with your friends and family.
Sign our petition to stop big oil from polluting our climate.
Stay tuned as we feature different climate villains each month – and give you different ways to take action!
Together, we are stronger than Big Oil.