Since the provincial government launched their latest round of attacks on Ontario's environment in November of this year, there has been unprecedented public opposition to Bill 23 and the Greenbelt removals.
We've mapped at least 85 different rallies between November 15th and December 13th from Windsor to North Bay to Ottawa. This movement has caught the attention of politicians and the media and is building new connections between environmental organizers throughout the province.
Many of these pop-up rallies were organized on very short notice, meaning that many of our supporters missed their local events. To help ensure our supporters are notified when future events are taking place, we've prepared this blog with contact information for local groups across Ontario. The best way to stay informed is to connect with the people organizing on the ground in your part of the province.  
Find your region and sign up for emails from your local groups or follow them on social media!
Northern Ontario and Muskokas
There were rallies in Thunder Bay, North Bay and the Muskokas – including a traveling Bill 23 rally, which collected letters from five different towns and delivered them to MPP Graydon Smith in Bracebridge.
If you're in Thunder Bay, you can follow CUSP – Citizens United for a Sustainable Planet on Facebook to learn about local environmental events.  
In the Muskokas, you should sign up for email updates from Climate Action Muskoka through their website or follow Climate Action Parry Sound on Twitter.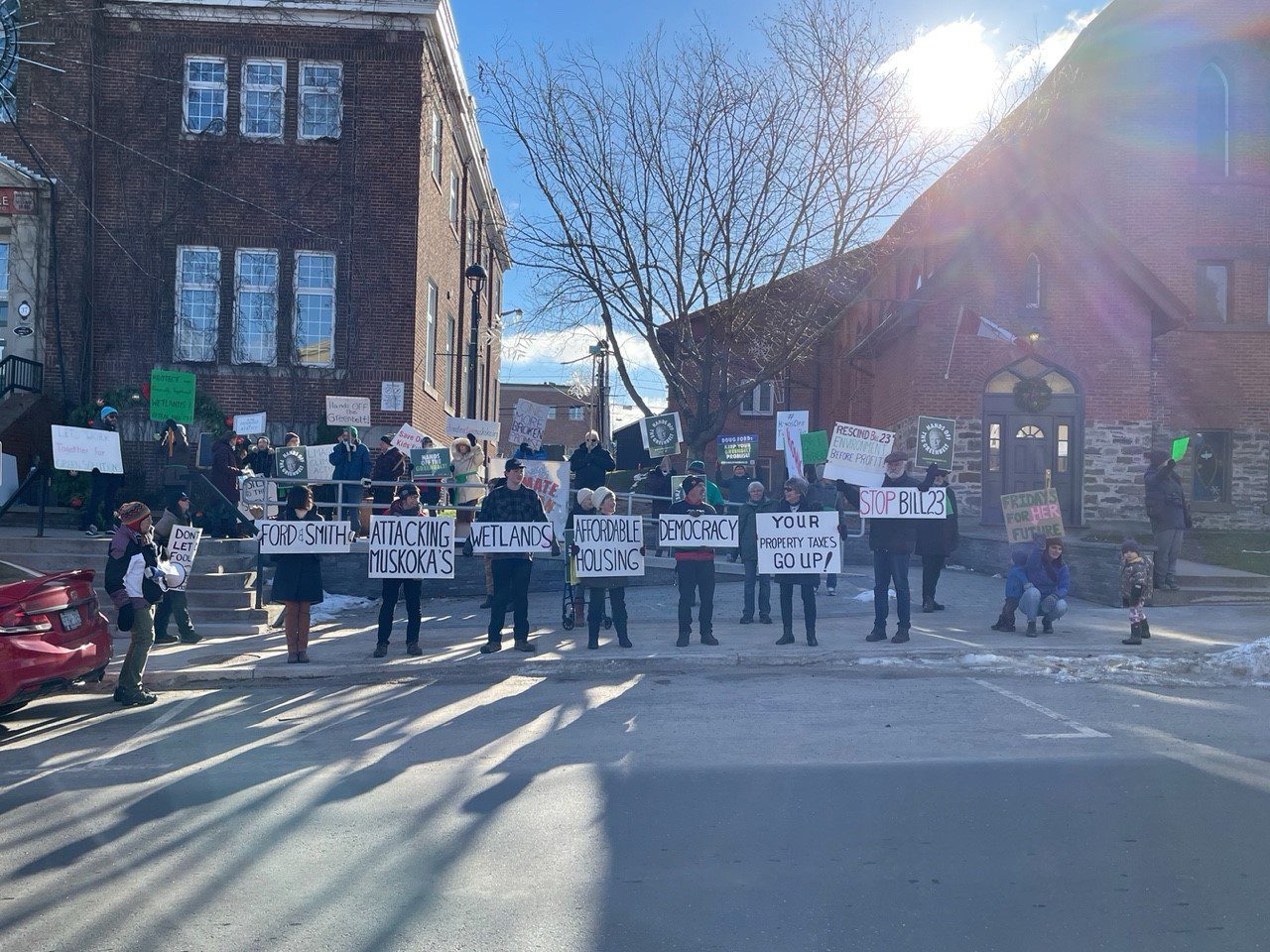 Eastern Ontario
Eastern Ontario is laser-focused on repealing Bill 23, with rallies in Cornwall, Smiths Falls, Brockville, Ottawa and Kingston.
For Bill 23 news out of Ottawa, check out this page and sign up for updates from Ecology Ottawa.

In Cornwall, join this welcoming Facebook community.

In the Brockville area, you should check out Sustainable Merrickville-Wolford. Their website has an email sign-up and links to their social media.
In Kingston, you should sign up for email updates from Kingston350. You can also follow Jeremy Milloy on Twitter or Kingston350 on Facebook.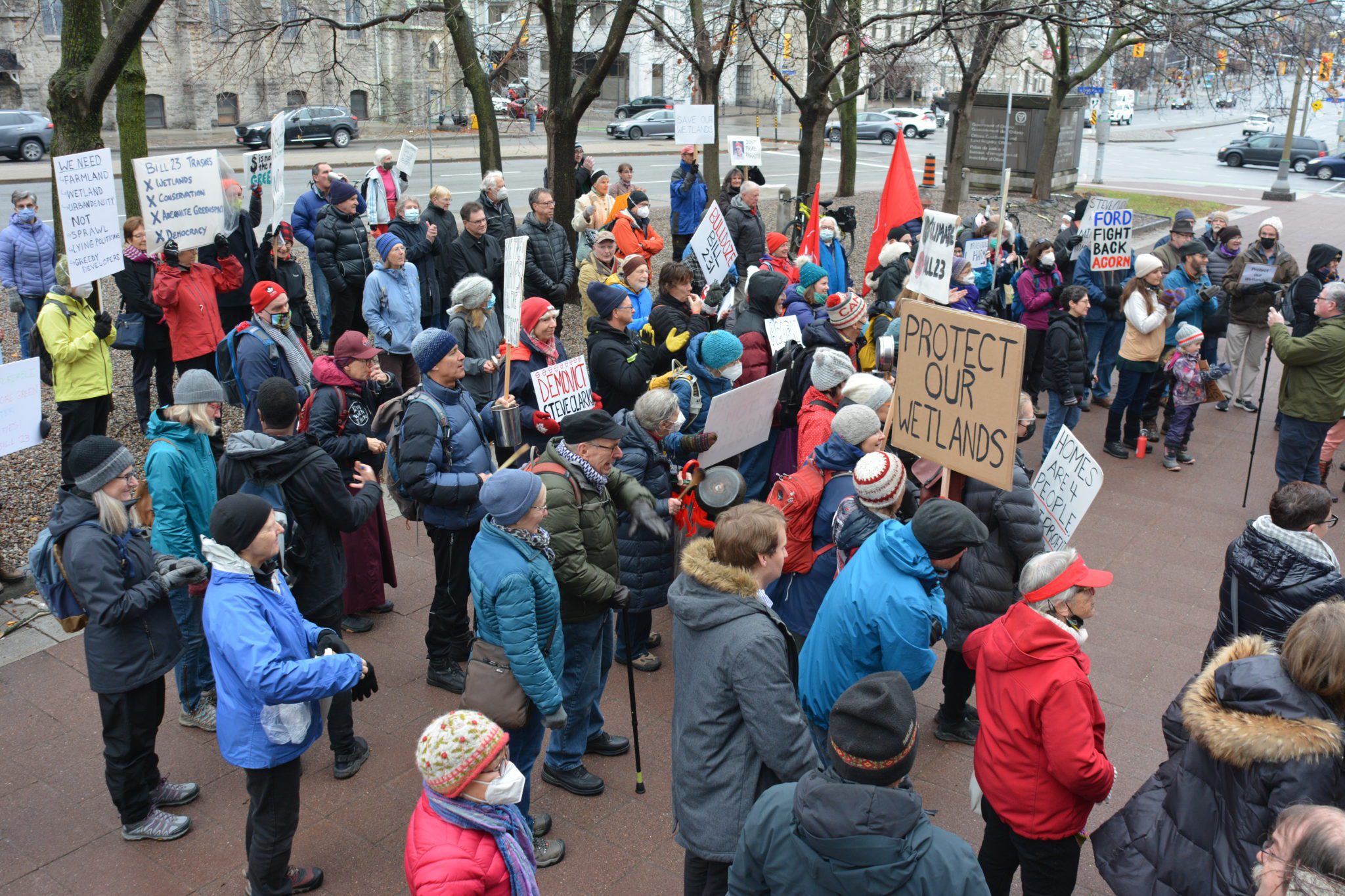 Central East
In Prince Edward County and the Kawarthas, there were rallies in Belleville, Peterborough and Lindsay, as well as an event in Port Hope at the Office of the Minister of the Environment David Piccini.

For updates in Belleville, get in touch with Quinte Field Naturalists or follow them on Facebook.

There are many excellent groups in Peterborough, but For Our Grandchildren is a good central source of information on environmental organizing in the area.
In Port Hope, you'll want to follow Blue Dot Northumberland on Facebook.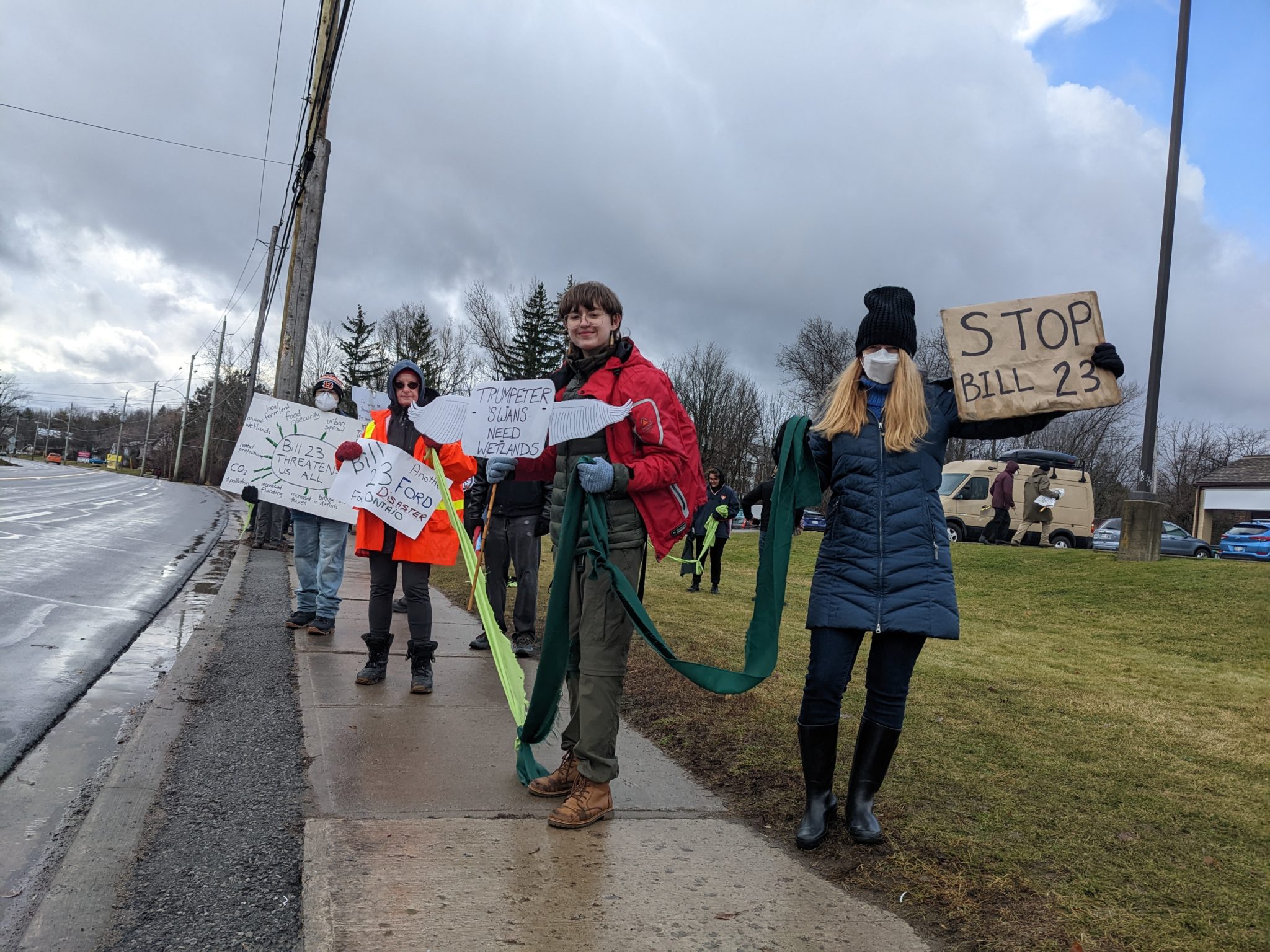 Simcoe County
Simcoe County has been a hotbed of activity in the Greenbelt and Bill 23 battles, with rallies in Alliston, Barrie, Orillia, Coldwater, Midland, Stayner and Holland Landing.
Margaret Atwood even dropped into a zoom meeting to encourage local organizers in the area!
There are lots of excellent local groups here, such as Strong Towns New Tecumseth, Just Recovery Simcoe, Forbid Roads Over Greenspaces, AWARE Simcoe, Save the Oro Moraine, Wasaga Beach Climate Action, Collingwood Climate Action, Midland Field Naturalists, Stop Sprawl Orillia, Sustainable Orillia and Green Orillia. All of which are worth getting involved with if they're close to home.
For updates on the region as a whole, get connected with Rescue Lake Simcoe and Simcoe County Greenbelt Coalition.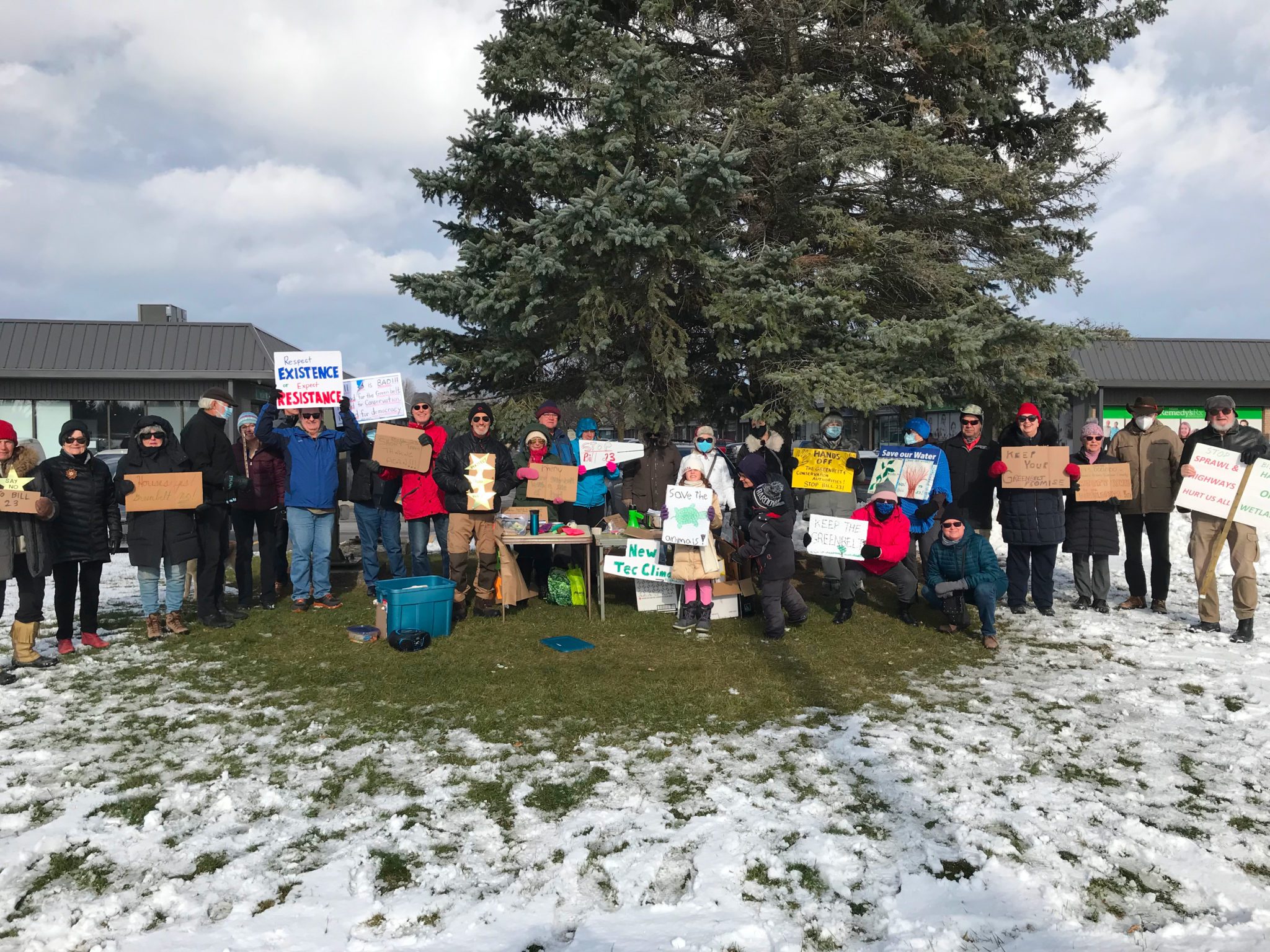 Durham Region
Durham Region is especially furious because a big chunk of the Greenbelt removals are in the Duffins-Rouge Agricultural Preserve, which has special value and special protections that predate the Greenbelt.

Stop Sprawl Durham has been leading the charge here. You can sign up for email updates from this excellent organization or follow them on Facebook. If you're in Whitby, the best source of information is the Blue Dot Whitby Facebook page.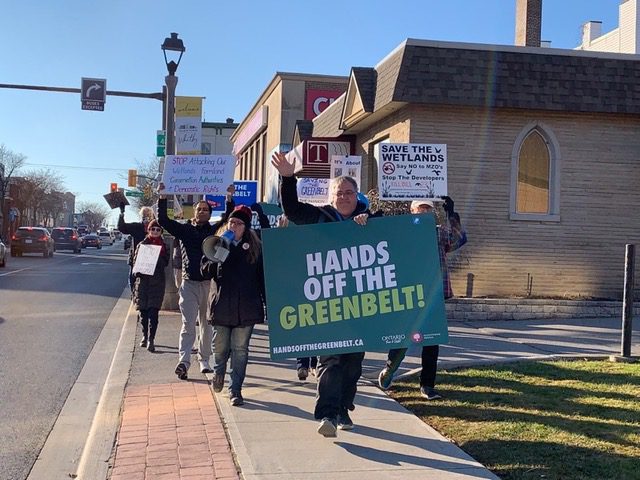 Toronto
Toronto hosted rallies at Premier Ford's Office and a march to Queen's Park. At the march, nearly one-thousand people circled the south lawn forming our own "greenbelt" to protect Ontario's environment. There were also rallies in Etobicoke, York South Weston and the Woodbine area.
Environmental Defence will let you know about any events we organize in Toronto, but if you want updates on the whole range of environmental events happening in Toronto, ClimateFast, Climate Voice and Toronto350 are all great sources of information.
In Scarborough, there were hikes in Scarborough Southwest organized by the Scarborough Junction and a rally in Scarborough Rouge Park organized by Catherine Hamilton. If you'd like to leaflet and organize other events in Scarborough Rouge Park, you can connect with Catherine through the Greenbelt Promise campaign.
Connect with Etobicoke Climate Action in order to stay up to date on environmental organizing in Etobicoke.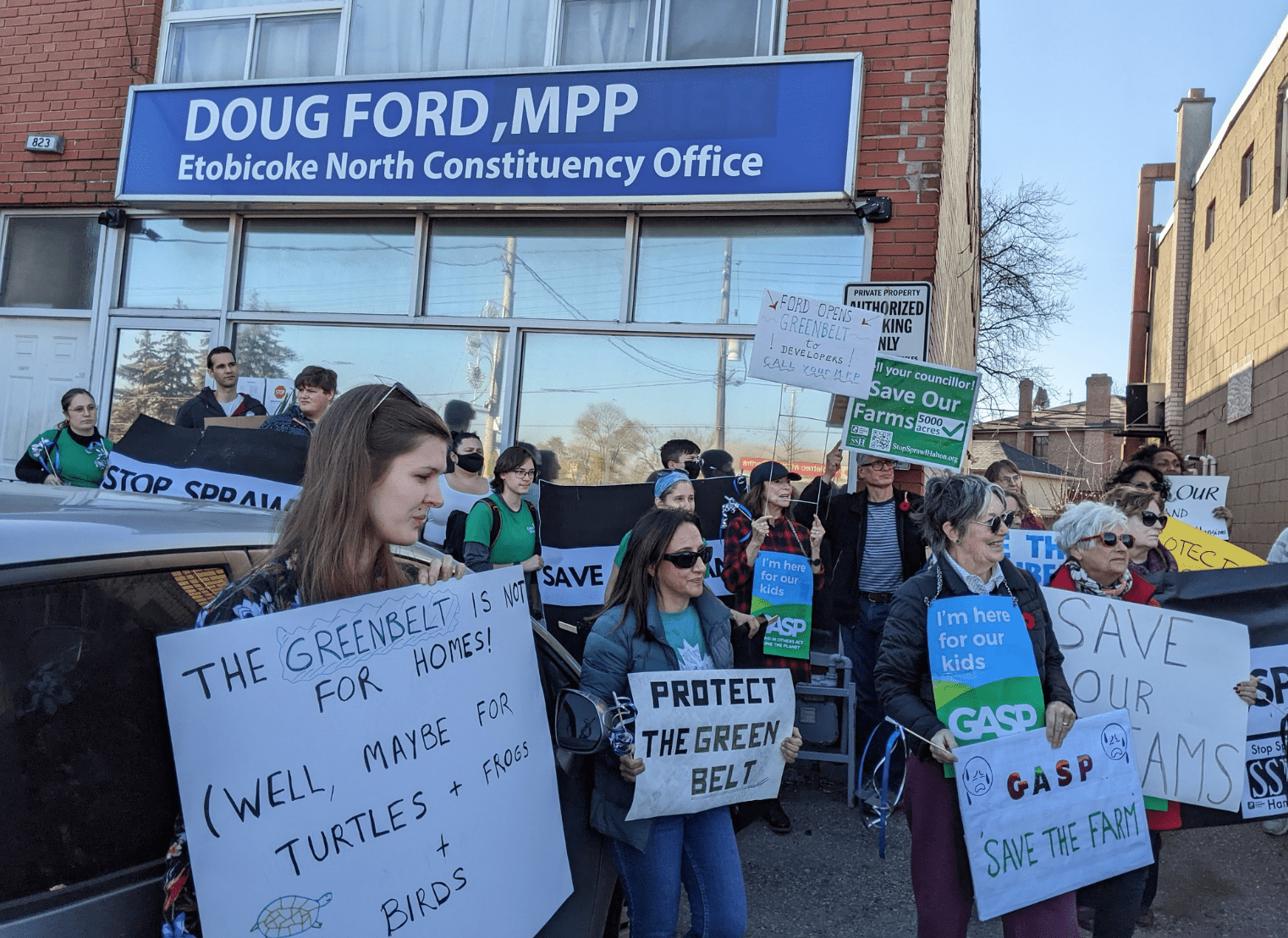 York Region
York Region saw an unusual number of protests over the last few weeks, with rallies happening in Newmarket, Whitchurch-Stoufville, Markham, Richmond Hill, Woodbridge and King City.
To keep on top of environmental activism in York Region, Stop Sprawl York Region is probably your best bet, they're active on Facebook and Twitter.
In King, you can get involved with Concerned Citizens of King Township. 
In Richmond Hill, there's an excellent new group called Livable Richmond Hill.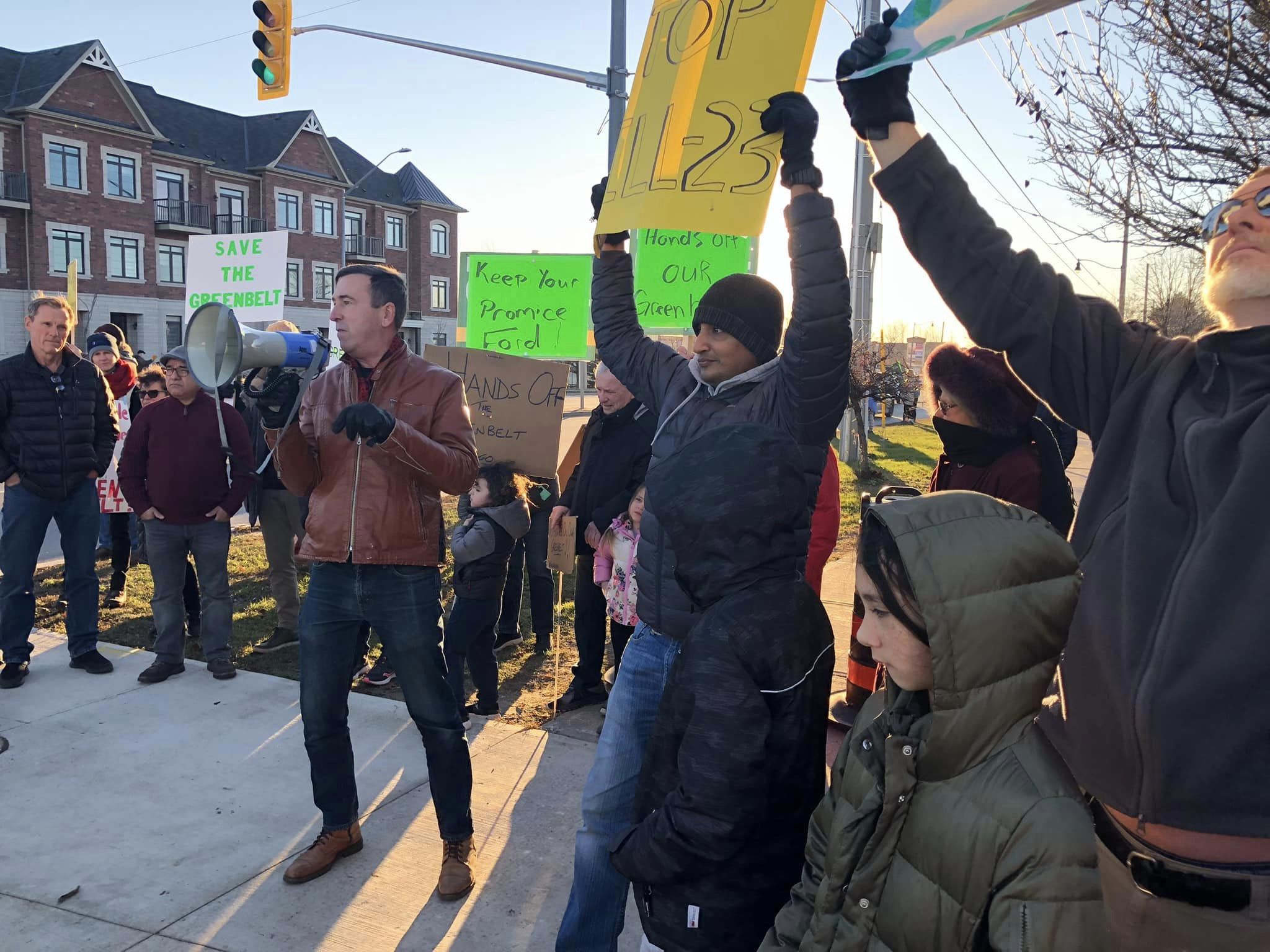 Peel Region
Peel Region hosted rallies in Orangeville, Brampton and Mississauga.
If you're in Caledon, follow Ecocaledon.
If you're in Brampton, follow Community Climate Council.
If you're in Mississauga, follow Sustainable Mississauga and Mississauga Climate Action.
Stop Sprawl Peel covers events and issues across Peel Region.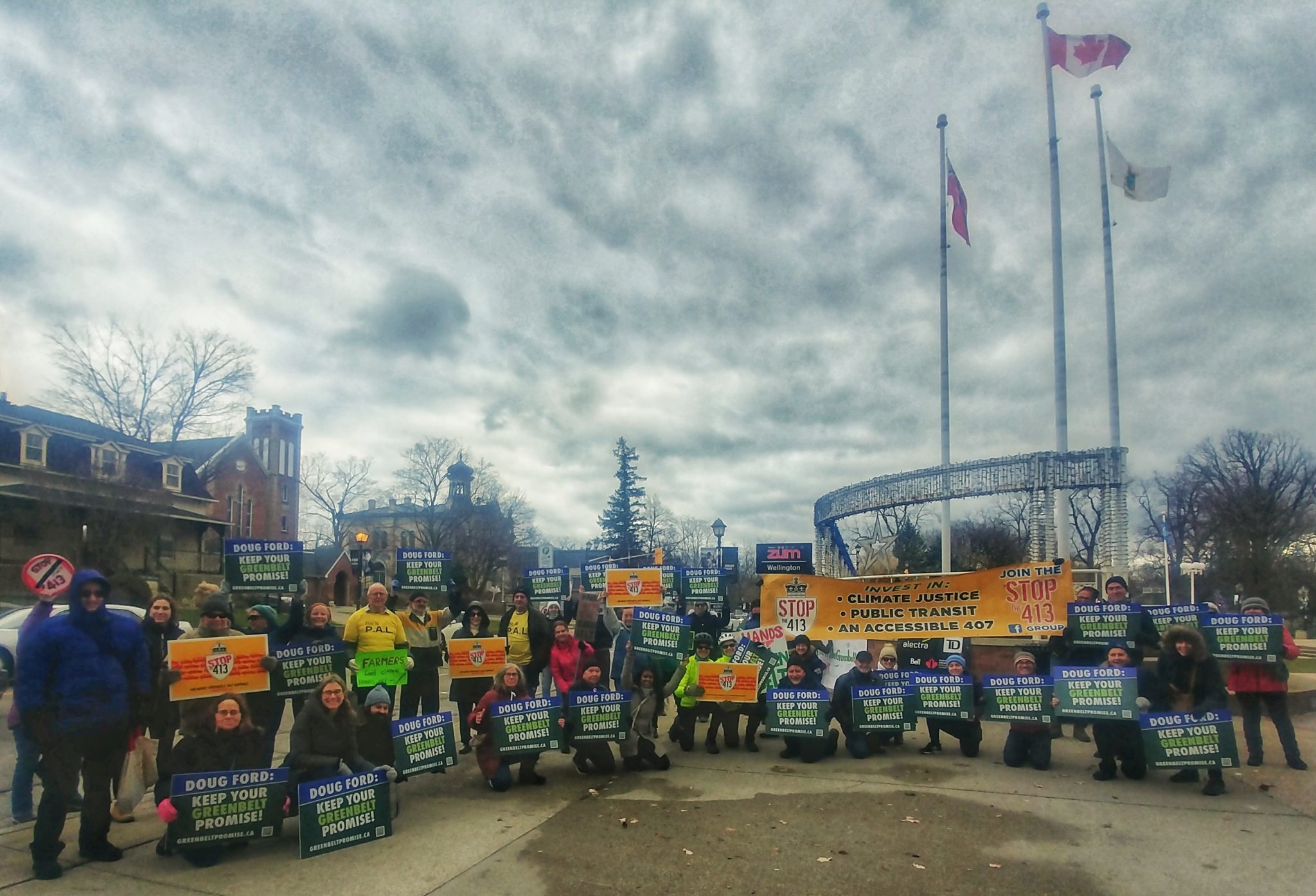 Halton Region
In the Halton Region, there were rallies in Burlington, Georgetown, Milton and Oakville!

Stop Sprawl Halton and Grandmothers Act to Save the Planet are both great to follow. If you are in Georgetown and Halton Hills, you can follow Halton Hills Climate Action.

Hamilton/Niagara 
There were eight rallies in Hamilton alone. There were also large rallies in Beamsville, Grimsby, Thorold and Niagara Falls.
In the Hamilton area, Stop Sprawl Hamilton will keep you up to date on everything that's going on in the area. In Niagara, you can follow 50by30 Niagara or the Biodiversity and Climate Collective.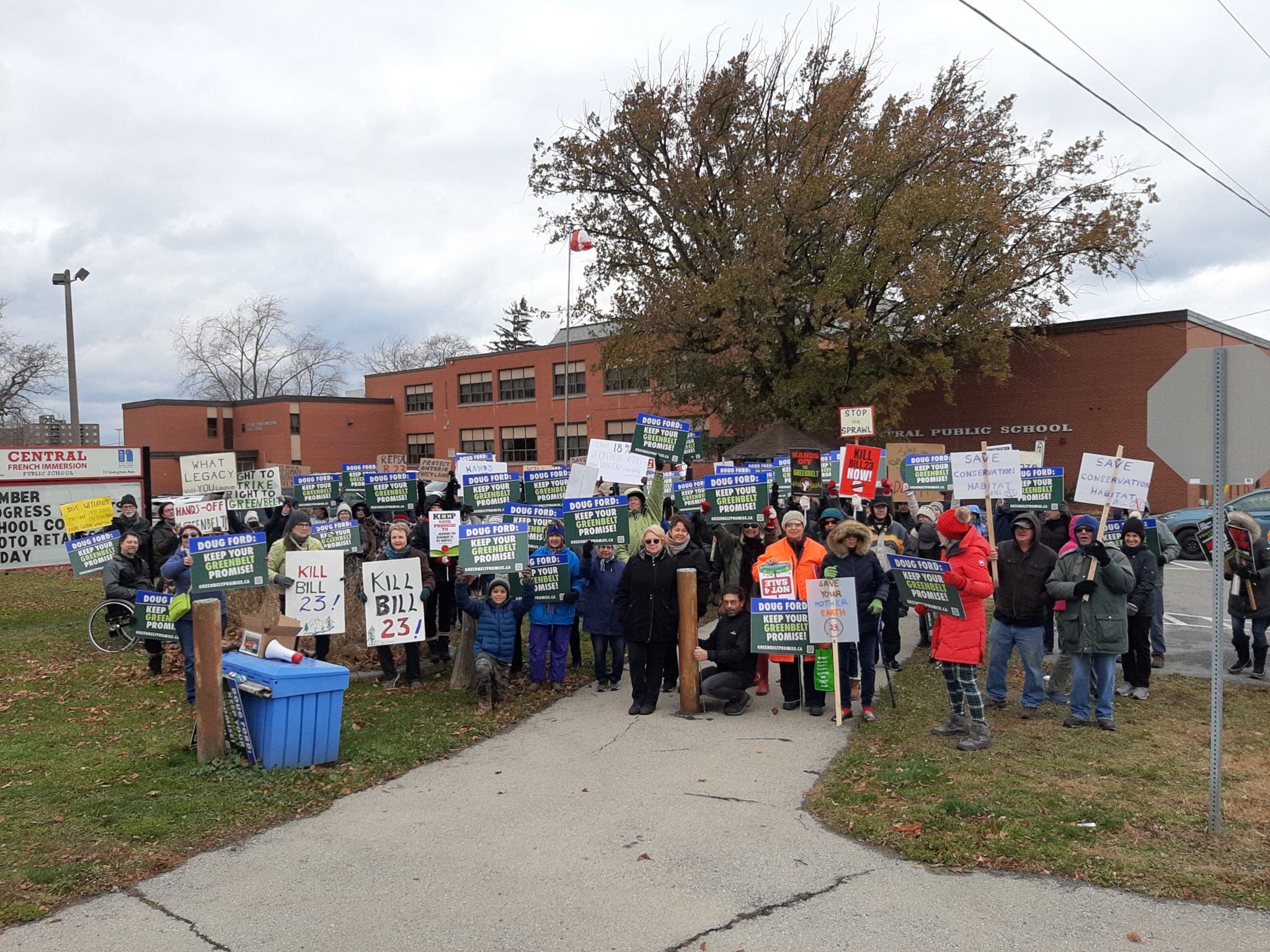 Southwest Ontario 
Southwest Ontario and the Lake Huron areas were perhaps the busiest part of the province this month, with rallies in Guelph, Elora, Fergus, Eden Mills, Elmira, Kitchener, Brantford, Stratford, Strathroy, London, Windsor, Blyth and Owen Sound.
The Owen Sound rally was particularly notable because people turned out to oppose Bill 23 in whiteout conditions.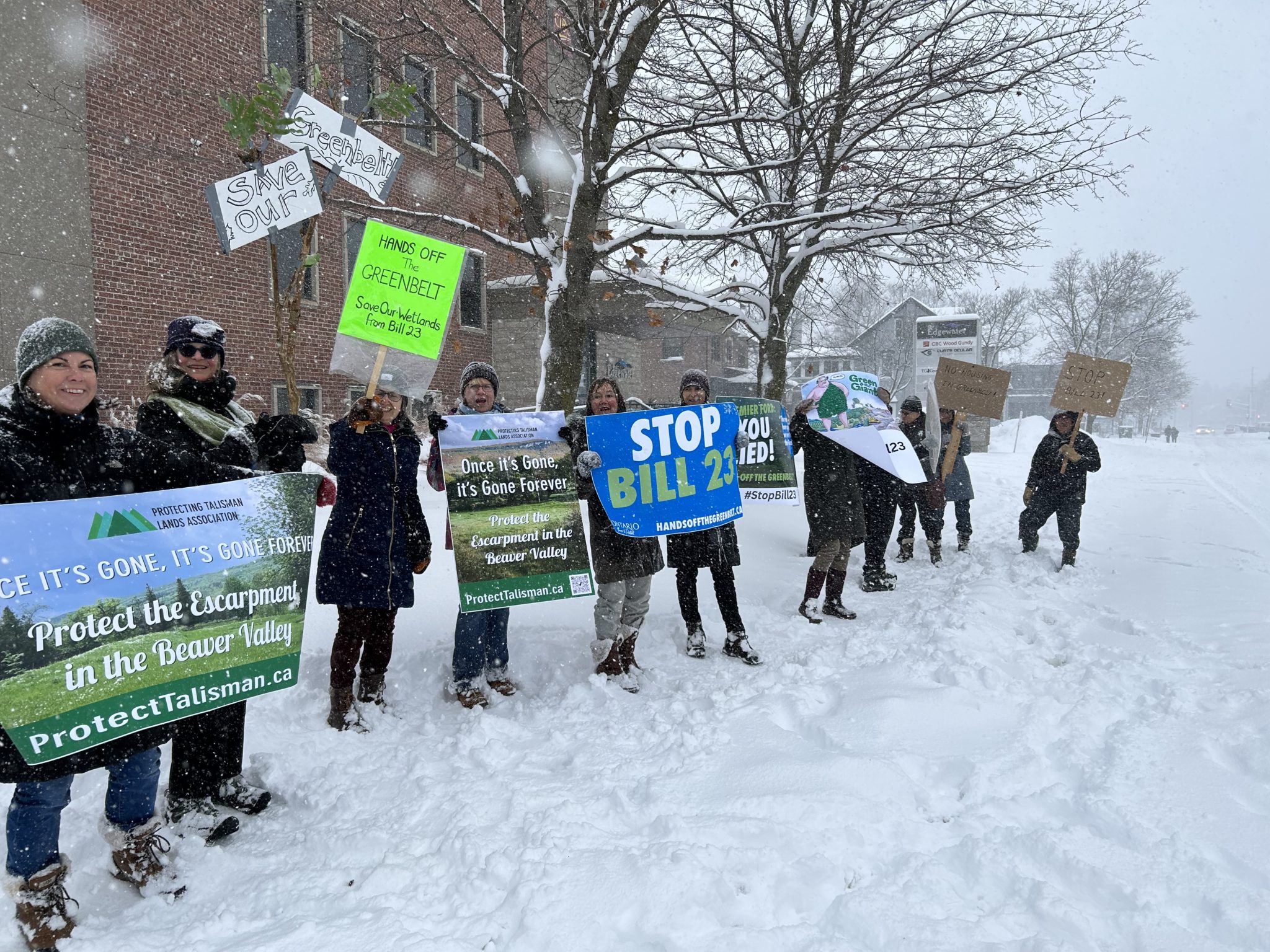 Water Watchers, which started in Wellington County, is very active in this region and throughout the province. Water Watchers organizes on the Greenbelt, protecting groundwater and other important environmental issues. Check out their website and follow them for upcoming events. 
If you're in Brantford-Brant, Cambridge, K-W, Guelph, Fergus, Elora or Elmira, checkout the Greenbelt West Coalition. 
Perth County Sustainability Hub is another key local group in the area.
In the London area, check out Climate Action London or follow Brendan Samuels on Twitter.
Join in the rising chorus of support for the Greenbelt!
In Toronto, Environmental Defence is planning one last event before the holidays – a Sing-a-long at Old City Hall on Wednesday December 21 at 5:00 PM featuring the new holiday classic the 12 Acts of Destruction. If you're in Toronto, come on down – and if you live elsewhere, consider planning a little caroling of your own and registering it on our events map.