Last Friday, Saturday and Sunday people all across Ontario attended rallies, clean-up events, earth day celebrations, a glow ride, a creek restoration, the grand opening of a repair café, nature hikes and more!
The Yours to Protect Weekend was absolutely epic and we want to thank all the local groups that made it happen!
The Yours To Protect Weekend included events in all the following places:
| | | |
| --- | --- | --- |
| Amherstberg | Kleinburg | Peterborough |
| Belfountain | London | Stayner |
| Belleville | McDonald's Corners | St. Catherines |
| Bolton | Milton | Stratford |
| Bracebridge | Mississauga | Sudbury |
| Brampton | Oakville | Sundridge |
| Caledon | Orangeville | Toronto |
| Fort Erie | Orillia | Town of Blue Mountains |
| Georgetown | Ottawa | Uxbridge |
| Hamilton | Owen Sound | Vaughan |
| Huntsville | Pelham | Windsor |
| Kawartha Lakes | Perth | |
We want to give a special thanks to Manorun Farms, StopSprawl HamOnt and the National Farmers Union for organizing the StopSprawl Farmfest with live music and local food.  
#YTPWKND at @StopSprawlFarmFest by @mjwhigginson
We had a great time at @ChrisKrucker's Manorun Farms in collaboration with @NFUOntario.
VOTE ON JUNE 2nd #FlamGlan pic.twitter.com/VFHdjr76wt

— GASP4Change (@Gasp4Change) April 25, 2022
Defending Ontario's farmland is crucial because, if we lose farmland to sprawl, it's gone forever.
We also really, really liked the name of the P'Earth Day Parade in Perth, Ontario.  Read more about the event and check out a video of the P'Earth Day town crier.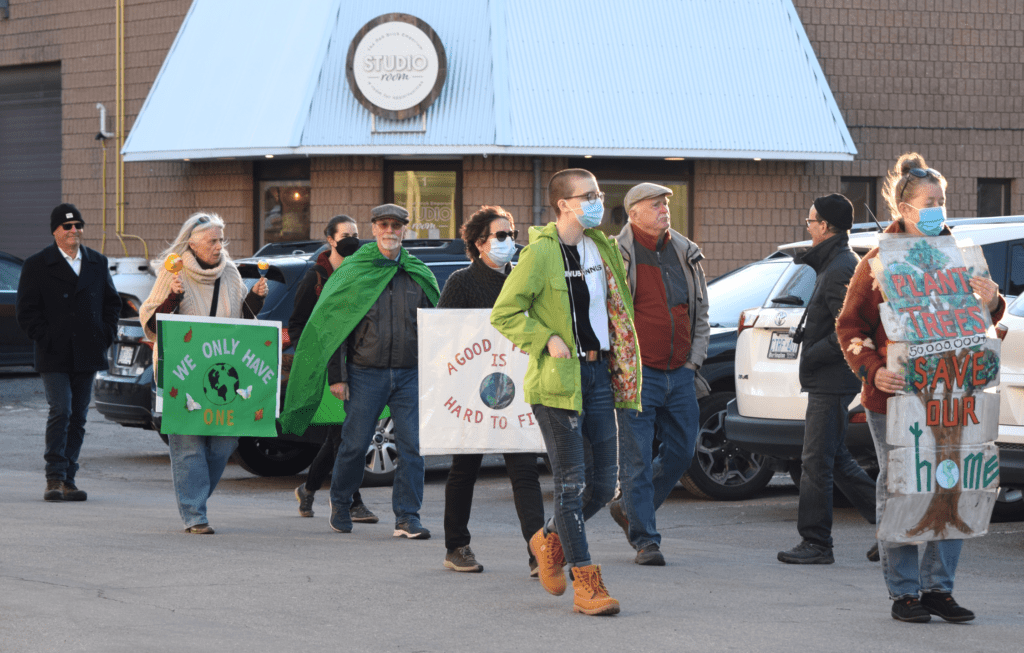 STOP THE 413 and BRADFORD BYPASS
We hope the provincial government was keeping tabs, because there was especially strong turnout at events opposing the 413 and the Bradford Bypass with huge anti-highway rallies happening in nine different locations!


Snapshots from Stop the 413 rallies in Bolton, Oakville,  and Vaughan. (Click to view)
Many activists also made the connection between unnecessary highways and out of control gravel mining in nearby pits and quarries.  
Check out Reform Gravel Mining if you want to join the campaign to better regulate Ontario's pits and quarries.
STOP SPRAWL
Activists at many of the highway rallies were also calling for an end to urban sprawl – because they also see the connection between additional highways and low-density, car-dependent neighbourhoods. For example, a "Slow Roll" bike ride organized by Sustainable Mississauga offered a tour of "some great examples of conservation of natural and food spaces and some not so great examples of housing and highway sprawl in the city."
In downtown Toronto, the key demand was for ending exclusionary zoning. Environmental Defence teamed up with housing affordability activists from More Neighbours Toronto to remind people that Greenfield sprawl and residential NIBMYism in existing neighborhoods are two sides of the same environmentally-destructive coin.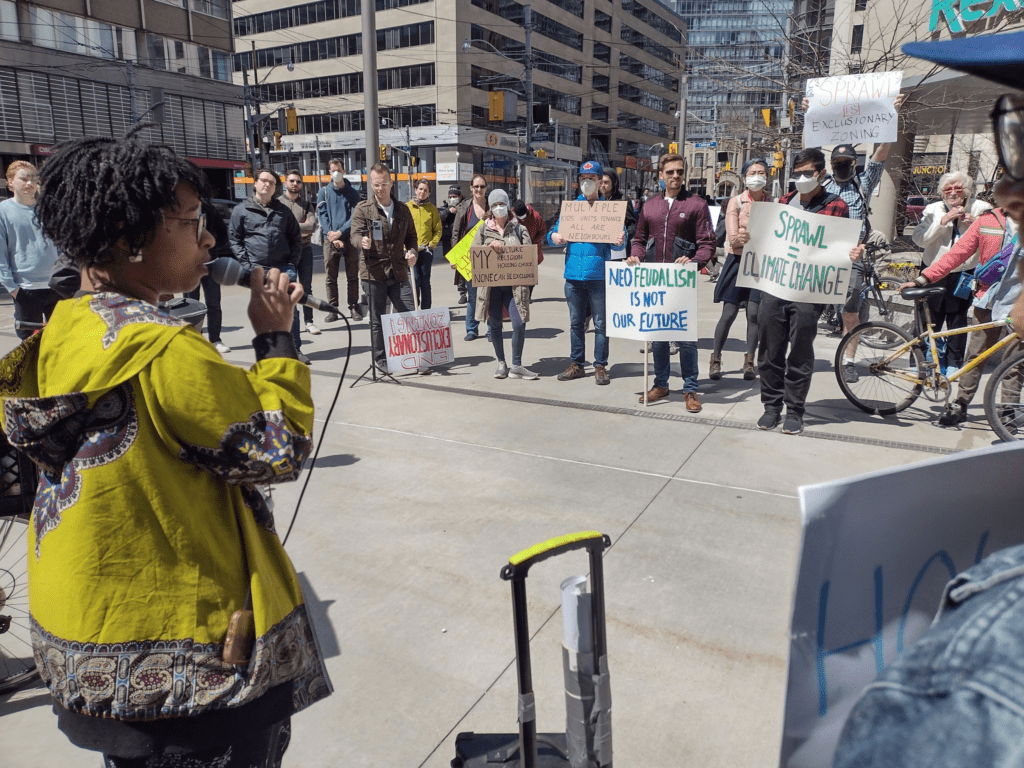 What's next?  We keep organizing.

While rallies are great for raising awareness, they're just a starting point. All these passionate local groups still have a lot of work ahead of them and they need your help!
In Peterborough, the invasive species removal event was just phase one of Odoonabii Watershed Stewards' plan to restore a local creek. You can join them again on Saturday April 30th to plant native species!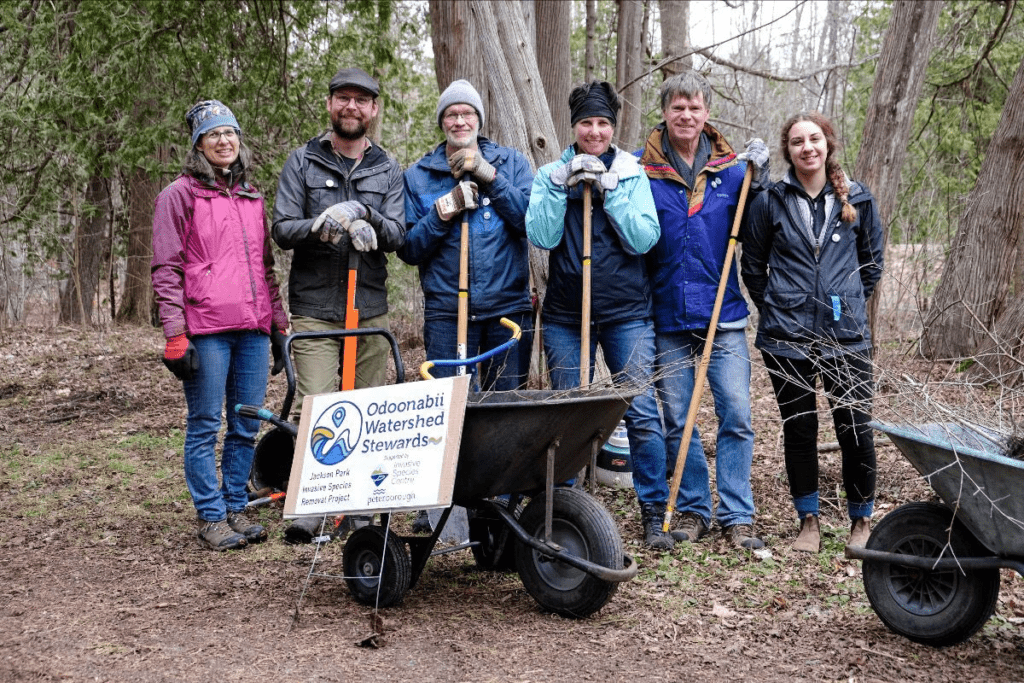 A great way to keep up to date on environmental issues in Peterborough is check out the Greenzine which had its online launch during YTP Weekend.
Climate Action Muskoka held rallies in three places for YTP Weekend, but they're out in the streets on Fridays almost every week and they also run informative meetings and webinars – join them.
Stop Sprawl organizers in Halton and Hamilton organizers are looking to protect their municipal wins by making sprawl a key issue in the provincial election. Stop Sprawl Durham and Stop Sprawl Peel both have important municipal votes on boundary expansion coming up – so visit their websites and get involved.
If you live in Toronto, you should learn more about the Expanding Housing Options in Neighbourhoods initiative which city council will vote on this summer and let your councilor know you support building more 'missing middle housing' throughout the city. 
We've also updated our map so that each event now includes a link to the event organizers website or social media.
All Roads Lead to the Provincial Election
The outcome of the June 2nd provincial election will have a huge impact on Ontario's environment – so the most important thing you can do to support local organizers in their efforts is to pledge to #VoteForTheEnvironment and ask the MPP candidates who come to your door where they stand on environmental issues.

Emergency in Ontario: Rally for Climate, Communities and Nature
Last but not least, in order to put the environment front and centre in everyone's mind in the lead up to the election Environmental Defence has joined a number of other environmental groups to organize a rally for climate, communities and nature at Queen's Park on May 14.

Make a plan to attend and help us make some noise!