Over the course of the last year, we have joined water protectors from across U.S. Tribes and environmental groups in a decade-long fight calling for the closure of Line 5. The Line 5 pipeline is plagued by a multitude of high-level risk factors which together create a very unsettling equation for ecological disaster to occur—right in the heart of the Great Lakes, which hold 84 per cent of North America's freshwater. Not to mention, we are in a climate emergency and need to get ourselves off of fossil fuels as swiftly as we can. Built in 1953, Line 5 is one of the oldest pipelines running through Canada and the United States. This old and dangerous pipeline has had numerous safety violations occur and is operating almost 20 years past it's designed lifespan. It's time to shut it down.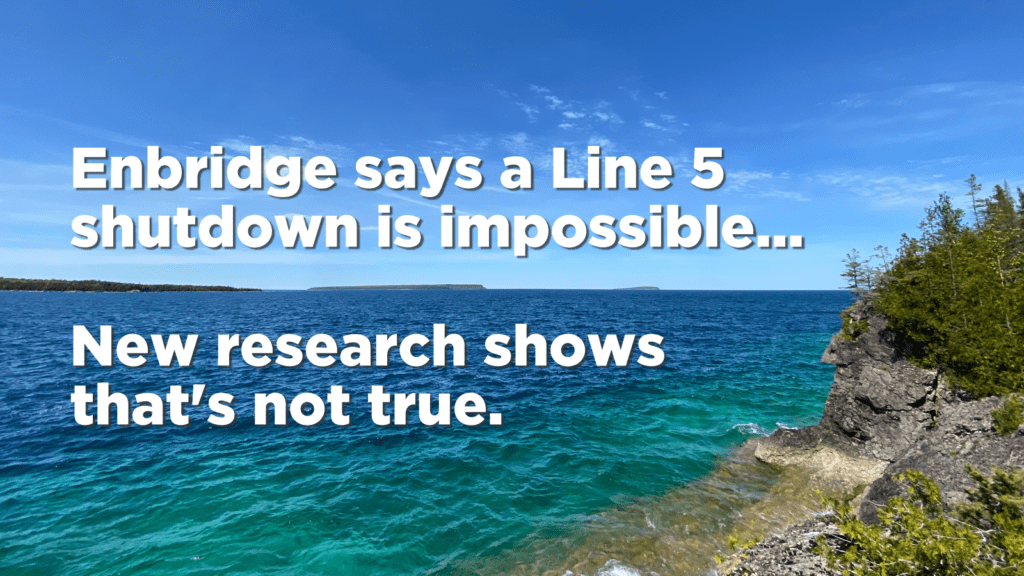 Protecting the Great Lakes should be a no brainer. But the question on many people's minds is will Ontario and Quebec (and the broader Line 5 region) be able to reliably meet present and near term energy needs without this pipeline. The Canadian government has been arguing in favour of keeping the pipeline open, but it hasn't done it's due diligence and answered this fundamental question. Well, now we have. 
The truth is, there are already known alternatives to the Line 5 pipeline. The government just needs to acknowledge them.  A 2018 study by London Economics International showed viable pathways and alternatives for meeting crude oil needs in the region exist without Line 5. Though this study was important, it focused primarily on Detroit and Toledo refineries, rather than Ontario and Quebec which are also served by Line 5. There was still a clear need to investigate the Canadian perspective. And so Environmental Defence commissioned an industry expert to examine the data and tell us once and for all, how important is this pipeline to Ontario and Quebec?
Map 2 - Enbridge Mainline_Detail_FINAL

In February of this year, we released this new analysis. The conclusion? We do not have to choose between protecting our most precious freshwater body whom we all depend on – the Great Lakes – and meeting our energy needs. Our study further confirms that viable options do in fact exist for meeting the region's crude oil needs in the event of a Line 5 closure. 
Let's break it down: 
According to Enbridge's own data from 2018, the Mainline System delivered approximately 644,000 barrels per day (bpd) of crude oil to Sarnia via two pipelines, Line 78 and Line 5. 

Another Enbridge pipeline, Line 78, is currently not being used to its full capacity and can already account for some of the shortfall from a Line 5 closure. But with some upgrades to pumping stations, it could actually make up the majority of that shortfall.

Existing rail capacity and/or tankers would need to make up the remaining shortfall. This would require roughly 2-3 additional trains per day, and/or roughly one additional marine tanker or less on routes that are currently transporting crude oil.

In this scenario, a planned shutdown of Line 5 would cause a gas price increase of only 1.8 cents/litre, essentially going unfelt by consumers.

There are alternative sources of Natural Gas Liquids (NGLs) available in nearby regions that could make up for NGL flows that currently move through Line 5.
Additional key takeaway: 
There would not be impacts to workers or jobs following a Line 5 closure, given that the presently required product would still make it to market.  

For years now, Enbridge has been fear mongering about the impacts of closing this 69-year-old pipeline. Over the past year the Canadian government has been backing Enbridge's position that this pipeline is so-called "vital energy infrastructure" and they have done so uncritically. But we strongly believe the public has a right to know what our true dependence on Line 5 really is. Our analysis shows that closing Line 5 is manageable.
Unfortunately, we cannot trust Enbridge's claims when it comes to our dependence on this pipeline. Following the release of our research, Enbridge responded to the findings with false statements in an attempt to discredit the credibility and accuracy of the analysis. For one, they claim that the Line 78 pipeline—one of the key Line 5 alternatives put forward by our report—is already at full capacity and cannot take on Line 5's current flows. This is interesting considering our report relied on Enbridge's own publicly available data and records submitted to the Canadian Energy Regulator (CER). If Line 78 is full, then Enbridge either submitted inaccurate data to a federal regulatory agency or they are giving us inaccurate data now. So which is it? Serious question. 
Despite this information being publicly available, Enbridge is still trying to mislead the public about our true dependence on Line 5. Naturally, as a pipeline company, it would prefer that its pipelines all remain in service. But the evidence doesn't support Enbridge's assertions. 
The public has a right to know what our options are when it comes to our energy dependence on Line 5, especially given the severity of the threat being posed to the Great Lakes and the over 400 water bodies that this pipeline crosses. It is very worrisome and unsettling that Enbridge is so quick to dismiss their own data in what appears to be an attempt to mislead the public. The Canadian government needs to do its due diligence and not dismiss this new analysis. There are options available to meet our energy needs without Line 5 that will not threaten the Great Lakes. It's clear that we do not depend on Line 5, but our freshwater dependence on the Great Lakes is very real. 
The truth is that a planned shutdown of Line 5 is within reach. We as a Great Lakes community can do the right thing and put the Great Lakes, our health, and our futures first. And the debate about Line 5 should highlight another pressing need –  a Just Transition plan for Canada. Along with a Line 5 closure, governments need to significantly resource and prioritize the Just Transition plan and must do so with the workers taking a lead role in planning and implementation.