Alberta Premier Jason Kenney's inquiry into "anti-Alberta energy campaigns" is widely agreed to be a farce. But we shouldn't forget or overlook the fact that this inquiry's premise itself was a facade, that was launched as part of a package of anti-democratic actions intentionally designed to harass, silence and delegitimize critics of oil sands development. 
Just as the anti-fossil fuel movement isn't unique to Alberta, the tactics employed by the Alberta government – the inquiry, the "war room" (Canadian Energy Centre), the criminalization of protest – are not unique to Alberta. Rather, they are tactics used in autocratic regimes around the world, and could be drawn from a "petro-state playbook" because they bear striking resemblance to those employed in autocratic regimes with large oil industries, such as Russia, Kuwait, and Saudi Arabia.
Those are the findings in our new report – Drawing From Despots: How Alberta is Using Tactics Borrowed from Russia, Kuwait and Others to Try to Silence Opposition to Oil and Gas Expansion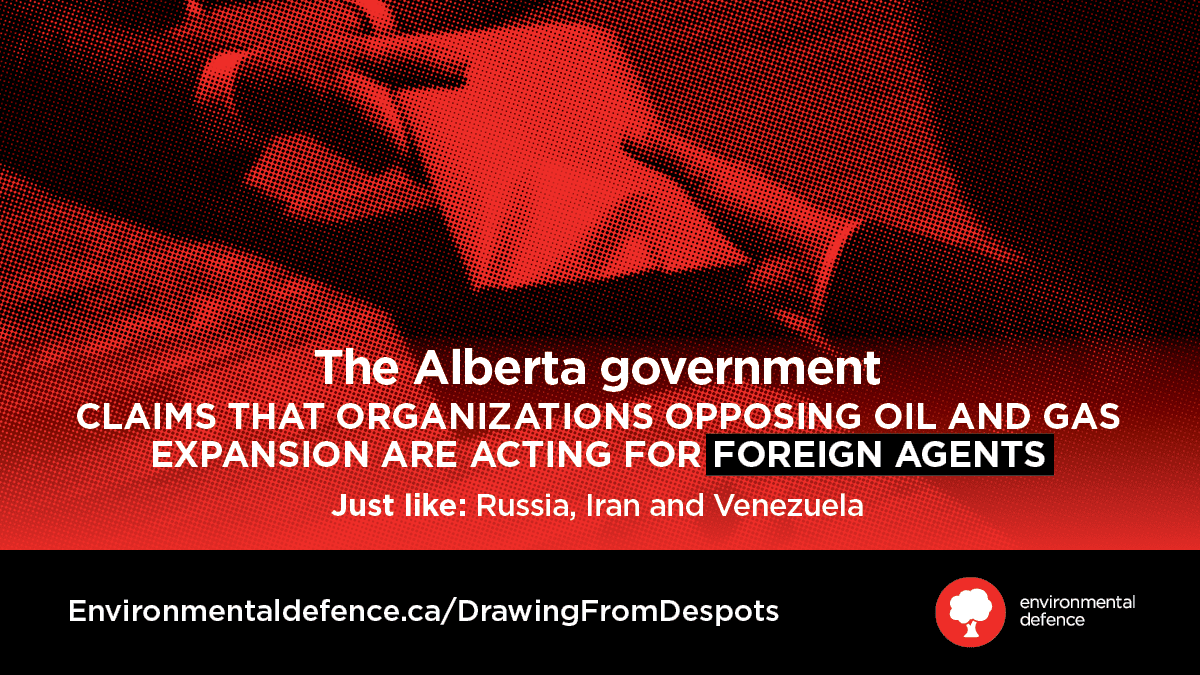 The Alberta inquiry is an attempt to label NGOs as foreign agents or enemies of the state – a tactic also employed by Russia, Venezuela, Iran and some U.S. states. And rather than a hard-nosed assessment of the extent of foreign funding (which is quite low and legal), the inquiry's intent is to say that the tar sands and  pipeline protesters are illegitimate and their motivations suspect.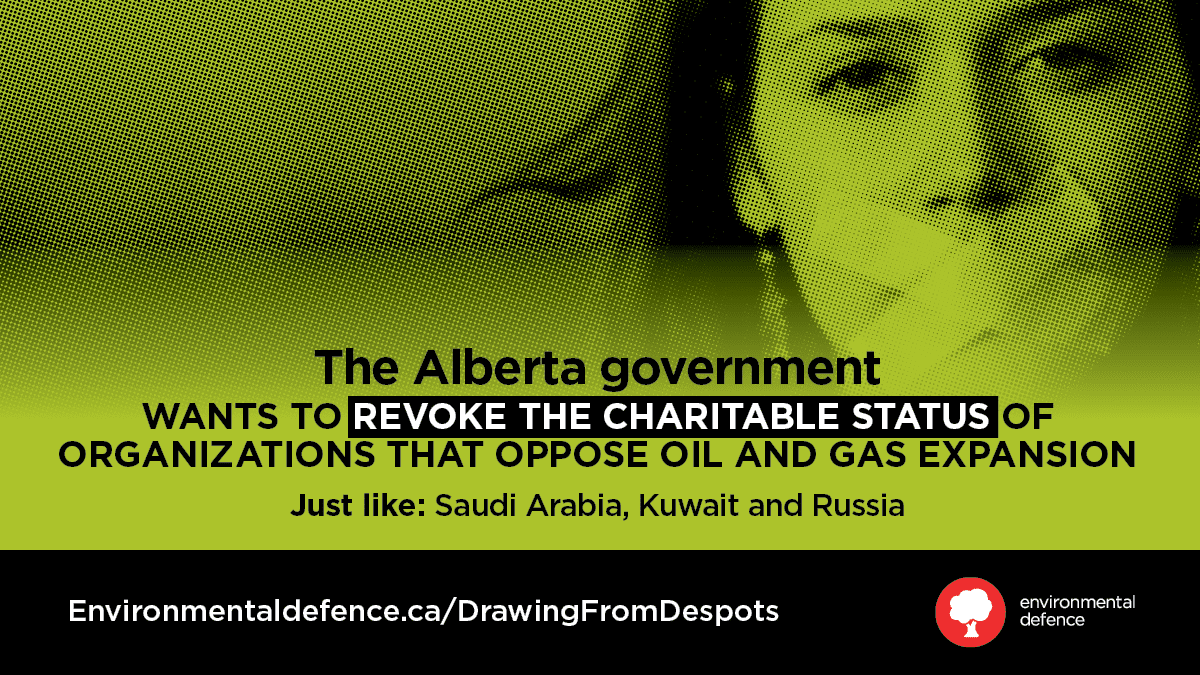 Premier Kenney's oft repeated desire to deny or revoke the charitable status of groups that speak out against fossil fuel projects is also employed by Kuwait, Saudi Arabia, and Russia – and was used here in Canada at the federal level during the tenure of former Prime Minister Harper, in whose cabinet Premier Kenney served. It had a chilling effect on critics then, so why not try it again?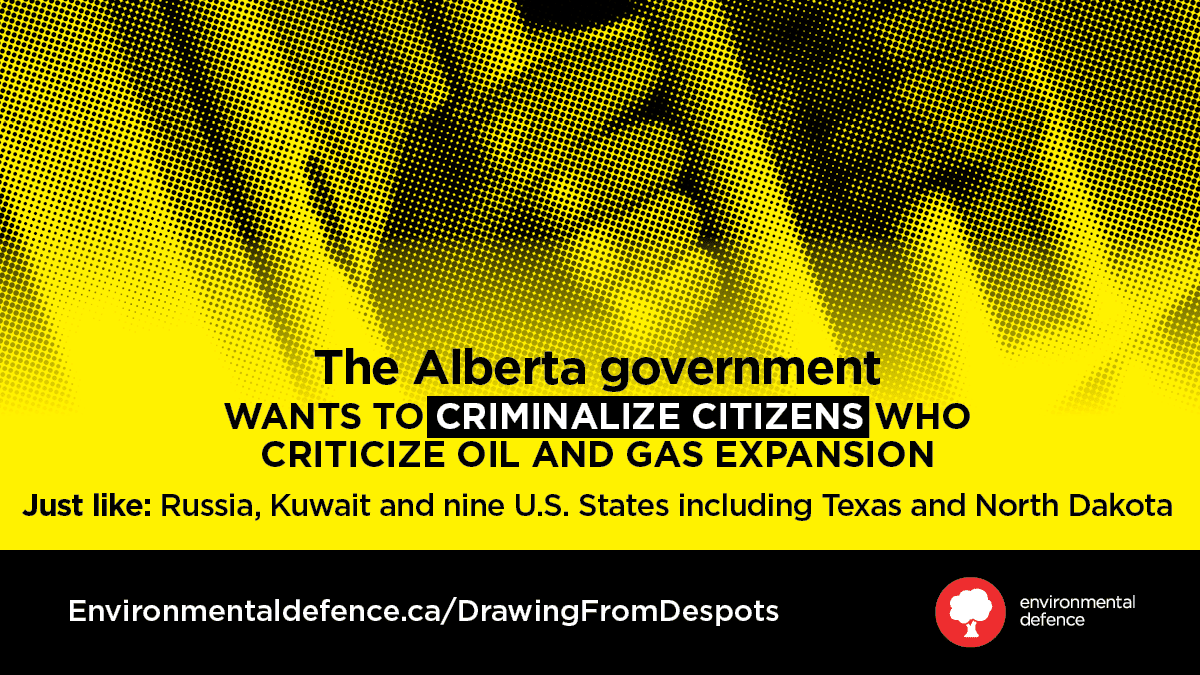 And Alberta's move to criminalize protest through Bill C-1 is an intimidation tactic and a petro-state favourite, though this tactic is also employed in democratic countries where the oil lobby holds strong sway. Nine U.S. states have passed laws criminalizing protest in a similar fashion to what has been done in Alberta, and eight others are considering similar legislation. Alberta's legislation bears a strong resemblance to model legislation drafted by the American Fuel and Petrochemical Manufacturers, a powerful industry lobby group.  
We can't resist pointing out the irony: Premier Kenney claims that Alberta's oil is better than what is produced in countries like Saudi Arabia and Venezuela because Canada is a democracy, while, at the same time, the Premier is actually borrowing anti-democratic tactics from these same autocratic regimes in an attempt to stifle dissent and shut down debate.
The inquiry is a farce. The commissioner's report has been delayed twice and may miss yet another deadline at the end of January 2021. The inquiry is over budget, by a million dollars, because the $2.5 million they were initially allocated wasn't enough, apparently. And now, it's come out that the inquiry has commissioned reports, paid for by taxpayers, that spout conspiracy theories and are "text-book examples of climate-change denialism." 
\The "war-room" is an embarrassment  too – from the use of another organization's logo , to the Executive Director's fumble that the war room wasn't about attacking critics but, rather, "disproving true facts" (which now seems prescient given the climate denial publications of the inquiry). And another nice bit of irony can be found in the fact that the Canadian Energy Centre cited Environmental Defence as an authority on the amount of fossil fuel subsidies given in Canada, though they were set up to delegitimize our work.
But all these fumbles and bungling cannot and should not excuse the intent behind all of this – to intimidate critics, rather than engage with them on the issues. Nor can it excuse the anti-democratic means to which the Alberta government has stooped. Propaganda, intimidation, charges of foreign interference – these aren't befitting of any government anywhere, and certainly should not be given a pass in a democratic country like Canada.
We're taking the Alberta government to task for this, because the climate movement won't be silenced. But Albertans should too – because until Alberta can have an honest conversation about the impacts and future of the oil and gas industry and the legitimate criticisms of it, the province will fail to find a path forward.
Stay up to date on environmental issues. Join our email community