My partner and I took our first road trip to Florida this winter. We usually spend the cold, snowy months at home taking in winter activities. But, since we purchased a Tesla Model  3 last June, we've been thinking about taking a road trip somewhere and spending a little time in the sun sounded like a good idea – especially after the -20 degree weather of January.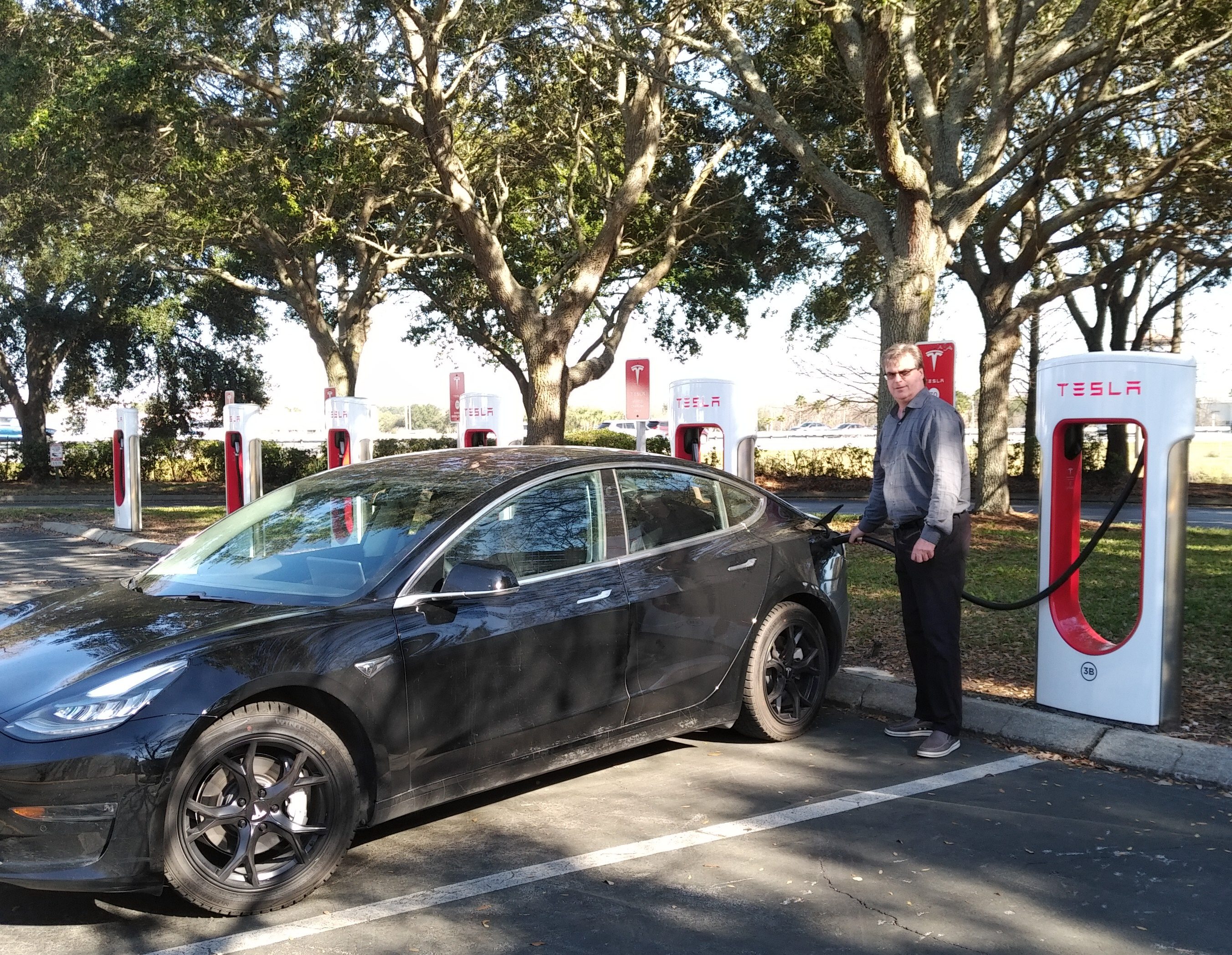 Most people want to know was our trip a green trip? How much did we reduce our carbon footprint? We had three options to get to Florida: fly, drive a gas-powered car or drive an electric vehicle (EV). Here's the estimated carbon footprint for the two of us, for each option:
Flying – 1.5 tonnes of carbon emissions.
Gas-powered car – 1.03 tonnes of carbon emissions
Electric vehicle – 0.44 tonnes of carbon emissions (mostly due to polluting electricity powered by coal or natural gas)
Driving the EV not only greatly reduced our carbon emissions over the other travel options, but we also saved $200 in fuel costs. Of course, we could have reduced our emissions even more by staying at home, but if you do want to travel south, driving an EV is a smart way to get there.
So, what's it like to drive an EV? I often tell people driving our Tesla is like driving a computer. We are sent software upgrades via our smart phone. I can track the car with my phone and use it to open the door. Unlike a typical car where the steering wheel is the hub of controls, on an EV almost all of the controls are centrally located on a computer screen. In addition to temperature controls and the entertainment system, the screen has a large map that shows the real time satellite view of the road, maps your route ahead, and continually updates your speed in relation to the speed limit. The mapping function also tracks your battery power and tells you where the next supercharging station is located along your route.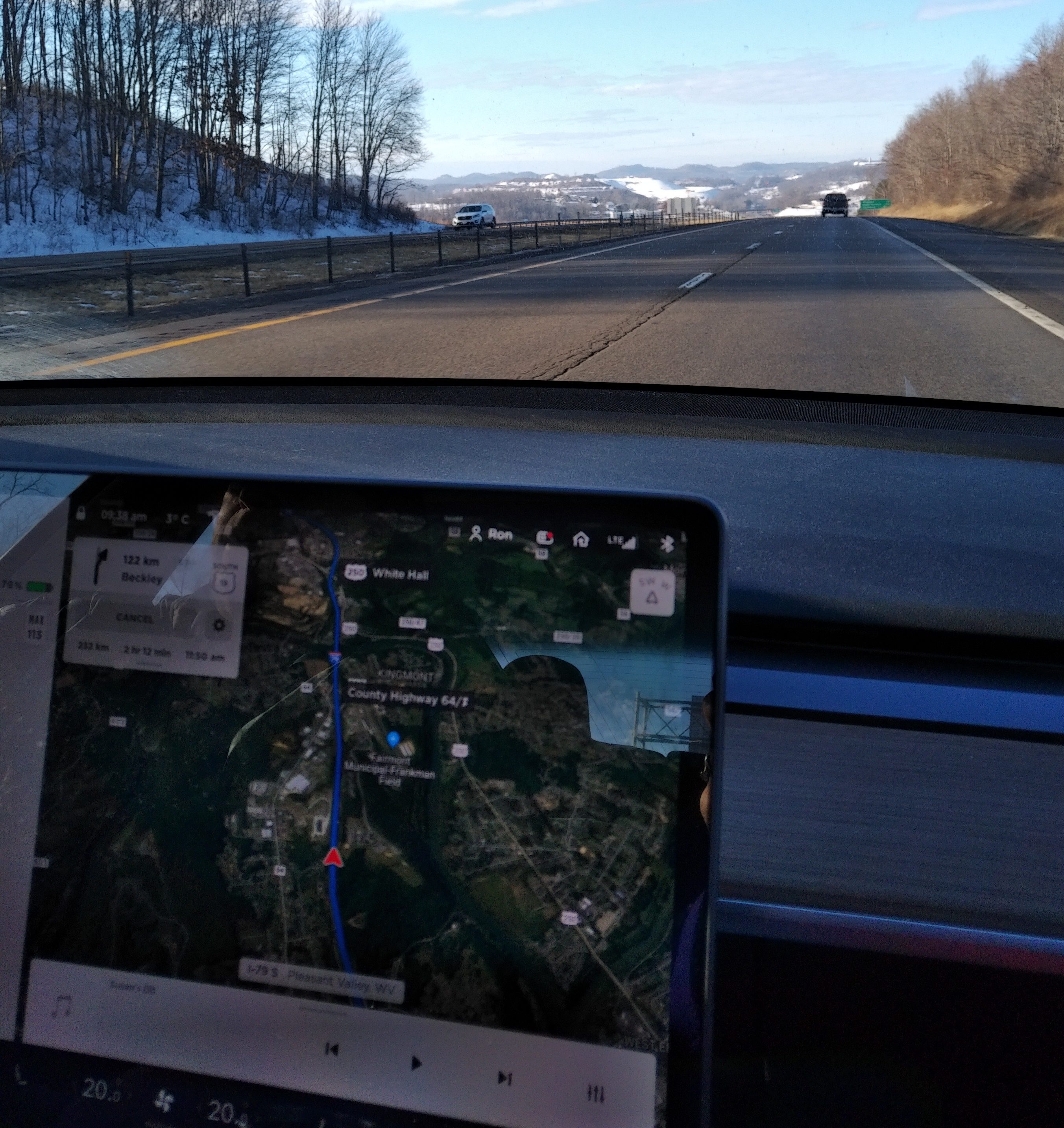 As this was our first long distance trip in our Tesla Model 3, we discovered some of the advantages and disadvantages of taking a long trip by EV:
Planning a trip in the Tesla is easier, but the trip itself takes more time than a gas-powered road trip. The quality of the GPS technology is above anything I've seen before and the route planner tells you where you need to stop to charge up along the way. We found the planner to be fairly accurate in tracking remaining battery power, as long as you drive at a moderate speed of 115 km/hr. If you drive faster, or in cold weather, expect your battery power to be used up faster, generally up to 5 per cent less per trip.
Superchargers are located throughout the U.S. and they are easy to access, but patience is needed as sometimes it takes up to 45 minutes for a full charge. In many communities these stations are located in malls, but sometimes they are in gas stations. For example, in West Virginia, they were located in a Sheetz gas bar. Sheetz is like a 7-11 with lots of coloured drinks and only fast food options, so we had to walk 10 minutes along a sidewalk-free road to get to a Denny's for breakfast one morning. The location of superchargers could be improved (near restaurants, event venues or parks) to allow people who are waiting for a recharge to do other things. The need to wait for charging meant the EV drive to Florida was longer than with a gas-powered car, adding between one to two hours a day. Starting out each morning with a full charge saves time, making access to overnight charge stations at hotels and motels advantageous.
When I was planning this trip, I was looking for places to stay at along our route that had overnight charging, but only a few had this option. This added time to our trip and also made trip planning a bit more challenging. TripAdvisor or other trip planning platforms really should get on identifying hotels where overnight charging is available. The alternative to hotel/motel overnight charging is locating charging stations nearby, which we were able to do one night. An important fact to know that if you have to leave your car in a sketchy parking lot to charge overnight, thieves will rarely steal Tesla cars because the tracking system makes them easy to find.
We received mixed reactions from other drivers while charging. In some states we received inquisitive looks, a few people even shook their heads. And on several occasions, pickup trucks and gas powered cars parked in the charging spots even though there were other parking spots available. I wonder how they would feel if I parked my car at gas pump and walked away? The states that use coal power to generate electricity seemed to be less enthusiastic about the Tesla which is rather ironic as I was using coal to power my car.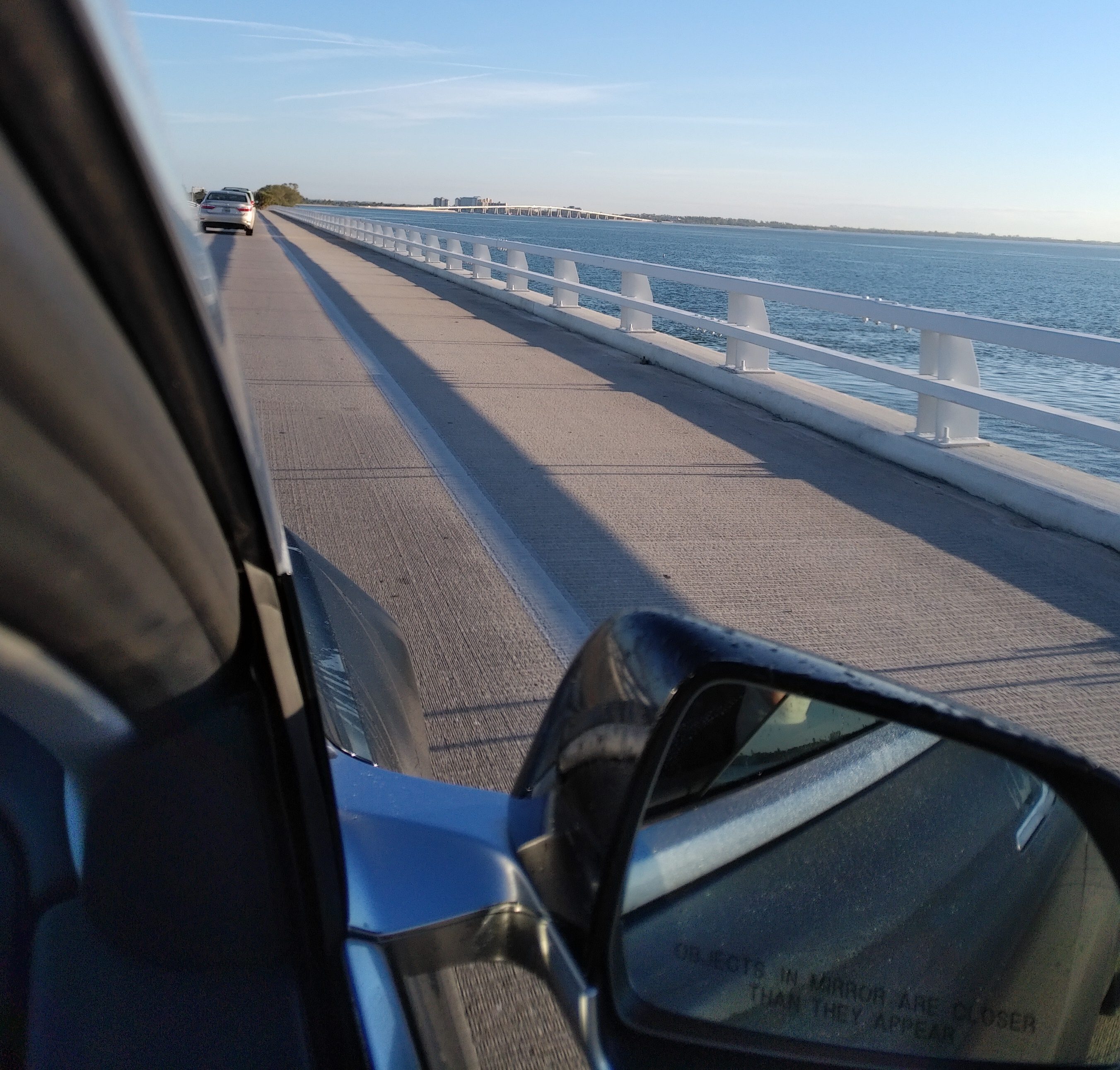 Would we do it again? Yes! We would either fly or take this car on our next trip south. But I would give myself more time to travel, four days to drive down instead of three. I also hope by the next trip, Tesla has developed a better app that locates charger equipped overnight accommodation along its route planner. And one final tip for going on a long distance trip by an EV, it makes a big difference if you have a great travel companion and download a few podcasts for the trip.
Sign up to our email list to for updates about Environmental Defence's work on climate change.