Roses are red, violets are blue, plastic waste is a problem (as I'm sure you knew)!
Okay, so that's not the most romantic poem to get you in the mood for Valentine's Day. Most of us like to be pampered with chocolates, gifts and cards but have you stopped to think about all the unnecessary waste we accumulate for this one special day?
This Valentine's Day, make it official, break-up with plastic and show the environment (and your loved one of course) some love.
1. Avoid individually-wrapped chocolates
Chocolates are an easy go-to gift on Valentine's Day, but why do each of those little mouthfuls have to come individually wrapped in plastic, or foil, or both?  You can find a great selection of chocolates unwrapped and in bulk at most bulk stores. Be sure to bring your own container to make it fully plastic-free.
Want to make it more heartfelt? Nothing says "I love you" like homemade treats! Homemade chocolate truffles are delicious, luxurious, easy to make, and 100 per cent packaging-free.  Again, buy your ingredients at the bulk store if you can to make it plastics-free from start to finish!  Try this recipe for easy three-ingredient chocolate truffles.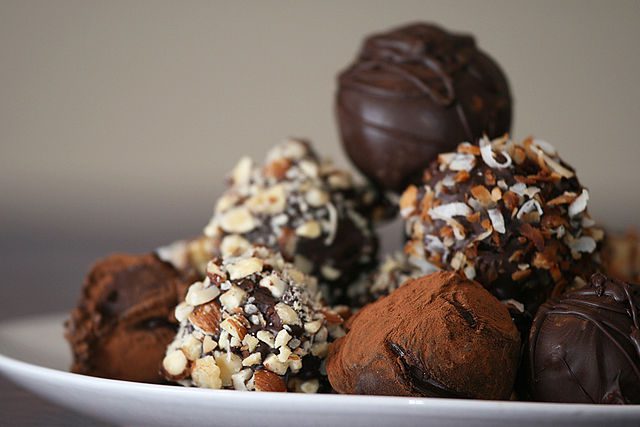 Mmm.. zero-waste
2. Use eco-wrapping options
If you're into gift-giving, it's worth thinking about what you're using to wrap those gifts.  Lots of wrapping paper these days is metallic, shiny, or glittery and contains tiny bits of plastic. Unfortunately, all of which make these fun papers non-recyclable.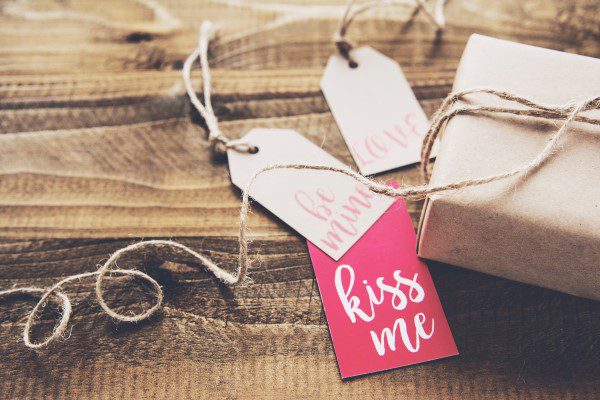 As a good rule, stick to matte paper that has no extra embellishments and is fine to go in the recycling bin.
To be extra safe, why not try one of these eco-alternatives?
Use brown parcel paper and decorate it with fun stamps or your own designs
Use reusable cloths or scarves to wrap your gifts. This is a traditional Japanese style called Furokishi, and it's not just environmentally friendly but beautiful too! Check out this blog post for a great how-to.
Remember to avoid plastic ribbons and bows – consider reusable satin ribbon or compostable twine instead.
3. Give from the heart
Not everyone wants teddy-bears and trinkets, but it's nice to shower the people you care about with gifts from time to time.  Instead of things, try experiences – spa days, tickets to the theatre or cinema, a dance lesson, or even go full "Ghost" with a couples' pottery class.
If you're on a budget or just not into making a big fuss why not go old school and leave that special someone (dare I say) a handwritten love note or poem? Or simply prepare some sweet treats– those lovely chocolates you made from scratch will do– and have a movie night at home.
A big part of the zero-waste movement is about realizing that we don't need to fill up our lives with unnecessary things, which will ultimately end up in a landfill heap or worse, in the environment.  Let this Valentine's Day be a chance to celebrate the things we can't buy in stores!
And for a quick lesson on how NOT to buy nothing…
The problem is it isn't 'nothing' – it's totally irresponsible, wasteful #plasticpollution when we need to be working together to be #plasticfree & not filling our planet with even more pointless #plastic @Poundland @aplastic_planet @LessPlasticUK pic.twitter.com/uF1pTuuR4M

— Mum, what's for tea? (@mum_whatsfortea) January 21, 2019
4. Decorations
Some  fun ideas you can do with the kids is to get creative with old cards as decorations, or get creative with craft paper! These love-heart paper chains are cute, fun to make with the kids and won't end up ruining some poor turtle's day.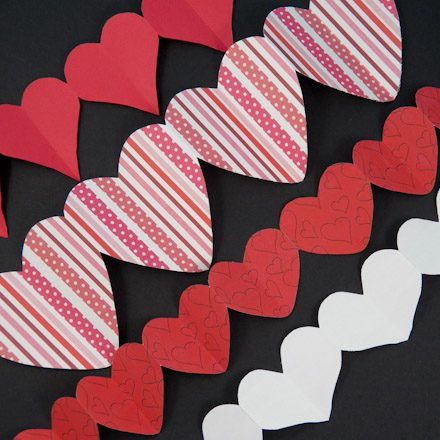 Get crafty this Valentine's Day to avoid plastic wasteRemember to avoid the balloons – pink, shiny or otherwise – they last forever and often wind up in the environment.
5. For the kids
Valentine's Day isn't just for you and your significant other – lots of kids like to get involved as well.  Cards and gifts for schoolmates can mean a whole lot of single-use wrapping. Reduce the waste by DIY-ing it (or hitting up those bulk stores again .. 😉 ) with homemade cookies or chocolates. Instead of packing these sweet treats in plastic baggies use a large tin to pass around the classroom.
Avoid buying cards that are shiny or laminated. And if you want to get crafty, you and your kids can make your very own!
We hope this helps you love your planet this Valentine's Day!