When Stephen moved back to his family farm in Southern Ontario three years ago with his wife Katie, he already knew that he wanted to be a different kind of farmer.
"Conservation and the environment were really at the heart of why we decided to come and do what we do here.  I was very aware of how much of our natural ecosystems are at stake, and when we had this opportunity we knew we had to try and do something about it."
Stephen and Katie moved from California where they had built a business selling natural remedies and herbal medicines.  When they moved back north they decided to take the production in-house, growing a wide range of medicinal herbs and using the old farmhouse as the headquarters for their organic product line.
The farm covers a beautiful 380 acre stretch of the Lake Erie basin near Port Stanley, 280 acres of which are made up of mature forest.  It wasn't always this way. Since returning to the farm, the couple have planted over 30,000 trees, as well as setting aside significant areas of land for conservation.
"Forest cover in Southern Ontario is down to around two per cent in some areas," according to Stephen, "as are the other natural habitats for this region like wetlands and prairies, so regenerating the landscape and improving the soil quality was really important to us."
With help and support from the ALUS program, Stephen and Katie have returned acres of their land to tall grass prairie, established wetlands, and created abundant habitats for native wildlife.  In just an hour on the farm I saw tall grasses buzzing with countless varieties of bees, was dive-bombed by dragonflies, and even caught sight of some beautiful bright green frogs hiding among the wild rice stalks.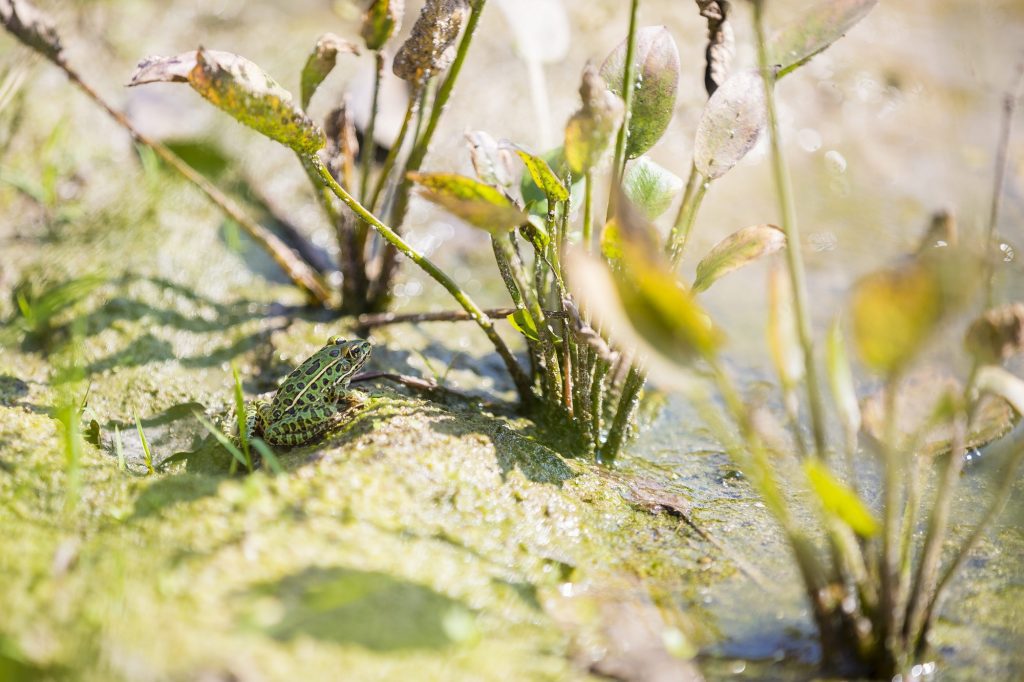 "It was amazing. In the first year after we established the wetlands we saw an explosion of frogs, tadpoles and aquatic life. I find it so inspiring the way nature can just bounce back."
On top of providing vital habitat for pollinators and other wildlife, tall grass prairie provides a host of other environmental benefits.  The thick grasses provide a natural filter system from the fields, catching loose soil and nutrients and holding them so that they can't run off into streams and water sources.   They have remarkably deep roots which allow them to survive through drought or heavy storms, and also make them excellent at sequestering carbon.
Stephen and Katie also took a few more tips out of the natural conservation playbook, building swales (contours in the land) to help manage the rainwater runoff, planting cover crops, and using perennial crops instead of annuals to reduce tilling.  Cover crops are crops planted after harvesting so that the land isn't left bare. They help to put nutrients back into the soil naturally and stop soil from being lost to erosion.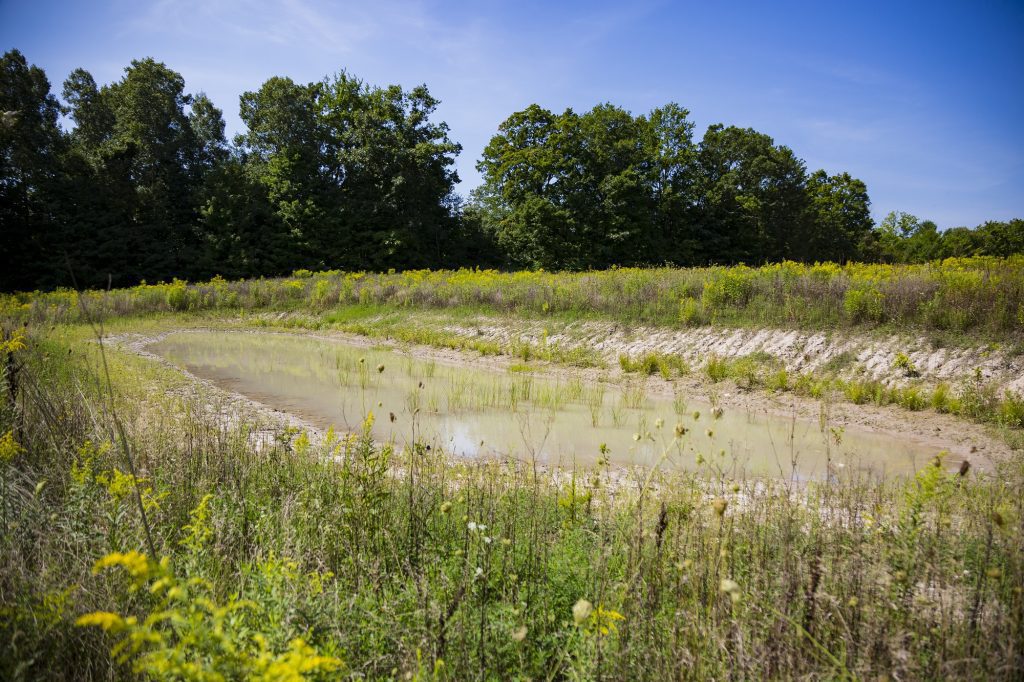 These are ancient techniques, employed to amazing effect. They are also what Stephen would consider the 'low-hanging fruit' of agricultural conservation.  "What I'd say to other farmers who were interested in helping to restore the land, is to start with something like cover crops and work up from there.  The benefits are there for the environment, but also for the farmer. It's a win-win."
---
Runoff pollution – when nutrients like fertilizers that are added to agricultural land are washed away into streams and lakes. Runoff pollution is a key cause of toxic algae blooms like those we see in Lake Erie every year.  By taking action to reduce their runoff pollution, farmers like Stephen and Katie are supporting the health of the lake and the communities that rely on it.
This is the first in our 'Heroes in the Field' series on farmers in the Lake Erie basin who are going above and beyond to protect the lake and the land. Check out our other interview with local farmer Joe Csoff!
To learn more about what we're doing to protect the Great Lakes, and how you can help, sign up to our newsletter using this form: