More than 12 years ago, urban sprawl and gridlock in the Greater Toronto Area (GTA) were completely out of control and rapid development threatened the region's water and food sources. That's why the provincial government stepped in and brought smarter regional planning to Ontario. The Greenbelt and Growth plans were established to better coordinate and direct new housing, industry and infrastructure  to appropriate areas, while protecting sensitive forests, wetlands, wildlife habitat and  prime farmland.  The Plans work in tandem to specify where new development can and cannot go, for the benefit of all Ontarians.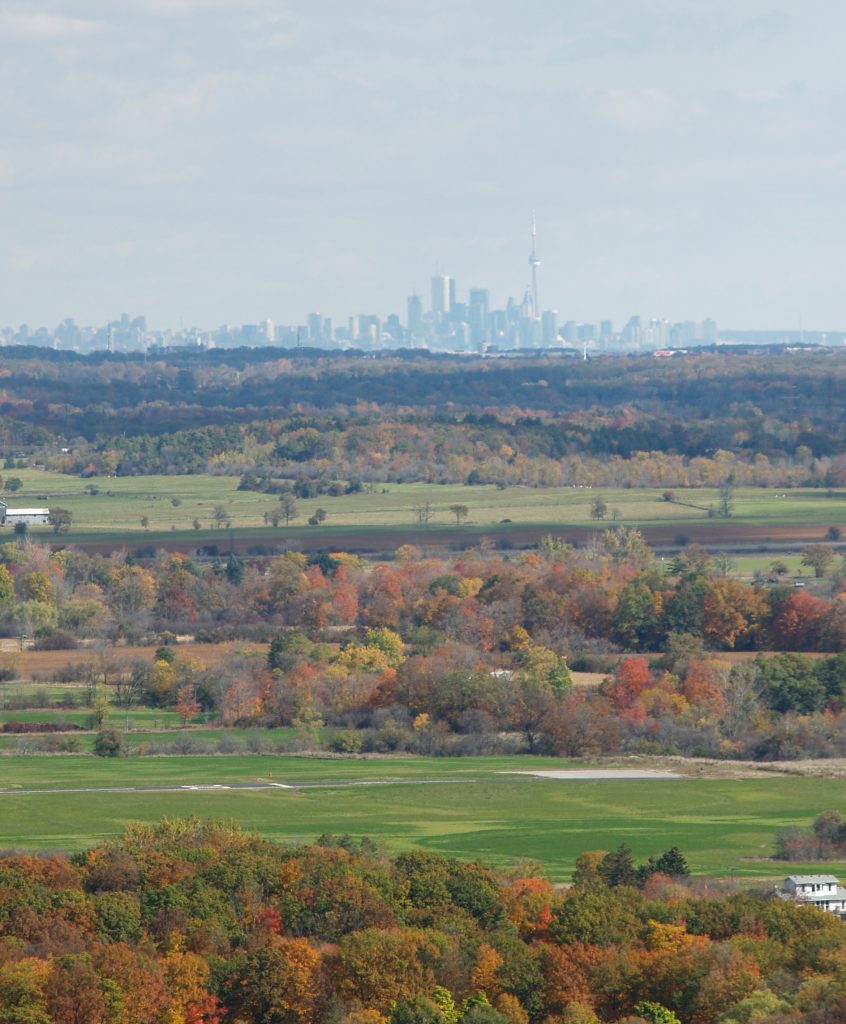 Each Plan has its unique role. First, let's look at the Greenbelt. It's more than 2 million acres of protected land – making it the largest greenbelt in the world. Enacted in 2005 and recently updated in May 2017, the Greenbelt includes  some of the province's best agricultural lands and sensitive natural features such as the Niagara Escarpment, the Oak Ridge's Moraine, the Holland Marsh and Niagara Tender Fruit lands.  It extends as far north as Tobermory and stretches 325 Kilometres from Rice Lake in Northumberland County in the east to the Niagara River on the U.S border. The Greenbelt  wraps a green arc around the Greater Golden Horseshoe (GGH), one of the fastest growing regions in North America.
The Greenbelt is designed to permanently protect farmland and natural areas from urban sprawl. It also provides important elements for healthy livable communities . These include clean air, clean water, local food and a vibrant and diverse economy, all which are crucial to maintain in the face of a changing climate.
But the Greenbelt doesn't act alone. The Growth Plan is its dance partner in guiding land use planning in the GGH.
Ontario's Growth Plan for the Greater Golden Horseshoe (GGH) is the Greenbelt's slightly younger sibling. First enacted in 2006, and recently updated in May 2017, it is a regional land use plan that manages and directs urban growth in the GGH, where a quarter of all of Canada's population currently lives.  It does this by directing the majority of new development to existing urban areas. New developments in town, called infill must meet a set density within the development area and provide a mix of both housing and jobs. The new plan also has different density targets dependent on whether the new development is near a transit station, in a urban downtown area or on a greenfield site. The result intended is to build more complete communities  where people are close to shops, transit and greenspace and that are also easier and cheaper to service with sewers, water, transit and roads
This approach is critical in a region where the population is expected to nearly double by 2041. This growth is being driven by a high quality of life and prosperous economic conditions in the GGH, including safe cities, exceptional natural features, productive farmland and abundant water resources. With such a rich supply of resources and an increasing population, there is a need to make sure that land is used efficiently and that services and infrastructure investments are made in the right places to ensure the GGH's long term prosperity and success.
Strong policies are the foundation for navigating the coming growth in the GGH.  But, we also need to makes sure that the province's plans are properly implemented by municipal governments to deliver the intended results. Environmental Defence, with your help and involvement, will be there to make it happen.