Last week I attended a public consultation on climate change organized by Canada's Minister of Environment and Climate Change. From what I saw and heard there, it's clear that many Canadians want our country to take climate change seriously.
I arrived well before the meeting was supposed to start. There was already a line-up from the meeting hall, down the stairs, out the door of the Glebe Community Centre, and down the street. By the time everybody got in, there were probably 300 people in a hall that fit 230 – and many people had been contacted in the days before the event and told it was full.
Once the meeting started it was clear what people wanted: strong, committed action on climate change from the federal government.
Tables were set up around the room, with a moderator at each table to lead the group through a discussion on one of four topics. The topics were the same ones that federal-provincial working groups are working on across the country to develop Canada's climate change framework:
Reducing carbon emissions
Putting a price on carbon
Creating jobs and fostering innovation
Adapting to climate change impacts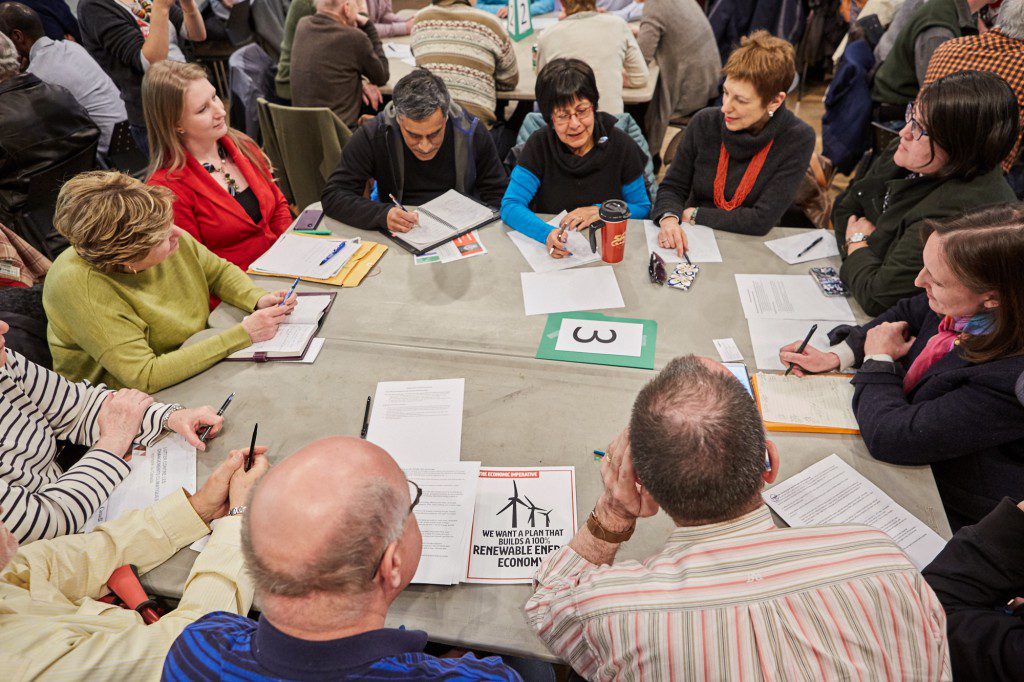 At the end of a discussion period, Minister McKenna visited each table to hear what the groups had come up with. Clear themes emerged. Many talked about the contradictions in the government's approach:
If we're phasing out these polluting industries and phasing in 100 per cent clean, renewable energy, why does the government continue to give billions of dollars every year to fossil fuel companies? It's time to get rid of subsidies to oil and gas and coal companies.
Whether talking about pipelines generally or Energy East specifically, people made it clear that allowing the construction of pipelines will expand tar sands production and increase carbon emissions.
The crowd wasn't just focused on problems. Many people talked about the positive vision of Canada harnessing clean energy technologies and transforming our cities into more livable, prosperous places to bring up our children. Renewable energy technologies, from wind to solar to geothermal. Homes that produce as much energy as they consume. Public transit that is convenient. A city that is walkable and bikable. Electric vehicles on our streets. A connection to other cities through high-speed rail. People inherently understood that this needed transformation will make us all, and our cities, healthier and better places to live.
People also talked about many jobs that could be created in becoming more energy efficient and fostering renewable energy. Whether retrofitting homes or installing solar panels or building transit systems, etc. many sustainable jobs could be created in our communities. One person talked about Iron & Earth, an initiative by former workers in Alberta's tar sands to compel even more investment and even more job creation in the growing renewable energy industries in Canada.
After two hours, not a person had left the room. And after everybody chipped in to put away tables and chairs, people still stood around in groups talking about the evening's discussion.
The message of the evening was clear. People know it's possible for our government to take strong action on climate change, and they know we will all be better for it. Every MP needs to hear the same thing across the country so Canadians everywhere should demand the same kind of town hall in their communities. Canadian MPs and the federal-provincial working groups need to hear from as many Canadians as possible so they have the same high level of ambition and determination.
For now, only a web portal is available where citizens can send ideas and advice to the government on how to take action on climate change. But stay tuned. Once information is available on where and when other consultations are happening, we will let you know.