This morning, Ontario passed the Climate Change Mitigation and Low-carbon Economy Act. This is a big deal.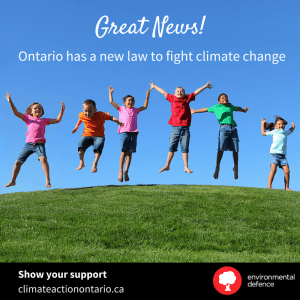 Most Canadian provinces have targets and plans intended to reduce greenhouse gas (GHGs) emissions, but few are as ambitious and comprehensive as Ontario's.
The new law will put Ontario on track for dramatic emissions reductions, and aim to largely decarbonise our economy by mid-century, which is what's needed if we hope to avoid run-away climate change.
We're proud to report that Environmental Defence has played a role in supporting the province of Ontario in reaching this historic milestone.
Here are some of the highlights of the new legislation:
It embeds Ontario's climate targets into law and it says that these targets cannot be weakened without changing the law. At 15 per cent below 1990 by 2020, 37 per cent below 1990 by 2030 and 80 per cent below 1990 by 2050, these are pretty solid targets, too.
The legislation requires that the province draft publicly available 5-year action plans that lay out how it will meet these targets. Some of the details of the first action plan have already been reported in the press. And from our perspective, it looks pretty good so far.
The new law creates the legal framework needed for the province to implement its cap-and-trade program, which will be done through a separate regulation.
The legislation specifies that the maximum amount of emissions allowed under the cap-and-trade program "shall be determined with reference to the targets." Essentially, this means that there's a limit on carbon pollution in Ontario now, and that the limit will come down over time, consistent with Ontario's targets to reduce emissions. That's a very big deal.
The law specifies that the revenue raised by the cap-and-trade program – estimated to be nearly $2 billion each year– must be deposited into the new Greenhouse Gas Reduction Account, and can only be spent on initiatives that will lead to further emissions reductions. The programs funded by the Green Investment Fund give a good indication of what types of initiatives are being contemplated.
There's also a requirement for the Ministry of the Environment to issue an annual report outlining what programs have been funded by the cap-and-trade monies and the impacts those programs are having on reducing emissions.
The law's not perfect. For example, many of Ontario's industries are getting big breaks. This is meant as a transitional measure to ease concerns about competitiveness, and it'll be important to ensure this transition occurs in a timely manner. And it would also be good to have an independent body to oversee the use of the revenues and to make suggestions as to how Ontario can and should reduce emissions to ensure that evidence, not politics, guides decision making.
Which is to say, we'll have work to do in the years ahead to make sure Ontario is in fact on track to reach its targets and that it is using the revenues from cap-and-trade wisely.
But the law passed today is a huge step forward, and one worthy of celebration.
Canadian politicians have developed a bad habit of setting targets but then doing too little to reach them. Ontario is an exception. The province hit its 2014 GHG target and with this new law, appears committed to reaching future targets too.
Show your support for bold climate action and building a clean economy in Ontario.