Join the Movement to PROTECT Ontario's Environment!
Ontario's environment is under attack from pollution, sprawl and regulatory cutbacks, so this Earth Day we're coming together to protect the lakes, rivers and forests we love so much.
Yours to Protect Weekend will run from April 22nd to April 24th and includes rallies, hikes, info booths by grassroots activists at municipal Earth Day events, a parade and community clean-ups all across the province.
Different local groups are rallying around different sites and local issues, but here are a few of the key issues they're rallying for:
Stopping Sprawl
Stopping Highway 413  and the Bradford Bypass
Building Walkable Communities
Keeping our Lakes and Rivers Clean and Healthy
Protecting and Expanding Conservation Areas
Stronger Climate Policies
Strengthening Gravel Mining Regulations
With a provincial election coming up on June 2nd, it's more important than ever that politicians from all parties know that Ontarians care deeply about the environment.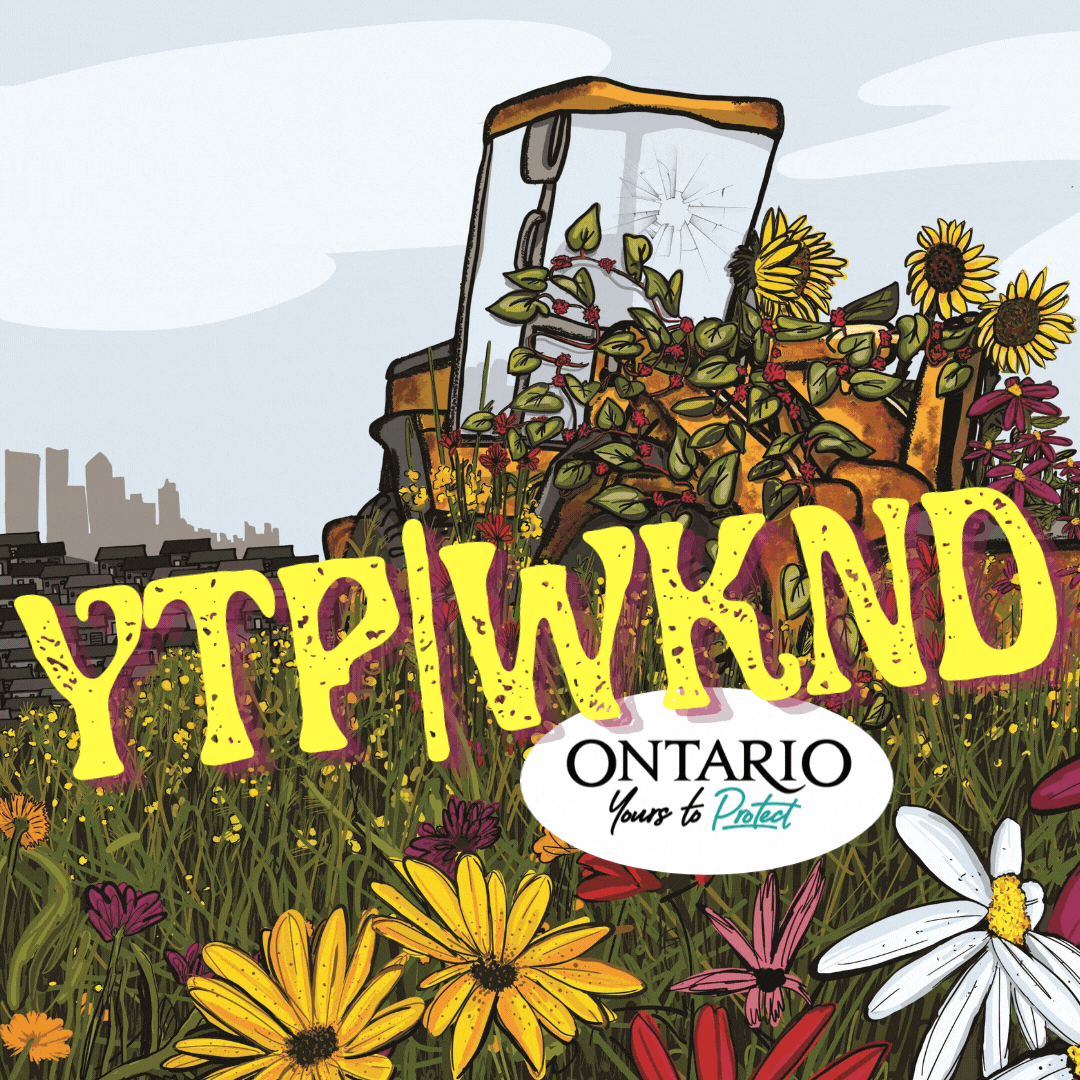 What types of events?
With more than 50 events all across the province, we couldn't write them all up here. We've just highlighted a few to give you a sense of the type of events you'll be able to find in your local area by exploring the map below. Each of these events has a longer description with more details on the map as well.
Hanley Park Nature Walk - Belleville
Quinte Field Naturalists will be leading a nature walk through Hanley Park North, to highlight the gorgeous natural area threatened by the upcoming Hanley Park North development and the portion that was saved by local activism.  Friday, April 22 - 4:00PM
Passport to Nature: Earth Day Clean Up - Orillia
The Couchiching Conservancy is inviting the public to join a group clean-up at Scout Valley.  Register here.   Saturday, April 23 - 10:00 am – 12:00 pm 
P'Earth Day Parade - Perth
After missing 2021 due to stay at home orders, the 7th annual P'Earth Day Parade is a go! There will be a celebratory tree planting and three locally created Parachutes for the Planet will be featured. Friday, April 22 - 7:00 PM. Gather at the bandstand behind Perth Town Hall at 6:45 pm.
StopSprawl Farm Fest - Hamilton
The National Farmers' Union, Manorun Farms and Stop Sprawl Ham Ont are hosting an event with food, live music and information from farmers and activists at Manorun Farms. RSVP Here.  Sunday, April 24 - 2:00 pm - 4:00 pm
Stop the 413 - Oakville 
GASP and Oakville Climate Action invite you to a rally to Stop the 413 at the corner of Trafalgar and Cornwall. People are invited to bring their own signs, but signs will be available. Friday, April 22 - 4:30-5:30
Repair Café Grand Opening - Town of Blue Mountain
Attend the Grand Opening of a monthly volunteer-run repair café at Grace United Church.  Saturday, April 23 - 1:00-4:00PM
YTP Weekend Protest - York Region
Come out and wave your flags in support of clean water and Lake Simcoe, Stopping the Bradford Bypass, Protecting our Climate, and Stopping Sprawl! Caroline Mulroney's office, 45 Grist Mill Rd.  Saturday, April 23 - 1:00PM-2:30PM
CHECK OUT THE MAP FOR MORE DETAILS!
ZOOM IN -- SOME PLACES HAVE MULTIPLE EVENTS
No Event Near You?

You can register your own event!  Either tell us about an environmental event in your community that we should know about or host your own simple event like a hike or a letter delivery to your MPP.  CLICK THE BUTTON below to register an event or get more information on planning your own.
Show your support online!
Click here to tweet out a link to this page so your Twitter followers can see the map, find an event near them and join the Yours to Protect movement.  You can also use the share icon on the map above to email or tweet the map or post it to Facebook.
Help us get the word out!
Use these images to share information about YTP Weekend on social media, using the hashtags #YoursToProtect and #YTPWKND.
You can download the photos by FIRST clicking on them and THEN right-clicking the larger photos that pop up and selecting 'save image'.
Don't forget to include the URL for this page so people can find their own local events on the map: https://environmentaldefence.ca/ytpweekend/