This summer, people across Canada experienced the impacts of climate change in a way that was impossible to ignore. Extreme events —record-breaking wildfires, droughts, high-temperature days, deadly floods and skies obscured by smoke— forced climate change, caused by burning coal, oil and gas, into the spotlight. 
While communities and governments rallied to action in the wake of disasters, can you guess how oil and gas companies responded?
They met with the government 131 times to promote their interests. To be clear, their 'interests' are growing profit for their shareholders through the continued expansion, extraction, and production of fossil fuels. One of June's top lobbyists, CEO of Suncor, Rich Kruger, recently and explicitly said so when announcing Suncor would stop supporting energy transition and sustainability initiatives in order to prioritize short term profits for shareholders through oil and gas. 
Imagine your house is on fire, and instead of asking for a bucket of water you ask for a can of gasoline. Every single day, six times a day.
So what are they lobbying for on Parliament Hill? 
Delaying and weakening critical climate policies like the cap on emissions from the oil and gas industry,

which will regulate a reduction in industry emissions

Pushing for exceptions, delays and loopholes in the

Clean Electricity Regulation

s, which aims to phase out fossil fuel from Canada's energy grid by 2035

Asking for billions of dollars in government subsidies and financial guarantees for

false solutions like carbon capture and hydrogen

that allow them to keep oil and gas (and their profits) flowing
Canada needs to reduce emissions dramatically as soon as possible. These policies are important steps in moving towards the transformative solutions we need to actually address climate change, including transitioning our energy systems and phasing out fossil fuels.
So, without further adieu, here are June's lobby numbers:
WHO LOBBIED THE MOST
The companies that held the most lobbying meetings with the federal government in June 2023 were:
TC Energy Corporation – 17 meetings
Suncor, Pathways Alliance, and Imperial Oil – 13 meetings each
Canadian Natural Resources Ltd. – 12 meetings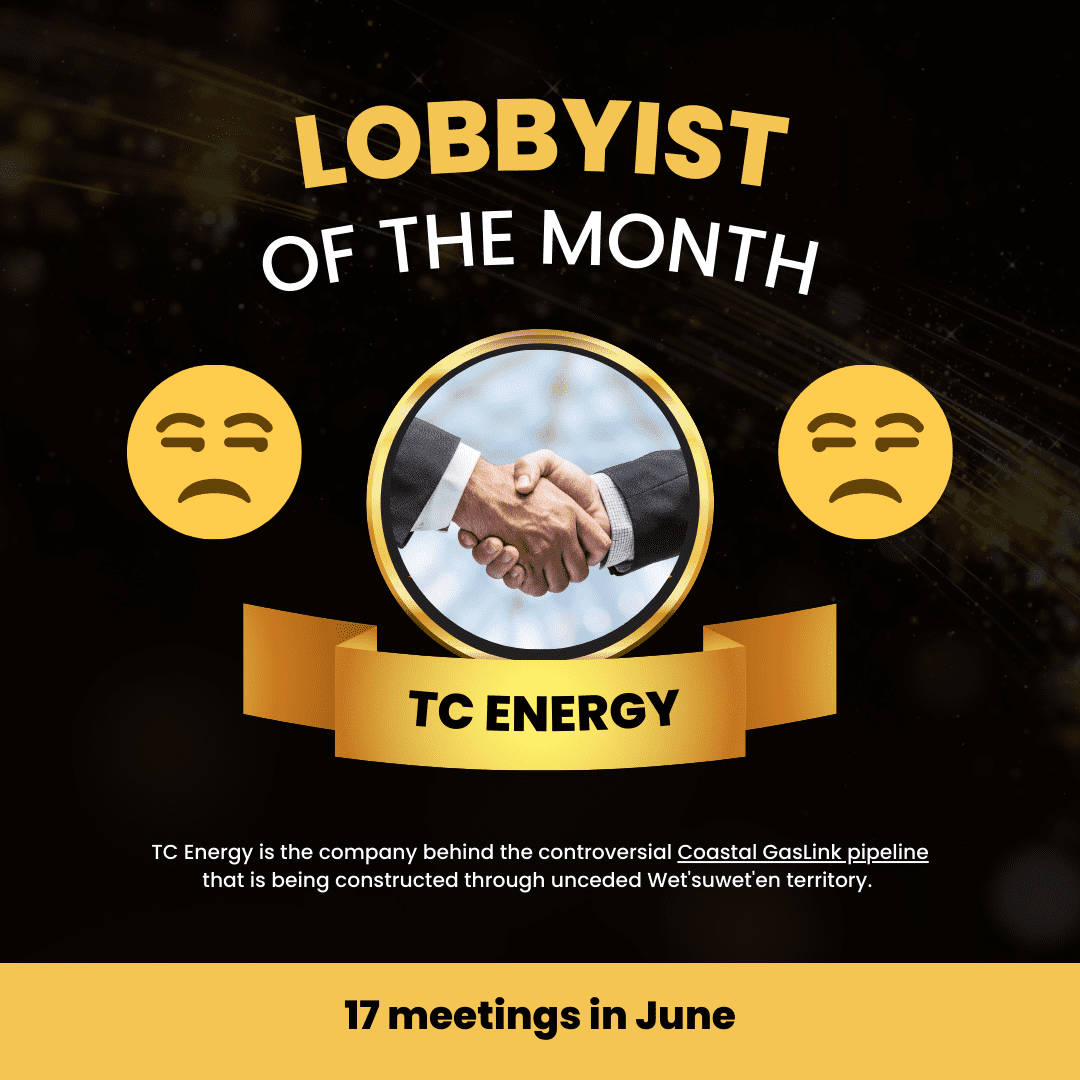 Two of June's biggest lobbyists, TC Energy and Suncor, both announced big workforce layoffs in June. Despite making billions, these companies are quick to layoff workers wherever possible, including through automation, in order to increase their profit margins. Suncor, for example, announced it would lay off 1,500 workers. 
Suncor's new CEO, Rich Kruger, has also recently been called out for walking back the company's, albeit minimal, investments in sustainability. He removed any pretense of caring about climate change, saying he believes the company was too focused on the energy transition and "I very much believe in making money. We are in the business to make money and as much of it as possible". With explicit acknowledgement that these companies prioritize their profits above a stable climate for the entire world, (sounds dramatic, but he just said it), do you think they should get to have input on climate policy and government decisions? Just before making these comments, Suncor met with two federal Ministers and 15 Members of Parliament. 
TC Energy is the company behind the controversial Coastal GasLink pipeline that is being constructed through unceded Wet'suwet'en territory. The Wet'suwet'en Hereditary Chiefs' resistance to the project has remained steadfast, alongside a re-occupation of the territory and assertion of Indigenous sovereignty at the Unist'ot'en healing village and Gidimt'en camp. This resistance became a flashpoint that ignited protests across the country in support of Indigenous sovereignty after a militarized RCMP raided the camp in 2020 to enforce an injunction on behalf of TC Energy. The RCMP raided again in 2021. Coastal GasLink has had over 50 warnings from the province of BC about environmental violations.
WHICH MINISTRIES WERE LOBBIED THE MOST
The Ministries that had the most meetings with oil & gas companies and associations were:
Natural Resources Canada (NRCan) – 42 meetings
Environment and Climate Change Canada (ECCC) – 20 meetings
Privy Council Office (PCO) – 12 meetings
WHICH MINISTER WAS LOBBIED THE MOST
The federal minister who took the most meetings with oil & gas companies and associations was:
Jonathan Wilkinson, Minister of Natural Resources. He had the equivalent of two meetings per week with oil and gas companies, with eight meetings in June. He was lobbied by the Canadian Association of Petroleum Producers, Canadian Natural Resources Ltd., Cenovus, FortisBC, twice by Imperial Oil, and twice by Suncor.  
The other ministers who met with the fossil fuel industry in June are: 
Bill Blair, Minister of Public Safety, who met with Suncor's new CEO Rich Kruger. 
Francoise-Philippe Champagne, Minister of Innovation, Science & Economic Development (ISED), and Mary Ng, Minister of International Trade, Export Promotion, Small Business and Economic Development, who each had one meeting 
A special shout out to MP Terry Duguid, who at the time was parliamentary secretary to the Minister of Environment and Climate Change (he is now Parliamentary Secretary to the Prime Minister), who had eight meetings with oil and gas companies: CNRL, Cenovus, ConocoPhillips, Imperial Oil, Suncor, and three meetings with the Pathways Alliance. 
Take action today and tell the federal government to put people in Canada ahead of the profits of oil and gas companies.
SAME GREAT CONTENT – ALL IN ONE PLACE
In our monthly round-up blogs you've seen us report on the data collected by our Lobby Bot (which you can follow on Twitter here). Now we've got a new home for all that information and more!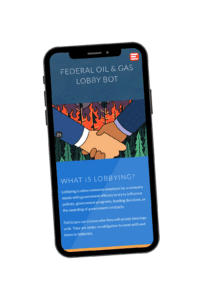 Introducing, our Lobby Bot hub, where you can easily find all of our lobby bot content, see highlights of key lobbying numbers, read more about why lobbying matters and how you can challenge the influence of oil and gas companies – like telling the federal government to put the interest of the people in Canada ahead of the narrow self-interest of oil and gas companies or learning how to meet with your MP and asking them to stand up for climate action.