Ahead of Budget 2023, we joined over 20 other organizations in calling on Prime Minister Justin Trudeau and Finance Minister Chrystia Freeland to scale up climate investments in order to build a thriving, stable and healthy future for people in Canada.
The campaign, 2% for Our Future, urges the federal government to invest two per cent of GDP over five years in climate solutions, including renewable energy infrastructure, job training, home and business retrofits and more. That would amount to $287 billion over the next five years. While it sounds like a lot, it's just two cents of every dollar of Canada's GDP being spent to accelerate the renewable energy economy and protect a safe, livable future.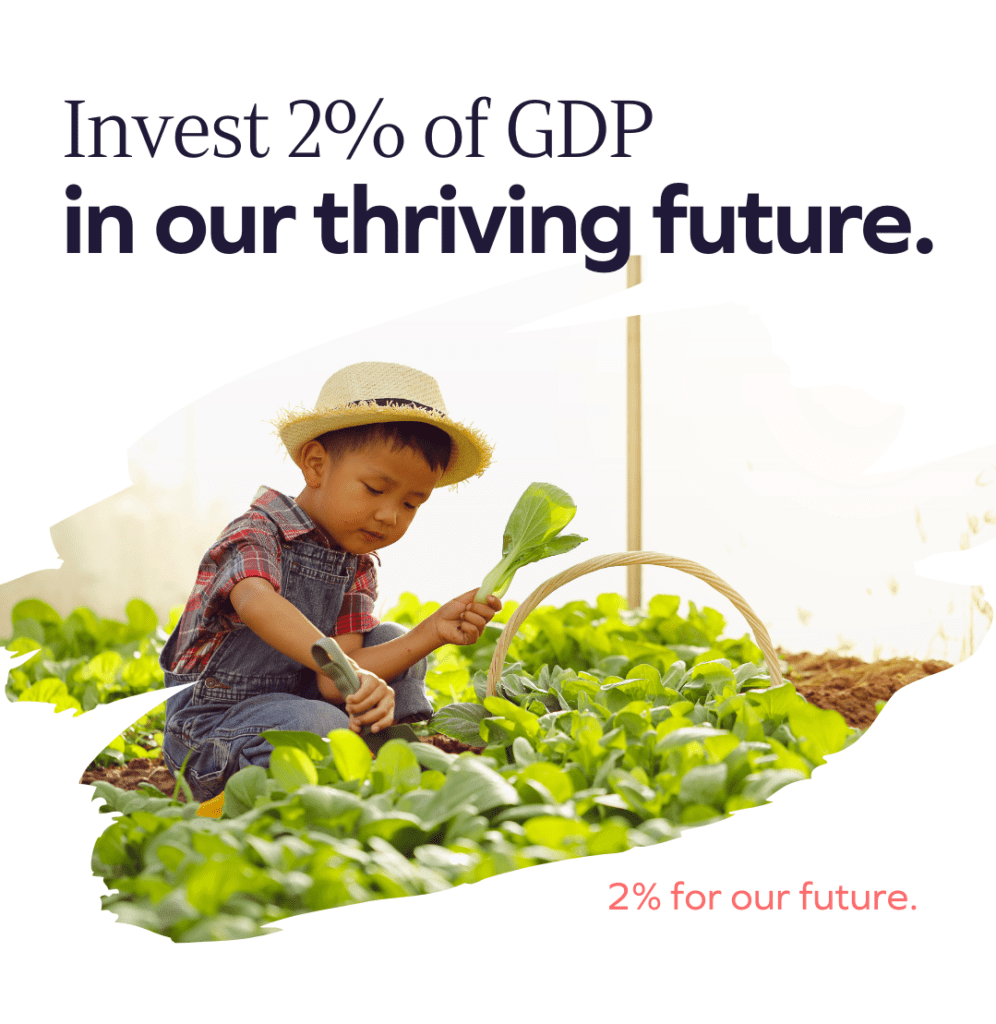 Without these investments, Canada risks being left behind as the world pivots to low-carbon energy sources. While the United States and Europe are charging ahead with massive climate investments, Canada remains one of the lowest investors in renewables in the G20
On March 28, Minister Freeland will release Budget 2023.
Here's what we're looking for in Budget 2023:
$25 billion to support Indigenous-led climate policies and solutions and the effective inclusion of Indigenous peoples at decision-making tables as rights-holders.
$20 billion to build a zero emissions electricity grid, which includes scaling up renewable energy generation and storage as well as building interregional transmission infrastructure.
$66.5 billion to retrofit our homes and buildings, to transition them off of fossil fuels and make them more energy efficient. Some of this funding should be earmarked for low-income households, including rental units.
$40 billion to accelerate zero-carbon mobility by providing stable, long-term funding for public transit and expanding intercity passenger options.
$80 billion to support good jobs and vibrant communities through a Just Transition.
$4 billion to grow food more sustainably through the adoption of proven lower-carbon farm management practices.
$25 million to support the creation of an Office of Environmental Justice, tasked with developing a national strategy on environmental racism and environmental justice. This should be accompanied by a whole-of-government commitment to direct a proportion of the overall benefits from federal investments to disadvantaged communities. For example, the United States has a Justice40 initiative which means 40 per cent of climate investments there will benefit disadvantaged communities.
For comparison, the Government of Canada provided $20 billion to oil and gas companies in 2022.
Take action today and tell the federal government to spend what it takes on reliable, proven climate solutions.