What's not to love about Halloween? Whether it's dressing up in our costumes, carving pumpkins or eating candy, there's something for everyone to enjoy! But there's also the not-so-good stuff: the plastics waste and toxic chemicals that may be hiding in popular Halloween products.
Here's a scary thought: our latest toxics report, Passing The Buck, found that 1 in 4 products tested from Dollar Tree and Dollarama contained heavy metals such as lead and other toxic chemicals. These chemicals include hazardous phthalates, bisphenols and PFAS, "Forever Chemicals," which are linked to a wide range of adverse health effects, particularly for children. These are just a handful of the toxic chemicals that can be present in Halloween makeup, costumes, and accessories. 
Until we strengthen our toxics laws, we must take extra caution to protect ourselves and our children from toxic exposures. The good news is that there are safer alternatives. Here are our top tips for avoiding plastic waste and harmful chemicals. 
1. Make your own costumes and decorations – and avoid PVC if you're buying.
Whether you have a child celebrating Halloween at school, at home with your family, or with a costume contest with friends, costumes make Halloween what it is! We suggest ditching single-use plastics (or costumes that you'll only wear once) by making your own costumes and decorations with stuff you have lying around the house, swapping costumes with a friend or buying second-hand items from a thrift store.
When buying costumes or decorations, avoid ones made from PVC plastics. This type of plastic is non-recyclable and often contains toxic chemicals. Our report found PVC and toxic chemicals, including phthalates, flame retardants and lead, in popular dollar store Halloween products such as funny teeth. 
2. Use toxic-free makeup to create your spooky Halloween look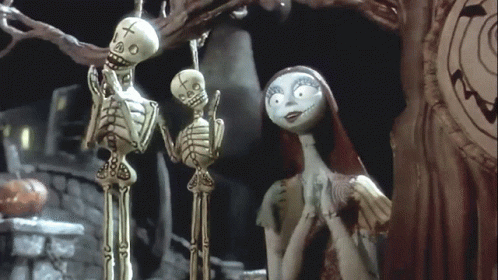 Whether you're painting your reusable mask as a skeleton or vampire or putting face paint around your eyes, makeup can help you polish off your scary look. However, parabens and phthalates are just a few of the many toxic chemicals that can be found in Halloween cosmetics, such as fake blood and face paint. 
When shopping for makeup or face paint, take our Toxic Ten Pocket Guide with you to ensure you're avoiding harmful chemicals. 
Why not try your hand at some DIY supplies?
Fake Blood
Use clear corn syrup, beet juice, a little bit of chocolate syrup, and cornstarch to thicken up the blood. Apply with your finger to get a more natural look!
Face paint
Mix 1 ½ tsp cornstarch or arrowroot powder with ¼ tsp white flour, 2 tsp honey, and ½ tsp water until you get a paste-like consistency. 

Add natural food colouring to get the colour you want – beet juice makes red, turmeric makes yellow, paprika makes orange, matcha powder makes green, cocoa powder makes brown, and activated charcoal powder makes black.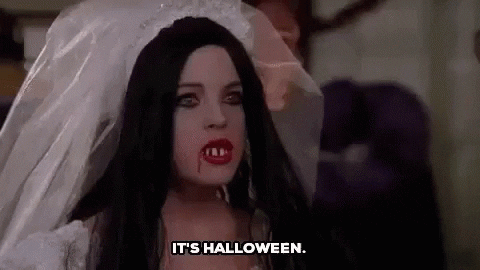 3. Avoid glitter
Sometimes glitter is found in makeup, and sometimes it comes in a tube – but most glitter is a microplastic, meaning that it's made out of tiny particles of PVC or PET plastic. Glitter is a lung and skin irritant; it's not recyclable and so tiny that it can't be filtered out when it gets washed down the drain. It ends up in our oceans and lakes and has detrimental effects on plankton, fish, birds, and the whole food chain. 
Skip all types of glitter this Halloween and opt for fun coloured paints and textures instead! 
4. Reduce plastic waste when purchasing treats
Some people may say the best part of Halloween is the candy! But the 2.2 million tonnes of plastic packaging that ends up in landfills and nature each year is terrifying. When buying treats, look for candy that is packaged in non-plastic wrappers. Some brands (Smarties, Nerds, etc.) are usually packaged in paper boxes. Of course, it is increasingly difficult to find candy that isn't wrapped in single-use plastic, which is why asking the government to expand the ban on these harmful plastics is the best step towards future plastic-free Halloweens! 
With these tips, we hope your Halloween is scary fun and not scary because of toxic chemicals and plastic waste. If you want to stay up-to-date with all the latest plastics and toxics news, be sure to sign-up for our e-newsletter using the sign-up form below.