This past Saturday, I attended the Emergency in Ontario rally with my daughter.

Although the weather was lovely in the shade of Queen's Park's trees, the unseasonable heat during the march was a reminder that climate change keeps creeping up on us whether or not it's a front page story in the newspaper.
The event began with inspiring opening remarks by Danny Beaton, a Turtle Clan Mohawk from Grand River Six Nations Territory, and the energy grew and grew as a variety of speakers and musicians took the stage in the lead up to a march down Yonge Street, across College and back to Queen's Park. Despite the heat, it was a real relief to march alongside over a thousand other Ontarians who want our politicians to put environmental issues front and centre in the June 2nd election.
SIGN OUR VOTE FOR THE ENVIRONMENT ELECTION PLEDGE!
Speakers included Crystal Sinclair of Idle No More Toronto, Keith Brooks of Environmental Defence, Margaret Prophet of Simcoe County Greenbelt Coalition, Randy Haluza-DeLay of KAIROS, Mili Roy of the Canadian Association of Physicians for the Environment (CAPE) Ontario, and Jinkie David of the Toronto & York Region Labour Council. MCs Nigel Bariffe and Hannah Conover also kept the energy high all afternoon.
The music was also top-notch with exceptional performers like Moskitto Bar, Ron Hawkins and Charles Spearin, Solar Singers, Sing With Ukraine, Cassie Norton and Spirit Wind Women's Hand Drum Group.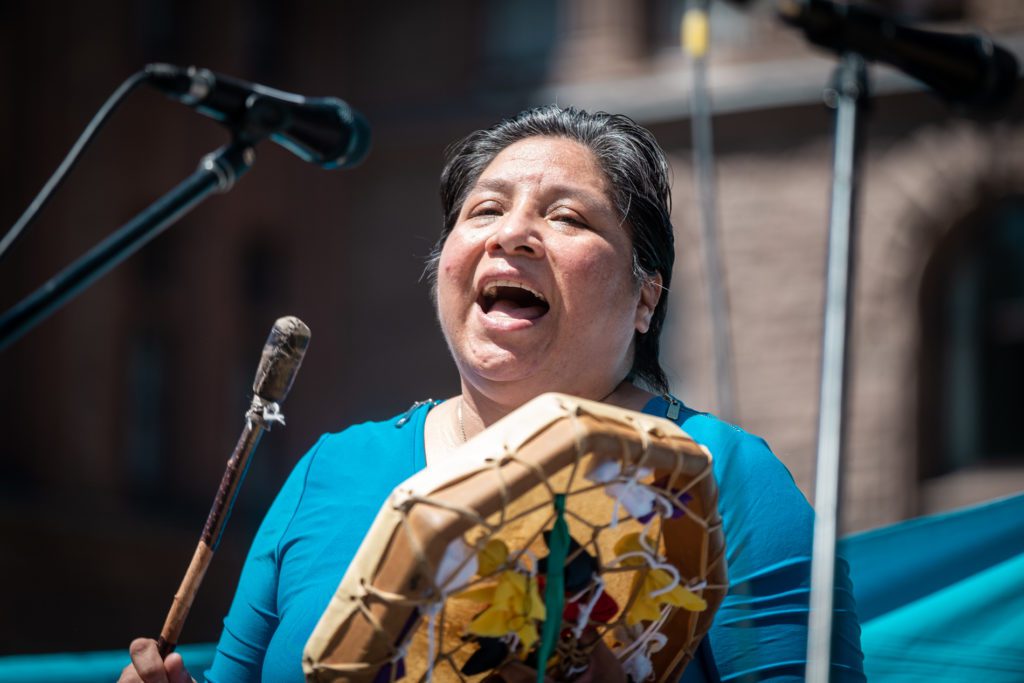 The event was planned and hosted by a large coalition of groups and endorsed by many more.  There were climate groups, doctors, seniors, parents like me, musicians, community services groups representing impacted communities, labour groups, field naturalists and groups who defend clean water.
HOSTED BY:

Environmental Defence

Climate Voice

David Suzuki Foundation

Greenpeace Canada

Ontario Climate Emergency Campaign

Climate Fast

Toronto350

Canadian Association of Physicians for the Environment (CAPE) – Ontario

Music Declares Emergency Canada

For Our Kids Toronto

Simcoe County Greenbelt Coalition

Seniors For Climate Action Now!

Steelworkers' Toronto Area Council

Ontario Public Service Employees Union – Greater Toronto Area Council

Water Watchers
So many different groups felt the need to join this rally both because the current government has enacted problematic policies in a wide range of areas, but also because many different issues are interwoven within the climate crisis.
Outdoor workers, the elderly and those without adequate housing are all impacted more severely by heat waves and other extreme weather.
When we protect forests and wetlands, we are protecting Ontario's endangered species, but we are also protecting important carbon sinks. When we reduce carbon emissions from vehicles and highways, we are also reducing air pollution and improving the lungs and brains of Ontario's residents.
Giving Indigenous people greater control of their traditional territories usually improves environmental outcomes as well.
Denser housing not only saves farmland – it also tends to be more affordable. And if it's dense enough to support public transit, walking and cycling, people can avoid the immense costs of owning and maintaining an automobile.
You might notice that many of the things we need to do to tackle issues like affordability and housing and to keep our population healthy are also climate solutions!  
Climate activists like Elizabeth Sawin call this multi-solving.     
My daughter enjoyed making a poster at the kid's area organized by For Our Kids Toronto. And her poster — which read "The animals feel the same way we do when their homes are invaded so don't destroy thier habitat" — let me know that she's been listening in on the many web meetings I've participated in about sprawl and land-use planning in recent months.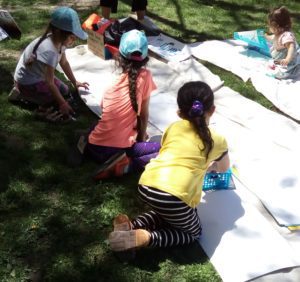 All in all, it was a great experience! 
I'll leave you with a reminder to Vote for the Environment on June 2nd and some more photos of the march.  All the amazing snapshots (except the one of kids drawing) in this blogpost are by Joshua Best.