Toronto | Traditional territories of the Huron-Wendat, the Anishnaabeg, Haudenosaunee, Chippewas and the Mississaugas of the Credit First Nation – New multi-lane superhighways threaten the farms, forests and wetlands of the Greenbelt and need to be banned to protect Ontario's water, air, food, wildlife, access to nature and our climate.
This is why five organizations are calling on all political parties in Ontario's June 2nd election to commit to making a legislative amendment to the Greenbelt Act to ban new multi-lane highways from being built through the Greenbelt.
A new map (see below) shows that the planned Highways 413, Bradford Bypass (Holland Marsh Highway) and 404 extension northward up the east side of Lake Simcoe would directly destroy over 2000 acres of Greenbelt. These highways would also increase pressure to allow new industrial, commercial and residential development along them, while also crossing and polluting hundreds of waterways, fragmenting forests and farms, filling in wetlands and creating a death trap for many wildlife species.
"The Ontario government's current push to build Highway 413 and the Bradford Bypass underscores the need to ban forever these 1950s style developments," said Tim Gray, Executive Director of Environmental Defence.
"The newly revealed plans for the Highway 404 extension make clear the stark choices we face in Ontario between a livable future and a devastated landscape dominated by gridlocked highways," added Katie Krelove of the Wilderness Committee.
The Greenbelt Act currently allows for corridors for "infrastructure" which include highways. This needs to be changed to make clear that new destructive multi-lane highways are permanently prohibited in the Greenbelt.
"All available research shows that building more highways increases traffic through a process called induced demand and attracts sprawl," said Margaret Prophet, Executive Director of the Simcoe County Greenbelt Coalition. "Allowing these types of projects in the Greenbelt is a death by a thousand cuts and will change the Greenbelt from something that is supposed to be permanently protected to a land bank for developers and corporate interests."
"The Greenbelt is helping to keep Lake Simcoe cleaner by protecting the land on the east side of the lake from development," said Claire Malcolmson, Executive Director of the Rescue Lake Simcoe Coalition. "Punching highways through it weakens its ability to do that, and will add more salt to our delicate freshwater lake."
"It is time for our political leaders to step up and commit to stopping these proposed highways forever. Investing in public transit would have a far lighter impact on farmland, water systems, natural areas and wildlife," said Caroline Schultz, Ontario Nature's Executive Director.
Resources:
Map of the three proposed highways in the Greenbelt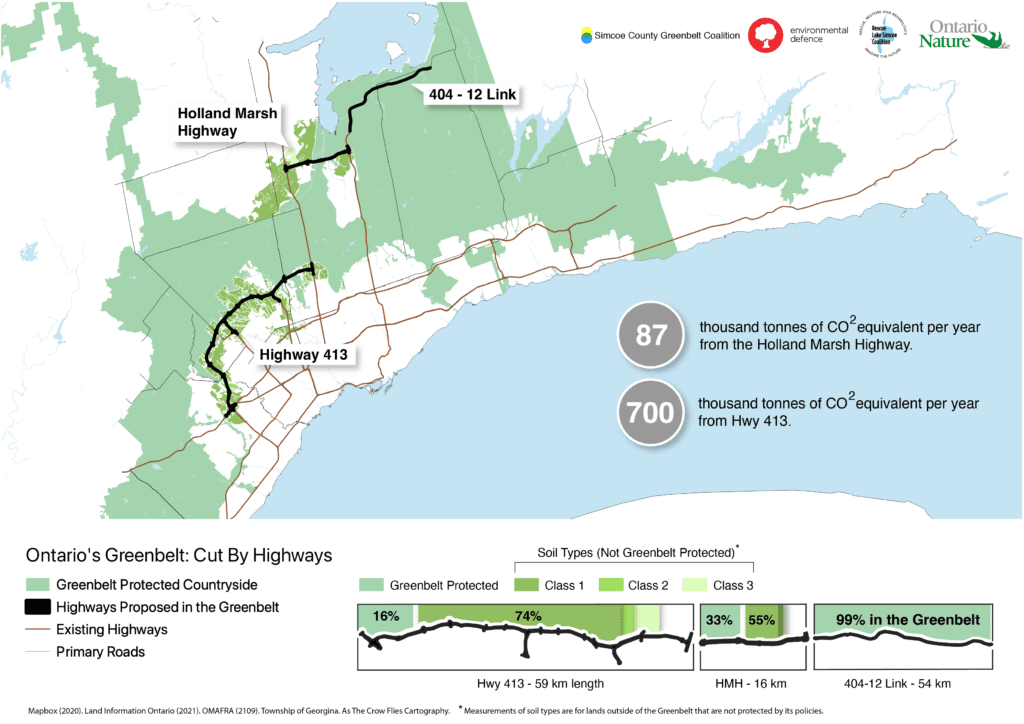 Chart comparing the three proposed highways in the Greenbelt
More about the Bradford Bypass (Holland Marsh Highway)
ABOUT ENVIRONMENTAL DEFENCE (environmentaldefence.ca): Environmental Defence is a leading Canadian environmental advocacy organization that works with government, industry and individuals to defend clean water, a safe climate and healthy communities.
About the SIMCOE COUNTY GREENBELT COALITION (www.simcoecountygreenbelt.ca): The Simcoe County Greenbelt Coalition is a diverse coalition of 35 organizations from across Simcoe County and the province calling on local and provincial leaders to better protect our water resources, green spaces and farmland through smart growth and sustainable policies including expansion of the Greenbelt into Simcoe County.
About the RESCUE LAKE SIMCOE COALITION (www.rescuelakesimcoe.org) is a lake-wide member-based organization that provides leadership and inspires people to take action to protect Lake Simcoe.
About ONTARIO NATURE (ontarionature.org): Ontario Nature protects wild species and wild spaces through conservation, education, and public engagement. A charitable organization, Ontario Nature represents more than 30,000 members and supporters,  and more than 155 member groups across Ontario.
About WILDERNESS COMMITTEE (wildernesscommittee.org):  Wilderness Committee is a charitable organization dedicated to protecting nature, defending wildlife and fighting for a healthy climate
– 30 –
For more information please contact:
Allen Braude, Environmental Defence, abraude@environmentaldefence.ca
Claire Malcolmson, Executive Director, RLSC, rescuelakesimcoecoalition@gmail.com
Margaret Prophet, Executive Director, SCGC, margaret@simcoecountygreenbelt.ca
John Hassell, Director of communications and Engagement, Ontario Nature,  johnh@ontarionature.org
Katie Krelove, Ontario Campaigner, Wilderness Committee, katie@wildernesscommittee.org