In a remarkable new report, the International Energy Agency (IEA) finds that in order to limit warming to 1.5 degrees–the goal of the Paris Agreement and a critical threshold for climate change–the world must stop approving fossil fuel projects AND significantly ramp down the production of all fossil fuels: coal, oil, and fossil gas. This is a huge deal. The IEA is the world's foremost authority on energy, relied upon by governments and the private sector around the world.
The most obvious high-level conclusion from the IEA research is that we need governments to act collectively on our behalf. Despite the decades-long campaign by fossil fuel companies telling us that tackling the climate crisis is about individual choices, the analysis finds that only 4% of the emission reductions needed to keep warming at safe levels will be achieved through personal behavioural changes. The vast majority comes from governments ensuring that polluting industries do their fair share and that consumers have climate-friendly options when making purchases.
It's worth noting that the IEA has been a great friend of the oil and gas industry for decades. The agency was originally created to ensure oil supply during the oil embargo in the 70s, and has consistently come to conclusions that are pro-fossil fuels. For example, it has stubbornly underestimated the growth in renewables for years, leaving much more room in its analysis for oil and natural gas.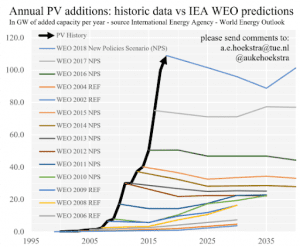 So it is extraordinary that this conclusion–that governments need to stop approving all new fossil fuel projects–is likely the most petroleum-friendly picture of a future where we avoid runaway climate change. The report still makes a lot of rosy assumptions about carbon capture and storage, carbon sequestration by natural ecosystems, and hydrogen from fossil fuels–all of which have been called  "long shots" by Canadian Institute for Climate Choices–and it is likely that we have to reduce fossil fuel production even more quickly.
So what do we need governments to do? Well, as the IEA put it, governments must "significantly strengthen and then successfully implement their energy and climate policies." That includes:
1 Stop approving fossil fuel projects, and plan for their phase out
The IEA pathway to a climate safe future has no new approvals of oil and gas fields, thermal coal mines, or mine expansions. None. Starting now.
That means the Canadian government should cancel all 20 fossil fuel projects currently facing an impact assessment. But these are just the tip of the iceberg. With an expected "sharp decline" in oil and gas demand, the federal government should reject all future fossil fuel proposals as well, including new oil sands projects, LNG terminals, and pipelines. Canceling the TMX pipeline will be easy; the feds own it. And governments and private institutions such as banks must immediately stop financing or insuring the expansion of coal, oil, or gas production.
Next the government should plan a phaseout of all fossil fuel sectors over the next two decades. A big part of that is developing and implementing a fair, gradual, and supported transition for workers and communities. Our research shows that this transition is entirely manageable.
Oil and gas boosters both from the political and corporate world will offer solutions that involve a significant role for oil and gas using unproven techno-fixes. The International Energy Agency's analysis tells us these arguments should be ignored. 
2) Drive a "massive clean energy expansion" over next decade
As fossil fuels are phased out, renewable energy will become the dominant form of energy, much of it in renewable electricity, such as wind and solar power. At the same time, energy efficiency measures will need to ramp up. According to the IEA, "All the technologies needed to achieve the necessary deep cuts in global emissions by 2030 already exist." Most are already cheaper than the cheapest fossil fuel option. We need an "immediate and massive deployment  of  all  available  clean  and  efficient  energy  technologies." So governments should set and meet aggressive short-term goals in clean energy, and use climate and energy policies to drive both private and public investment to realize the incredible growth potential.
3) Put people at the center of the energy transition
Tackling climate change head on will be much better for everyone. According to the IEA, this "would mean a better world with more jobs, lower energy costs, fewer deaths caused by pollution, energy access for all, better energy security for nations, and a healthier planet."
Clean energy investment will create more jobs and other economic opportunities than continuing to rely on fossil fuels. Thirty million jobs will be created by 2030 in industries such as renewable energy, electric vehicles, and energy efficient buildings and appliances.
But these benefits will be spread unevenly, and there will be economic costs as well, such as 5 million jobs lost. Governments must plan that economic transition and provide numerous training and support programs so the transition is fair for workers and communities, and so that those who are currently economically marginalized can take part in the benefits.
4) Undertake an unprecedented level of international cooperation
According to the IEA, if nations don't work together, decarbonizing the globe will take decades longer, leading to much greater global warming than the much safer threshold of  1.5 degrees C. Countries can work together while understanding and addressing differences in the stages of development. For one, financial and technological resources are needed by developing countries to undertake their climate ambitions. In addition to providing these, governments in industrialized countries can develop international  standards,  help accelerate  innovation,  and  coordinate the  scale  up  of clean  technologies.
But step one is every country doing a lot more starting right now. The IEA finds that "commitments made to-date are not sufficient to hold warming to 1.5°C and avoid the most catastrophic and irreversible impacts of climate change."
There is no time to waste. This isn't an optional pathway. It's a roadmap showing the direction we must take in order to prevent the worst impacts of the climate crisis from becoming reality. As the IEA explicitly states, the path to zero global emissions is narrow.  Canada needs to move quickly on the solutions that exist already, and not be distracted by self-serving oil executives pushing false solutions.