A new report released today by Environmental Defence – Paying Polluters: Federal Financial Support to Oil and Gas in 2020 – reveals that despite promises to phase out fossil fuel subsidies, the federal government continues to prop up the very companies most responsible for the climate crisis with huge sums of public money.
In fact, the government announced a minimum of almost $18 billion to the oil and gas sector in 2020.
In contrast, the Government's new climate plan commits $15 billion to climate initiatives – spread over ten years.
And due to a lack of transparency and public reporting, quantifying yearly financial support provided to the oil and gas sector by the Government of Canada and its agencies remains a difficult task. Federal tax deductions are not disclosed. There is no comprehensive inventory of direct spending by the government. As a result, the numbers included here are certainly an underestimate of total support.

Including Canada, countries around the world are planning to produce more than twice the amount of fossil fuels than would be consistent with a 1.5°C temperature limit. On the one hand, the government of Canada is setting climate targets and making plans, but on the other, continues to subsidize the very companies and activities that contribute most to the problem.
Something's got to give.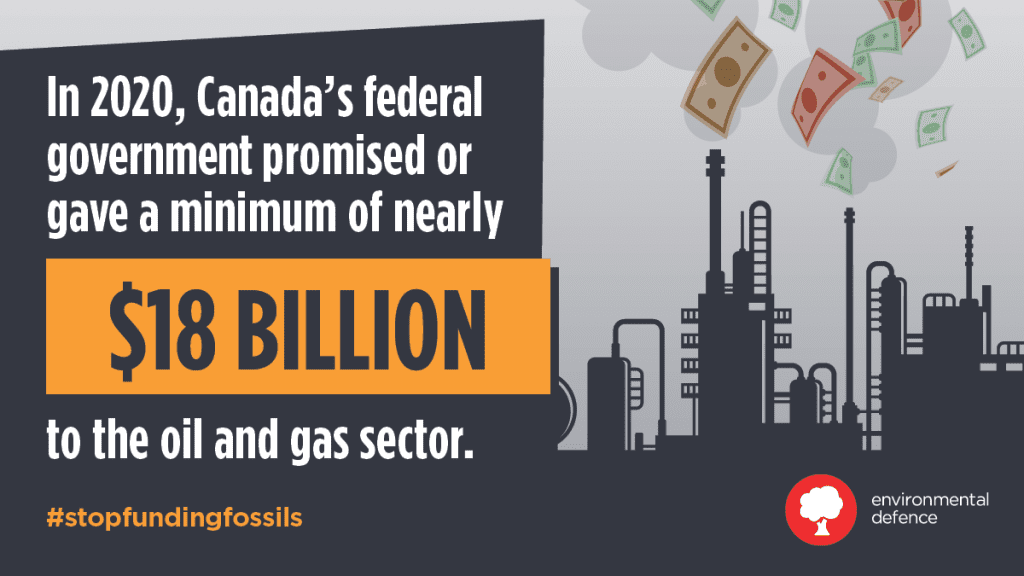 Why is subsidizing oil and gas bad?
Subsidies and public financing to oil and gas companies:
Harm our health: Governments are propping up an industry that is killing us. A recent report found that one in five premature deaths is caused by air pollution from burning fossil fuels. In Canada, that's 36,000 people a year.
Contribute to climate change: By making it cheaper to find, extract, process, transport and export fossil fuels, subsidies encourage more fossil fuel production, increasing the risk of locking in greenhouse gas emissions for decades to come.
Divert resources from public goods to private hands: Public financial support for fossil fuels redirects vital government resources away from other priorities that benefit all of us, such as healthcare, clean energy and just transition.
Yield very little in terms of job creation. Fossil fuel industries create fewer jobs per unit of output than any other sector in the Canadian economy.
Distort the energy market: Subsidies distort markets, favouring oil and gas over renewable energy. In doing so, they increase the market failure caused by underpricing pollution and climate impacts.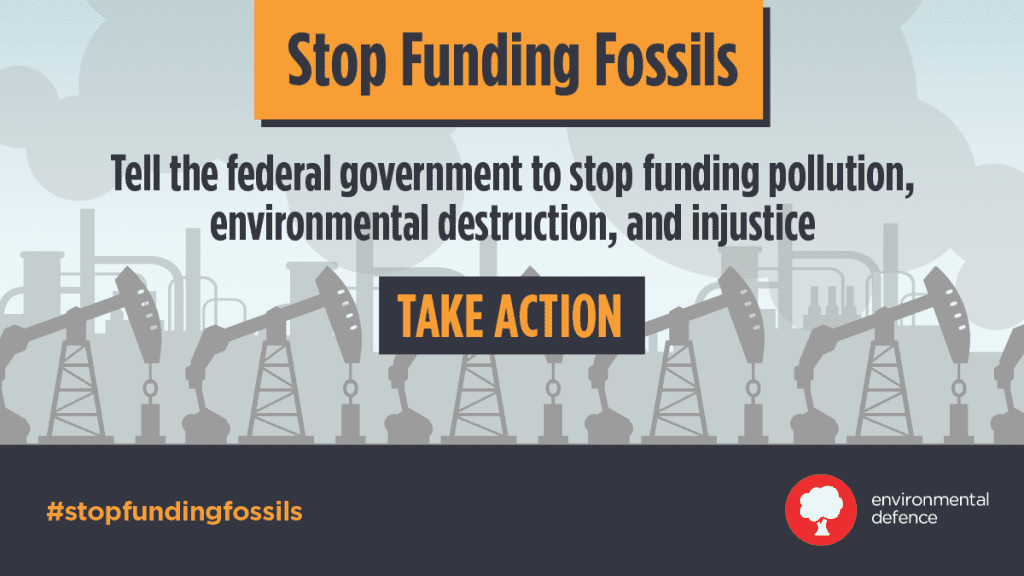 What is Canada subsidizing?
Canada's support to oil and gas companies ranges from providing companies with funds to do research into new technology to lower their costs of doing business to paying for new infrastructure (such as natural gas refueling stations) or paying to maintain idled infrastructure
Pipelines: Federal government agencies have played a key role in financing the construction of pipelines – the Trans Mountain expansion pipeline and the Coastal GasLink Pipeline – that have huge carbon footprints, violate Indigenous rights and put ecosystems at risk. In 2020 alone, crown corporation Export Development Canada provided up to $5.25 billion in financing renewals for the Trans Mountain expansion (a project with an estimated total price tag of at least $12.6 billion) and approved a loan of up to $500 million for the Coastal GasLink pipeline, which is opposed by the Hereditary Chiefs of the Wet'suwet'en Nation, whose territory the proposed would cross.
Policing: A particularly egregious form of fossil fuel subsidy are investments made into policing Indigenous land defenders opposing fossil fuel infrastructure. For example, over $13 million was spent last year on the Royal Canadian Mounted Police to 'protect' the Coastal GasLink pipeline – which took the form of harassing Wet'suwet'en Nation community members who oppose the pipeline.
COVID-19 support programs: Several of the COVID-support programs established in 2020 were at the request of the oil and gas industry. For example, in April 2020, the Canadian Association of Petroleum Producers, the largest oil lobby group in Canada, sent a letter to Cabinet asking for a host of measures including increased access to credit delivered through Export Development Canada and funding to reduce environmental liabilities. Both of these requests were accommodated. Furthermore, oil and gas companies claimed funds from COVID-support programs such as the Canada Emergency Wage Subsidy (CEWS), while continuing to issue shareholder dividends. In just one instance, Imperial Oil claimed $120 million through CEWS and issued $320 million in dividend.
A significant portion of the support provided was under the guise of job creation and achieving environmental outcomes. Rather than adopting a polluter pays' approach which forces those who cause the damage to bear these costs, these subsidies put taxpayers on the hook to clean up industry's mess. These programs have not come close to achieving its intended function: job creation. Rather than spending the funds on more reclamation work, the major oil companies that undertake the bulk of the work are simply replacing their own spending with federal funding.
What progress has the government made?
It has been over a decade since Canada first committed to phase out 'inefficient' fossil fuel subsidies, yet the government has made little progress to actually achieve this commitment.
Canada ranks second worst of the G20 countries for public finance to oil and gas. On a per capita basis, we're the worst.  A recent scorecard ranked Canada last in progress on phasing out support for oil and gas among G20 OECD countries. Despite that shameful claim to fame, the only action we've seen from crown corporation Export Development Canada is an embarrassingly weak target to reduce support for carbon-intensive industries from $22 billion to $19 billion.
On the other hand, momentum to end public finance of fossil fuels among Canada's peers and major trade partners is snowballing. In the United States, President Biden has made eliminating fossil fuels subsidies and public finance a priority. The United Kingdom has announced it will no longer provide financial support for overseas fossil fuel projects, including export finance provided by UK Export Finance (UKEF).
This is a critical time for Canada and the world. How governments choose to respond to the COVID-19 crisis will either amplify or help mitigate global threats such as the climate emergency and growing inequality and will determine whether the worst impacts can be avoided. Financial stimulus is critically needed, but it must be invested wisely and fairly in ways that accelerate Canada's urgently needed transition to a resilient, prosperous, low-carbon country.
Short-term solutions that serve to prop up a declining industry will only increase emissions and further degrade nature and social stability at a time when the world is rapidly trying to decarbonize. The pathway to zero emissions and a climate-safe future does not include subsidies or public financing for the oil and gas industry.