New testing conducted by an independent lab and commissioned by the Mind the Store Campaign, Safer Chemicals Healthy Families and Toxic Free Future found that paper-based packaging used to wrap popular fast food meals including McDonald's iconic Big Mac and french fries, Burger King's Whopper and Freshii's health-conscious salad bowls are potentially treated with toxic chemicals known as PFAS.

What are PFAS chemicals?
PFAS, or per- and polyfluoroalkyl substances, are compounds that consist of a chain of carbon and fluorine atoms of various lengths. The carbon-fluorine bond gives these chemicals an important function: the ability to make materials resistant to grease, stains and water. But the same nearly indestructible chemical bond that makes PFAS useful is also the reason why PFAS are so harmful. Once in the environment, PFAS persist for a very long time, which is why scientists have called them "forever chemicals."
PFAS are used to make non-stick cookware (e.g. Teflon), water-resistant clothing and outdoor gear such as raincoats and tents, stain-resistant treatments for carpets, and grease-proof food packaging. Unfortunately, these chemicals don't stay in the products they are added to. Mounting scientific evidence shows that PFAS leach out of products and contaminate our bodies and ecosystems, endangering the health of people and wildlife. 
PFAS are linked to many serious health conditions including liver damage, adverse effects on the immune system and some have been found to cause cancer. According to a national biomonitoring survey, PFAS are likely to be found in virtually all Canadians, and researchers have detected these extraordinarily persistent chemicals  in remote Arctic ecosystems and endangered wildlife such as whales and polar bears.
PFAS in fast-food packaging
Out of a total of 29 unique samples tested, 14 tested positive for total fluorine above the screening level. That means that these samples, which include the wrapper that holds Burger King's Whopper and the small McDonald's french fry bag, were likely treated with PFAS to make them grease-proof. 
Here is a list of the packaging that tested above fluorine screening levels (an indicator of PFAS treatment):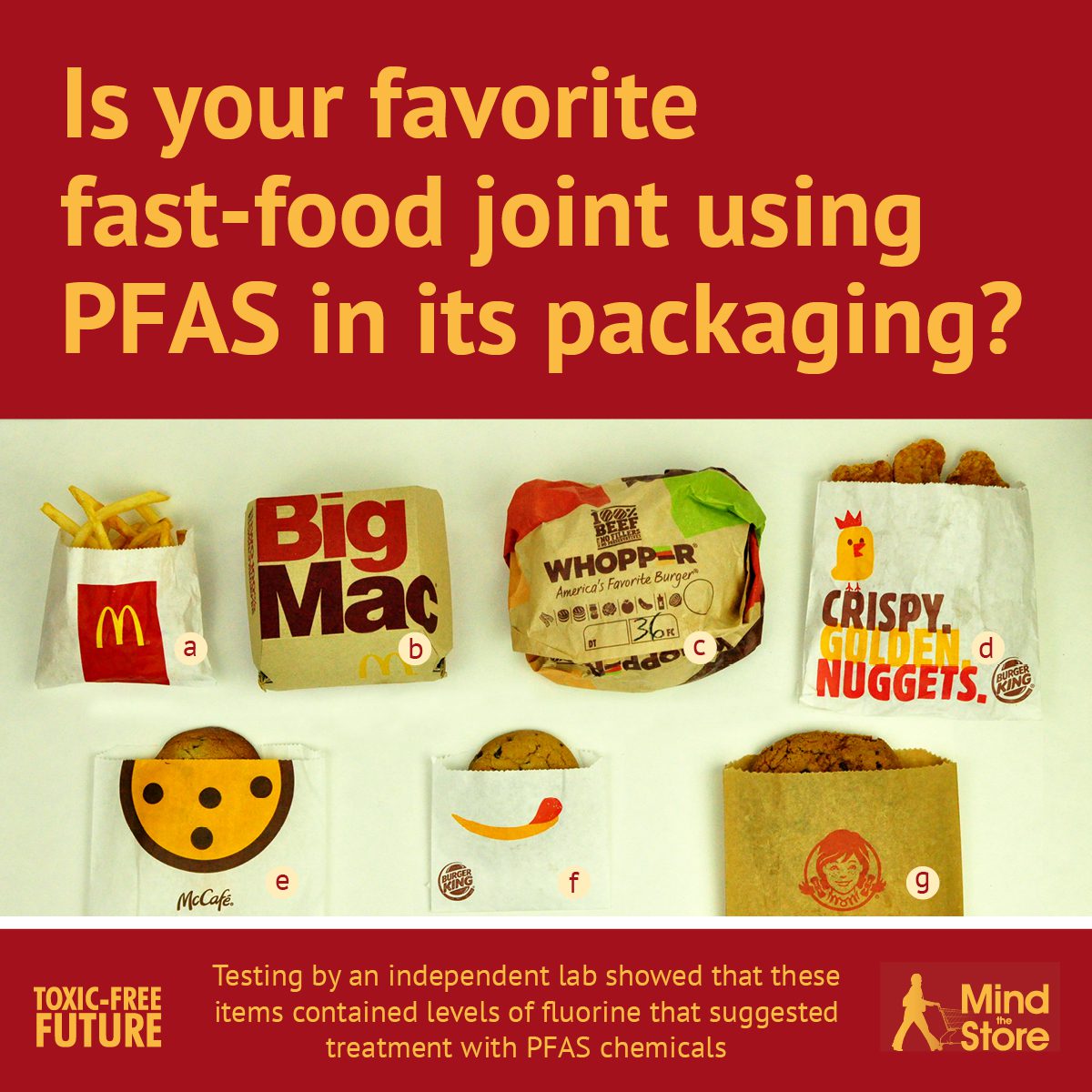 McDonald's small fry bag

McDonald's Big Mac clamshell

Burger King Whopper wrapper

Burger King chicken nugget bag

McDonald's cookie bag

Burger King cookie bag

Wendy's cookie bag
The testing also showed that even molded fibre bowls – often advertised as eco-friendly or compostable – used by health conscious chains such as Freshii for salads were potentially treated with PFAS.
Fast-food chains taking action to remove PFAS in packaging
In response to the release of the testing results, Freshii told CNN and CTV reporters that the company intends to introduce and transition to PFAS-free bowls in early 2021.
Over the last couple of years, several restaurant chains and retailers including Chipotle, Panera Bread, Taco Bell, and Whole Foods Market eliminated or made commitments to phase out PFAS-treated packaging.
Alternatives are readily available, yet McDonald's, Burger King and Wendy's have not committed to removing these harmful chemicals from their packaging. Tell the CEO's of these fast-food giants to protect our health and the environment today!
 Why has Canada not banned PFAS?
Governments around the world are taking action on PFAS. Denmark banned the use of PFAS-treated paper-based food packaging starting July 1, 2020 and several states including Washington and Maine restricted the use of food packaging containing PFAS.
Canada recently banned some legacy long-chained PFAS, but has failed to address the 4000-5000 newer PFAS that were created by the chemical industry to replace the banned ones. In fact, it appears that the federal government doesn't even have information about the identity and risks of most of these substances, which sneak into the country through imported consumer products.
The good news is that the federal government has committed to reforming our toxics law, the Canadian Environmental Protection Act (CEPA), and promised to introduce a bill later this year or in early 2021 to strengthen protections from toxic chemicals such as PFAS. Without a stronger CEPA, PFAS will remain a big threat to our public health and the environment.