Last week, the world's largest sovereign wealth fund was the latest financial institution to split away from Canadian oil companies – citing their unacceptable greenhouse gas emissions as the reason why.
More and more investors and major financial institutions — from Sweden's central bank to the world's largest asset manager, Blackrock — have shifted away from investing in Alberta's fossil fuel industry.
Despite what these global trends signal about the future of oil and gas in Canada, the federal government has announced several measures aimed at supporting companies in the sector.
Because of actions taken by supporters like you (such as signing this petition) – the government is aware of the widespread public opposition to measures that protect polluters, not people. They have been careful to lead with concerns on climate, and kept some of the details hidden.

There's no denying we need a serious plan to support and transition workers in sectors hit hard by the pandemic, including the oil and gas sector. But bailing out struggling oil companies being abandoned by the private sector won't achieve this.
Over the next month, we'll be digging into the measures announced by the federal government. But first, let's start with why bailing out oil and gas is a financial bad idea.

The 4 programs funnelling cash to oil and gas (so far)
$1.7 billion for cleaning up orphan and inactive oil and gas wells:
The bulk of this will go to cleaning up inactive wells in Alberta. Inactive wells are owned by viable companies who have neglected to pay the clean-up costs of their operations for decades. While this will create jobs, it is something that industry should have been doing all along.
A $750-million Emissions Reduction Fund
Loans from this fund will go to help companies decrease their emissions, with a focus on methane emissions. But reducing methane is very cheap, and the government should not be giving loans to companies to comply with existing regulations.
Access to credit for small and medium-sized oil and gas companies, run through Export Development Canada (EDC) and the Business Development Bank of Canada (BDC) (total loan money available unknown)
We sounded the alarm last month when changes were made to the law that governs EDC, Canada's export credit agency, and pointed out that those changes would make it easier to funnel billions more towards domestic oil and gas operations – without public scrutiny.
Access to the Large Employer Emergency Financing Facility (LEEFF)  (total loan money available unknown)
This loan program isn't available only to the oil and gas industry, but the sector is one of the primary targets. We're waiting to hear more about the conditions that will be imposed on these loans to know if they will be strict enough to really align with Canada's climate commitments.
Ministers have refused to attach price tags to the two credit packages, saying they will be driven by industry demand. Until we have more details, there is no way to know that this isn't exactly the bailout industry wanted.
Reasons to say goodbye: why Canada should not be bailing out oil and gas
This crisis has made evident the dangers of tying our economy too closely to a boom-and-bust commodity. The tar sands are among the world's more expensive and carbon-polluting sources of oil – meaning they are the first to lose out when crashes happen and as countries transition away from fossil fuels.
But that's not the only reason why this isn't a good recovery strategy for Canada.
Bailing out oil mostly funnels money out of the country
Who are we actually keeping afloat when we bailout the oil and gas industry? A new investigative report shows more than 70 per cent of oil sands production is owned by investors and shareholders outside of Canada.
Before COVID, oil companies were shedding jobs as fast as they could – not creating new ones
Workers are among the first costs shed by oil and gas companies looking to save cash, preferring automation wherever possible. Despite growing production since 2014, an estimated 53,000 oil and gas workers in Alberta have lost their jobs from 2014 to 2019. And these jobs are gone for good as fewer and fewer employees are needed with rapid changes in technology, the growth of automation and other labour-saving efficiencies.
Coupled with the drop in demand for oil and gas, the industry isn't in any position to hire new workers, which means they won't help much with post-pandemic economic recovery.
In comparison, Canada's clean energy sector is growing faster than the rest of the economy and will employ 559,400 Canadians by 2030—in jobs like insulating homes, manufacturing electric buses, or maintaining wind farms. In fact, there are already 50 per cent more jobs in clean energy in Canada than in oil and gas and mining combined.
Public royalties and taxes collected keep going down – even as production increases
Taxpayers aren't getting much in return for bailing out the oilpatch. Royalty revenue and corporate taxes from the sector have plummeted – despite growth in production.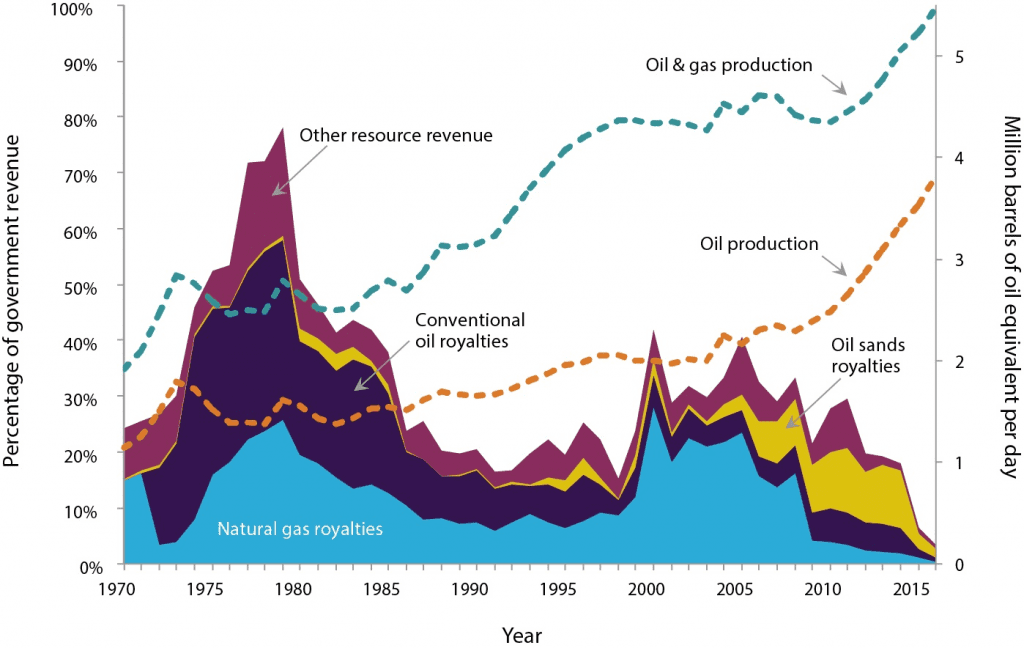 Providing loans to an industry struggling to access credit is a throwing good money after bad
Even before COVID-19 showed up, and Saudi Arabia and Russia started a price war, the oil and gas business was losing easy access to capital markets. There's a reason why these companies can't get loans from private lenders – many of them won't be able to pay these loans back.
A recent report shows how risky a proposition it is to provide loans to the sector. AIMCo, the Alberta Investment Management Corporation, has invested more than $1.1 billion dollars in the sector – and every publicly traded company that AIMCo has invested in has seen its share price fall.  AIMCo is likely to lose large sums of money on these unwise investments. Now the federal government is taking a similarly risky bet – one that taxpayers are being asked to cover.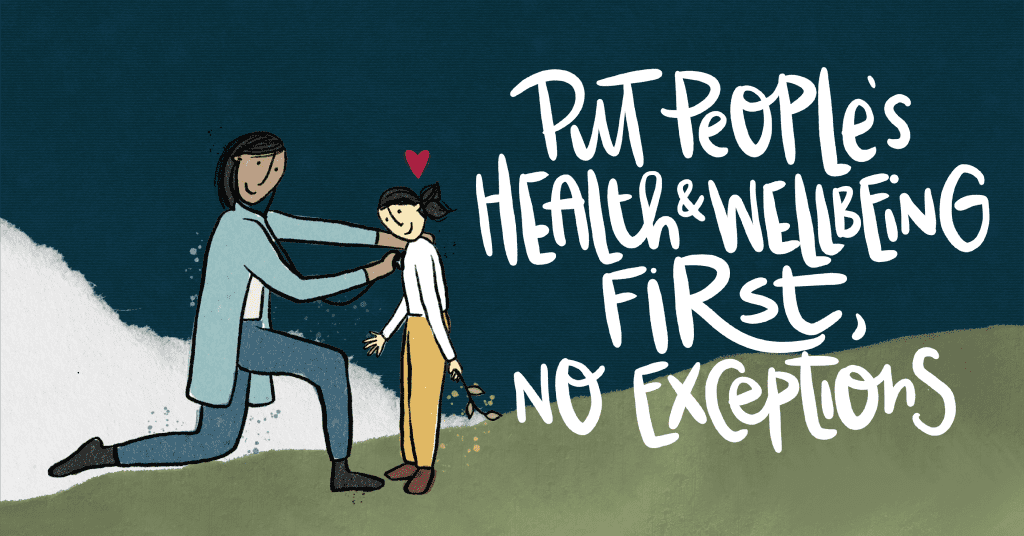 Canada has better options
Canada should focus on major public investments in a just transition rather than on bailouts to companies that won't survive a long period of low oil and gas prices and serious global action to deal with climate change.
Going forwards, governments across Canada have a decision: continue to recklessly double down on the boom-bust roller coaster of the fossil fuel industry or chart a path to a genuinely healthier, more resilient and more equitable future through a just recovery.