Expanding oil and gas production is undermining Canada's ability to be a climate leader. And oil executives are successfully weakening and delaying Canadian climate change policies. Those are two of the conclusions from a report we released yesterday at the U.N. climate conference going on right now in Katowice, Poland.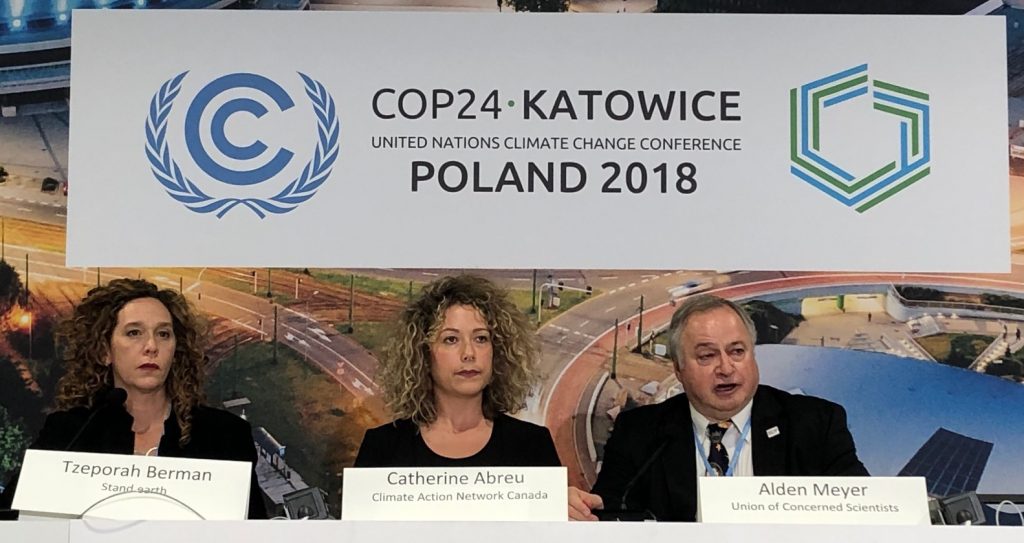 First, the good news. In Poland, Environment and Climate Change Minister Catherine McKenna committed to strengthen Canada's 2030 Paris commitment in the next two years. We still don't know what the new target will be.
But here's the thing. In order to attain greater ambition on climate change, Canadian governments have to stop facilitating and supporting the expansion of oil and gas.
Canada's oil and gas industry is big enough. The latest science on limiting global warming to avoid catastrophic climate change impacts finds that both oil and natural gas production need to significantly shrink in the next decade – and right now, it's projected to grow.
And that's the bad news…the problematic contradiction that exists within Canada. While governments in Canada want to be seen as climate leaders, they have introduced policies and spent billions of taxpayer dollars to support the continued expansion of oil and gas production, already the largest and fastest growing source of carbon emissions in Canada.
As oil and gas companies face stiff headwinds due to high cost structures, low oil and gas prices, and opposition from First Nations and Canadian citizens, governments have bent over backwards to prop them up. Significantly, new government subsidies totaling in the billions of dollars have been introduced by governments in Canada. Just a sampling:
The Alberta government has also weakened environmental protection from oil impacts. Liabilities for the environmental damage from oil, gas, and mining now total $260 billion, according to the Alberta Energy Regulator. And yet the government is approving new projects and allowing the size, volume, and cost of tar sands tailings ponds to continue to increase.
None of this is enough for oil companies. The Canadian Association of Petroleum Producers, the industry's lobbying arm, is still aggressively pushing Ottawa to weaken government policies on climate change. The industry has actively attempted to weaken, kill, or delay an improved environmental impact assessment for energy projects, the federal Clean Fuel Standard, methane regulations at the federal and provincial levels, and carbon pricing.
Canada appears intent on addressing climate change and building a low carbon economy, but the idea that this can be done without extensive cuts in oil and gas production is a fallacy.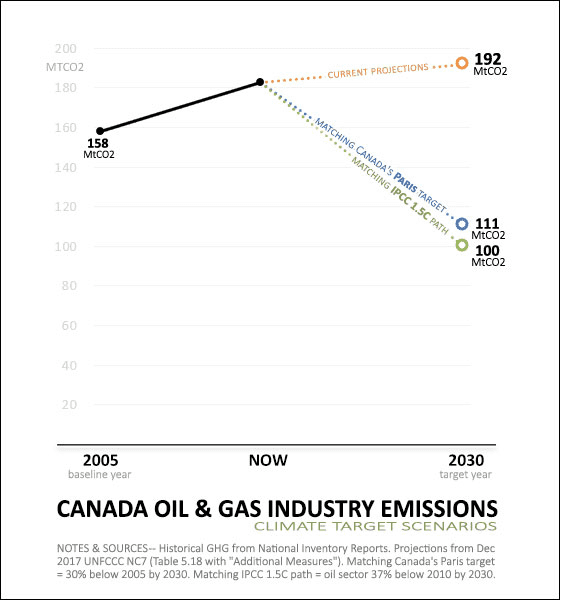 The solution for Canadian governments is to take the new science seriously, and implement policies that will get Canada on a low carbon trajectory by 2030 and to a zero carbon goal by 2050. That would include:
Implementing policies that restrict the supply of oil and gas from Canada, including a climate test for new energy projects, the retirement of approved licenses, and the near-term elimination of all fossil fuel subsidies
Developing a just transition strategy for workers and communities in all fossil fuel sectors that is based on production levels aligned with achieving a zero carbon goal by 2050
Strengthening climate policies including methane regulations, carbon pricing, and measures to reduce emissions in emitting sectors such as transportation and buildings
Developing an accountability mechanism that tracks progress on climate action and ensures course corrections
Fully implementing the U.N. Declaration on the Rights of Indigenous Peoples