Most fossil fuel subsidies take the form of handouts and tax breaks for companies to explore for and produce more oil and gas. But the Alberta government is using another method to directly and shamelessly support the fossil fuel industry: spend millions of taxpayer dollars on a fact-challenged advertising campaign to trick Canadians into supporting the Trans Mountain Expansion pipeline (TMX).

The Alberta government can make up numbers and refine its marketing message all it wants. It won't change the fact that the economic benefits of Trans Mountain are illusory and the obstacles and risks to the pipeline are overwhelming.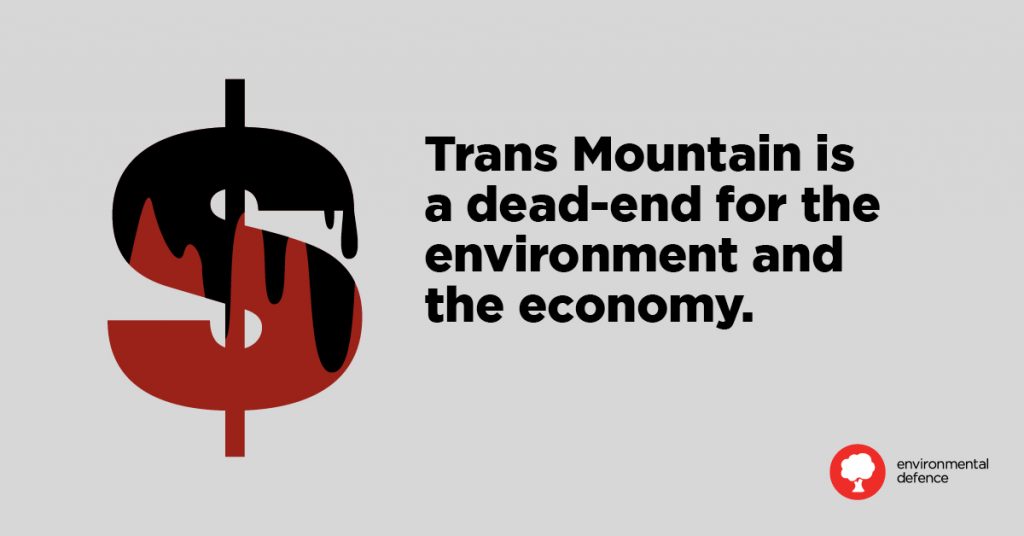 This summer, the Alberta government began its #KeepCanadaWorking advertising campaign to push its pro-pipeline agenda on Canadians from coast to coast, including a glossy new website, animated Facebook videos, shareable social media graphics, billboards throughout British Columbia, radio ads, and anonymous robocalls that flooded Canadians' phones over the summer.
The latest salvo of taxpayer-funded distortions and half-truths from the Alberta government is a string of full-page newspaper ads that are running in 27 newspapers across Canada, including the Globe and Mail, National Post, Vancouver Sun, Winnipeg Free Press, Toronto Star and Ottawa Citizen. The Alberta government admits that the print and online ads combined are costing Albertans $450,000 per week. As of October, the government spent nearly $10 million on #KeepCanadaWorking.
The newspaper ads claim that delays in getting the Kinder Morgan pipeline built are costing Canadians $40 million per day. They also argue pipeline delays are causing Canada to sell oil to the United States at a discount and demands a "national plan" to reduce delays.
Tellingly, there are few facts to support these arguments and no amount of government money will make them true.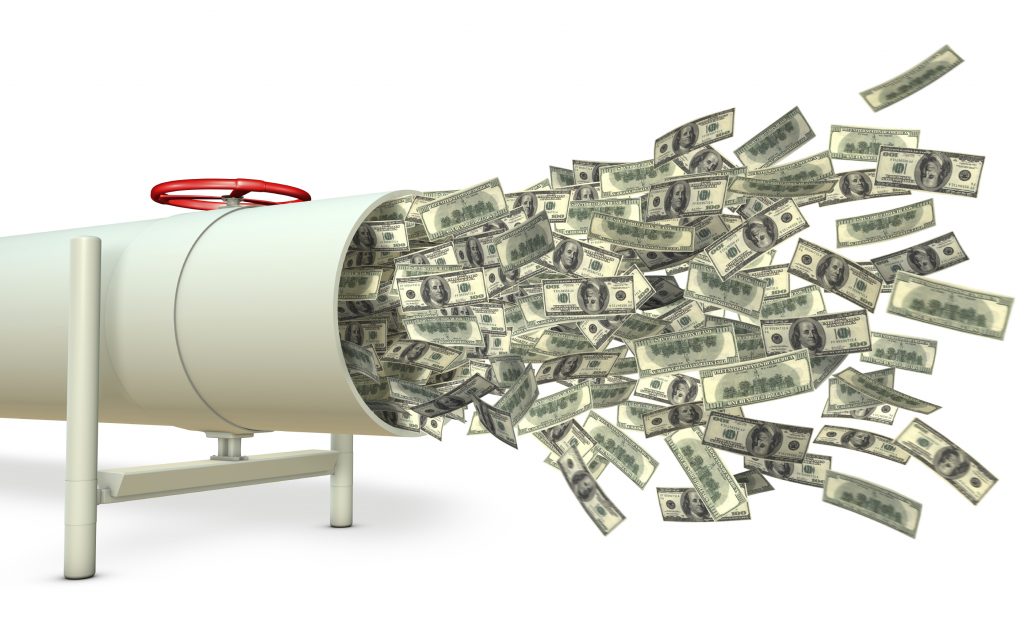 Trans Mountain delays are not costing Canadians $40 million per day. Building TMX would not fetch a higher price for Canadian oil.
The $40 million per day figure used in the ad comes from a February 2018 Scotiabank report that claims a lack of pipeline capacity to export Canadian oil is costing the national economy $15.6 billion per year. The Alberta government appears to have divided this number by 365 to estimate the supposed cost per day of not building TMX—about $42.7 million.
Western Canadian heavy oil, or "Western Canadian Select" (WCS), does fetch a lower price than other types of oil, but it's not because of a lack of pipeline capacity or lack of access to global markets. It's because WCS is low-quality, dirty oil that is more expensive to refine and harder to transport than other types of oil. Even pro-pipeline industry analysts agree this is the major reason behind the lower price Alberta producers get for their oil.
The Scotiabank report relies on faulty assumptions and has been thoroughly discredited. It ignores the fact that much of the oil produced in Alberta is upgraded locally or feeds refineries either in Canada or the U.S., so therefore most of it doesn't get sold globally for a lower price. Major producers like Cenovus, Suncor and Husky acknowledge themselves that most of the oil they produce is not negatively affected by the WCS discount. The Scotiabank report also neglects to mention that the real reason that WCS faced a temporary period of export constraints and lower prices was because a rupture shut down TransCanada's Keystone pipeline in early 2018.
In short, the report massively overestimates the number of Alberta barrels that are subject to the supposed discount, and therefore the cost to Albertan producers and the Canadian economy. Alberta's own 2018-21 fiscal plan verifies this: TMX would not fetch a higher price for WCS and deliver no additional benefit to Alberta or Canada.
There is no Asian market for Canadian oil.
The ad campaign also assumes that building TMX will see more tar sands oil exported to Asia. But Asian oil markets aren't interested in WCS. Canadian producers already have the ability to ship tar sands oil to Asia via the existing 300,000 barrel per day Trans Mountain pipeline—but they're not using it. Asian refineries don't have the refineries to process bitumen, and they have access to a plentiful supply of light crude that is cheaper and easier to refine. The realistic market for tar sands oil transported by TMX would be the U.S. Gulf Coast, which has comparatively cheaper transportation costs and lots of heavy oil refining capacity.
TMX job creation claims are completely overblown.
Kinder Morgan and the federal government claim that building TMX will create 15,000 jobs. But digging into this number shows Kinder Morgan used some crafty economic modelling to arrive at this bloated estimate. According to analysis of documents submitted to the National Energy Board, the pipeline project would create just 90 permanent, direct jobs and perhaps 2,500 short-term jobs during construction, a small number compared to the 72,000 total jobs created in B.C. in 2016. Meanwhile, the project would put thousands more jobs in tourism, fisheries, and other sectors at risk of an oil spill.
There are no magic shortcuts to get TMX built.
The #KeepCanadaWorking newspaper ad seems to assume that the federal government can magically forge a national plan to get the pipeline built. However, a federal court quashed the Trans Mountain approval in August, citing deficiencies in the government's review related to the risk of increased tankers off the B.C. coast to endangered Orcas and a failure to properly consult First Nations affected by the pipeline.
The federal government and pipeline proponents are scrambling to find ways to address the court's ruling and resuscitate TMX, but there are no short cuts. The project will remain mired in delay for many months, if not years. It still faces numerous legal, regulatory and political obstacles, not to mention unflinching opposition from environmentalists, many First Nations, some B.C. communities and the B.C. government. Indigenous rights cannot be ignored, and expanding the oil and gas industry is incompatible with achieving Canada's climate targets.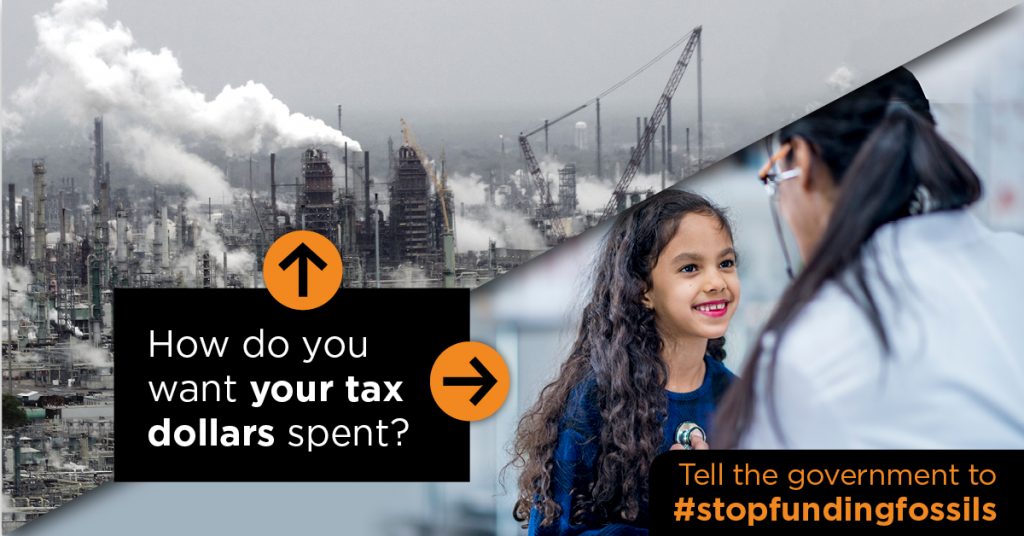 Stop wasting public money propping up fossil fuels
Canadians already have a federal government spending at least $4.5 billion on this doomed, risky tar sands pipeline that puts our water, land and climate at risk. Now we are subjected to a deceptive taxpayer-funded advertising campaign designed to ram pro-pipeline messages down our throats.
Enough with the shameless government support for the fossil fuel industry. Let's end public handouts to oil and gas companies and invest in the jobs and climate solutions of the clean energy economy.