The oil and gas industry is hailing a new fossil fuel project—dubbed LNG Canada—as a huge breakthrough that supposedly shows that it's competitive to deliver Canadian fracked gas to markets in Asia. But what they don't tell you is that the foreign consortium behind LNG Canada only decided to move forward with the project because it's receiving $6.6 billion dollars in public handouts.
They're also not telling you that this "carbon bomb" would make B.C.'s commitments to reduce carbon pollution virtually impossible to meet.
But there's still time to make the federal government re-think its multi-million dollar contribution. Send a letter now telling the government to stop giving money to fossil fuel companies.
The LNG Canada "carbon bomb"
LNG Canada is a consortium comprised of Shell and various Asian gas companies. If completed, the project will eventually export as much as 26 million tons of natural gas per year. It includes a new processing facility and export terminal in Kitimat, B.C., and a $6.2 billion, 670-km pipeline built by TransCanada that would enable expanded production of fracked gas in northeastern B.C.
LNG Canada could increase carbon pollution in B.C. by nine million tonnes per year—the equivalent of adding two million cars to the roads every year. This works against the province's targets to of significantly reduce greenhouse gases. LNG Canada alone would be responsible for almost half of the entire province's emissions by mid-century. With B.C. set to announce a climate action plan this fall, it's not clear how LNG Canada is compatible with meeting provincial targets.
Massive Subsidies for LNG Canada
Central to LNG Canada's economic viability is a suite of fossil fuel subsidies from the B.C. and federal governments.
The provincial government offered a suite of tax breaks and incentives for LNG Canada that results in $5.35 billion in public subsidies, including:
Provincial sales tax exemption on the construction costs of the LNG facility
Special treatment under B.C.'s carbon tax
Lower electricity rates
Elimination of the LNG income tax
Access to the Clean Growth Incentive program
The federal government kicked in another $275 million in infrastructure improvements to support construction and increased marine protection to mitigate the impact of increased LNG tanker shipments. The feds are also planning to give LNG Canada a special tariff exemption on the industrial steel modules the project must import to construct the Kitimat LNG facility. If approved by the Federal Court of Appeal, the tariff exemption will amount to at least $1 billion more in subsidies for LNG Canada. The exemption for this massive fossil fuel project flies in the fact of the 25 per cent tariff that remains in place for American steel used in other Canadian industries.
These subsidies and government handouts are, of course, in addition to the numerous other tax exemptions and federal grants that incentivize exploration and production in Canada's natural gas industry.
In total, the public subsidies propping up LNG Canada add up to at least $6.6 billion—greater than the entire cost of TransCanada's natural gas pipeline needed to get fracked gas to Kitimat.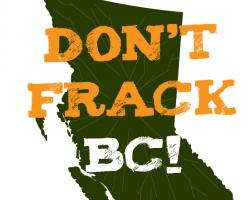 Stop propping up a sunset industry 
LNG Canada isn't yet a done deal. A concerned citizen raised concerns that the natural gas pipeline is part of a TransCanada pipeline network that crosses provincial borders and therefore requires federal review. This week, the National Energy Board agreed to consider this jurisdictional challenge, which could result in a delay that might scare away project proponents. Also, two First Nations in central B.C. are exercising their rights to oppose the pipeline's crossing of their lands and have set up resistance camps along the proposed route.
Cancelling LNG Canada altogether would be the right move. The B.C. and federal governments are using billions of public dollars to build a project that would expand fracking and make it nearly impossible to meet our climate targets.
New fossil fuel projects don't make sense—environmentally or economically—in a carbon constrained world. Public money should not be used to finance more climate pollution.
Take action: tell the government to stop giving money to fossil fuel companies.