Delegates from 196 countries just wrapped up the U.N. climate summit in Morocco. As a member of the Canadian delegation, I heard fossil fuel subsidies being discussed numerous times. Countries around the world still give billions of dollars in handouts to oil, gas and coal producers. At the conference, U.N. Secretary-General Ban Ki-moon urged national governments to eliminate these counter-productive subsidies. So what is Canada doing?
Unfortunately, federal and provincial governments continue to hand out $3.3 billion in annual subsidies to fossil fuel producers, as a new study shows. These subsidies undermine efforts like carbon pricing as oil and gas companies effectively get $19 for every tonne of carbon emissions they produce. It's a negative price on carbon that encourages pollution.
Take action: tell the federal government to take action on climate – including ending fossil fuel subsidies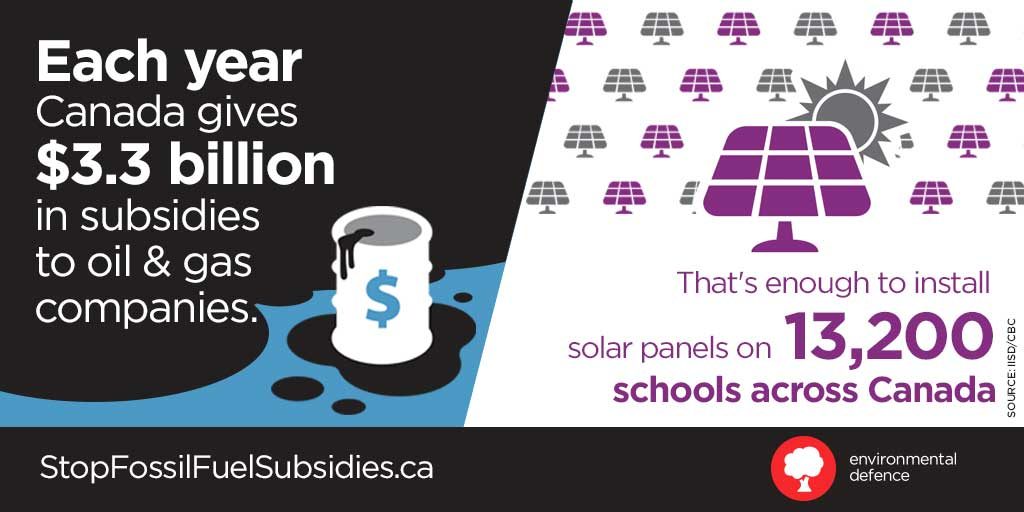 Prime Minister Justin Trudeau needs to explain to Canadians the logic of giving government handouts to coal, oil, and natural gas producers while he plans to introduce a pan-Canadian carbon price. Instead of the 'polluter pays' principle, it's a practice of 'pay the polluter'. It's like putting a tax on cigarettes to discourage smoking, while giving big tax breaks to tobacco companies to produce more cigarettes.
What makes this even more ridiculous is that many of these subsidies spur coal, oil and gas companies to explore for more fossil fuels. And yet scientific research has determined that a majority of the coal, oil, and gas that has already been found has to remain in the ground if we are to avoid the most dangerous impacts of climate change.
Fossil fuel subsidies in Canada are mainly tax expenditures. Most identified subsidies benefit oil and natural producers upstream as they provide tax breaks for exploration activities, field development and extraction. In addition to these deductions, more than a billion dollars in Crown Royalty Reductions in Alberta add to the $3.3 billion total.
Time for Action
The good news is that Canada has committed to getting rid of these subsidies. In 2009, all G20 countries including Canada committed to phase out fossil fuel subsidies. The new government also made a commitment to phase them out in its platform during the last federal election. And this commitment was reaffirmed by Prime Minister Trudeau in conjunction with the governments of the U.S. and Mexico in June of this year.
So we're good? Not so fast. The current federal government's commitment is to eliminate these subsidies by 2025 only. The promise that Canada made seven years ago will take another nine years to be fulfilled.
It is not too late for Canada to rethink this go-slow approach. In fact, Finance Minister Bill Morneau can begin the phase-out of these harmful subsidies in Budget 2017. Minister Morneau should list all the federal subsidies provided to fossil fuel companies, and commit the federal government to eliminating those subsidies by 2020. Four more years is more than enough time to accomplish this.
International Heavyweights Agree: End the Subsidies
The government has a number of powerful, international allies in this endeavour. In September, three of the world's biggest insurers called for phasing out fossil fuel subsidies by 2020, as did over 200 civil society organizations. Institutional investors managing $13 trillion in investments also urged the G20 to phase out fossil fuel subsidies. The heads of the United Nations, OECD, International Energy Agency, and the World Bank have all said the same.
The federal government needs to heed the call of both ordinary Canadians and global actors and eliminate the stark contradiction in approach to climate action.  As Canada moves to put a price on carbon and fight climate change, it's time to accelerate the phase-out of fossil fuel subsidies that act as a negative price on carbon.
If Prime Minister Trudeau is concerned about his climate legacy, he should pluck this low-hanging fruit – and save the federal treasury billions in the process. Take a minute and send him and his ministers a message right now.