Like most Canadians, I'm so used to turning on the tap and taking a sip of water that I don't even think about what it would be like to live in a community without clean drinking water. It's almost unimaginable that my tap water could overnight become contaminated and no longer drinkable. But TransCanada's proposed Energy East project would create that risk for millions of Canadians.
We can't take access to clean drinking water for granted. That's the lesson from a new report we and our partners released yesterday. The report, Energy East: a threat to our drinking water, reveals that the pipeline would risk polluting the drinking water of 5.6 million Canadians.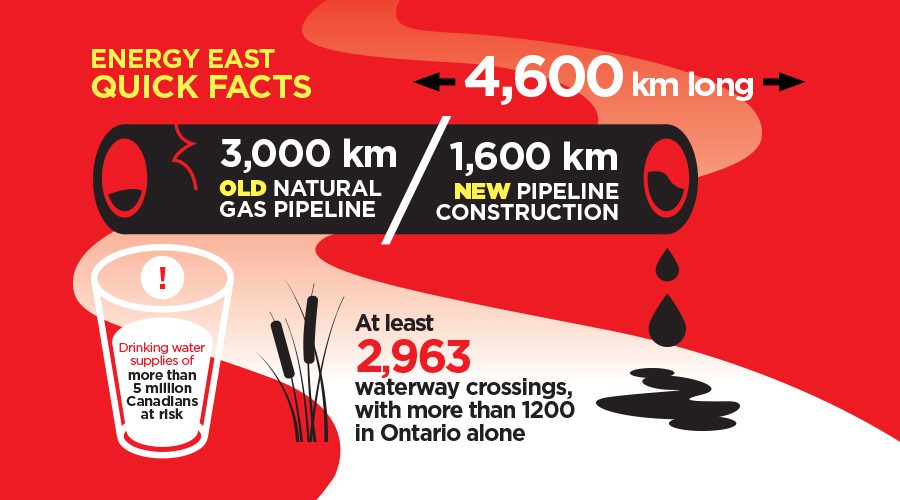 For our analysis, we looked at all of the larger communities along the pipeline's proposed route and assessed their vulnerability to an oil spill. We found that more than five million Canadians live in a community that's downstream and within spill range of this proposed high-pressure tar sands oil pipeline. Even a small rupture near any one of these communities across the country could lead to oil reaching a municipal drinking water intake, or contaminating well water.
The Energy East project is the largest export pipeline ever proposed in North America. Up to 90 per cent of its oil is expected to be exported unrefined. Across its 4,600 km route, the pipeline would run very closely to dozens of municipal drinking water intakes located in Manitoba, Ontario, Quebec and New Brunswick. And that means the drinking water of millions of Canadians would be at risk.
We only have to look at recent pipeline oil spills to see how real this risk is. In 2010, Enbridge spilled 3 million litres of tar sands diluted bitumen (dilbit) into a creek that flows into the Kalamazoo River, contaminating the river for nearly 60 kilometers downstream. It was only luck that this stretch of river in Michigan didn't feed a major municipal drinking water supply.
In 2013, an Exxon Mobil pipeline spilled thousands of litres of tar sands dilbit into a residential community in Mayflower, Arkansas. The oil flowed into the municipal storm sewer system, contaminating a nearby lake. These spills were small compared to what could be possible for Energy East, which would also carry tar sands dilbit.
We know that just one drop of oil can leave 25 litres of water unsafe for drinking. Even small oil spills can leave lasting hydrocarbon pollution in water that is impossible to fully clean up, especially as spilled diluted bitumen sinks to the bottom of waterways. Toxic chemicals in crude oil and diluted bitumen can affect human health for years – even in small quantities.
Fortunately, Energy East is still only a risky proposal. We can prevent this risk before it starts. You can join the large and growing number of Canadians speaking up to stop this wrong-headed project. Energy East just isn't worth risking the safety of our drinking water.
Not all Canadians have safe drinking water. It's important to remember that in 2016 there are still numerous remote communities across Canada, in many cases First Nations reserves, which still lack access to safe and reliable sources of potable drinking water. The latest numbers show that there are currently 162 drinking water advisories in 118 First Nation communities across the country.  We need to support these communities in getting the infrastructure they need to have the safe water all Canadians deserve access to.
Elected officials on all levels need to make it their priority to ensure universal access to clean drinking water in Canada – and the protection of our existing water sources.
Let's say no to fossil fuel mega-projects like Energy East that would put the export of dirty oil ahead of the health and safety of Canadians.