Painting your nails or applying cosmetics shouldn't put your health at risk. Yet evidence is mounting that certain chemicals used in common products have endocrine-disrupting, AKA hormone-disrupting effects. This time, the chemical culprit is Triphenylphosphate, known as TPHP (or TPP).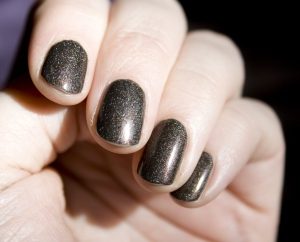 A recent study conducted by researchers from Duke University and the U.S. based Environmental Working Group (EWG) found considerable levels of TPHP in the bodies of women who participated in their study within 10-14 hours of using nail polish. TPHP, a substance often used in furniture foam as a flame retardant, is increasingly added as a plasticizer in many nail polish products to increase flexibility and durability. Alarmingly, over half of the 3,072 nail polish products listed in the EWG's Skin Deep Database contain TPHP.
Scientific evidence of the negative reproductive and developmental toxicity of flame retardants, including the widely used Firemaster 550® that contains 20 per cent TPHP, is well established. Flame retardant chemicals have been shown to negatively impact children's brain development. This is particularly concerning because of evidence from population studies that found considerable levels of TPHP in pregnant women and breast milk, putting babies at greater risk of exposure. Recent evidence has also underscored possible links between TPHP exposure and obesity.
The Duke-EWG study results add to the existing evidence on the absorption of chemicals, even in very small concentrations, through direct skin exposure. To confirm this, the study compared levels of TPHP in women's bodies after applying polish that contained only 1 per cent TPHP on synthetic nails while wearing gloves (as a control) and on their bare nails. Only the urine samples collected after applying polish onto bare nails contained significantly elevated levels of TPHP. Previous research showed that women's bodies may contain greater levels of TPHP because of higher exposures to the chemical through nail polish and other cosmetics products.
The use of hormone-disrupting chemicals in nail polish is not a new practice; take for example, the chemicals dibutyl phthalate (DBP) and diethylphthalate (DEP). As awareness of the health impacts associated with these chemicals has risen, their usage has declined. According to a survey by the U.S. Food and Drug Administration, DBP and DEP are now rarely found in current polishes on the market – possibly due to successful pressures from the public and mounting evidence of their harmful effects. While this is good news, it is important that the industry does not substitute one harmful chemical with another.
We need government action to include hormone-disrupting chemicals like TPHP on Canada's Cosmetic Ingredient Hotlist. Likewise, Canadian regulations on flame retardants need to be strengthened after years of delay.
Advocacy can help move decision makers to take action to ban or restrict harmful chemicals. In the meantime, methods such as GreenScreen can help businesses transition away from toxic chemicals to safer alternatives. And public education and outreach can help Canadians avoid chemicals of concern that are still found in popular products.
At Environmental Defence, we aim to increase public awareness of toxic chemicals in personal care products and provide Canadians with the information and tools necessary to influence positive changes in their homes and communities. Find out ways  to take action to protect yourself and children from toxic chemicals and check out our tips and guides on how to reduce your exposure to harmful chemicals at home.