On October 1, join your fellow Ontarians for a walk through the farms and conservation areas threatened by Highway 413.
Grassroots organizers in Grand(m)others Act to Save the Planet and Mississauga Climate Action have taken the lead in planning a walk along the proposed route of Highway 413 to raise awareness about the 2000 acres of irreplaceable farmland that will be destroyed by this reckless project.
The event will be happening on October 1st and there will be many ways to participate, including a rally and farmer's market at the Brampton Fairgrounds where cyclists and walkers will congregate.
Local groups are coordinating walks and bike rides of different lengths at different locations in Halton, Brampton, Caledon and Vaughan. Most walks start around 10:00 AM.  Use the map below to find the walk that's right for you or just join us at the Brampton Fairgrounds.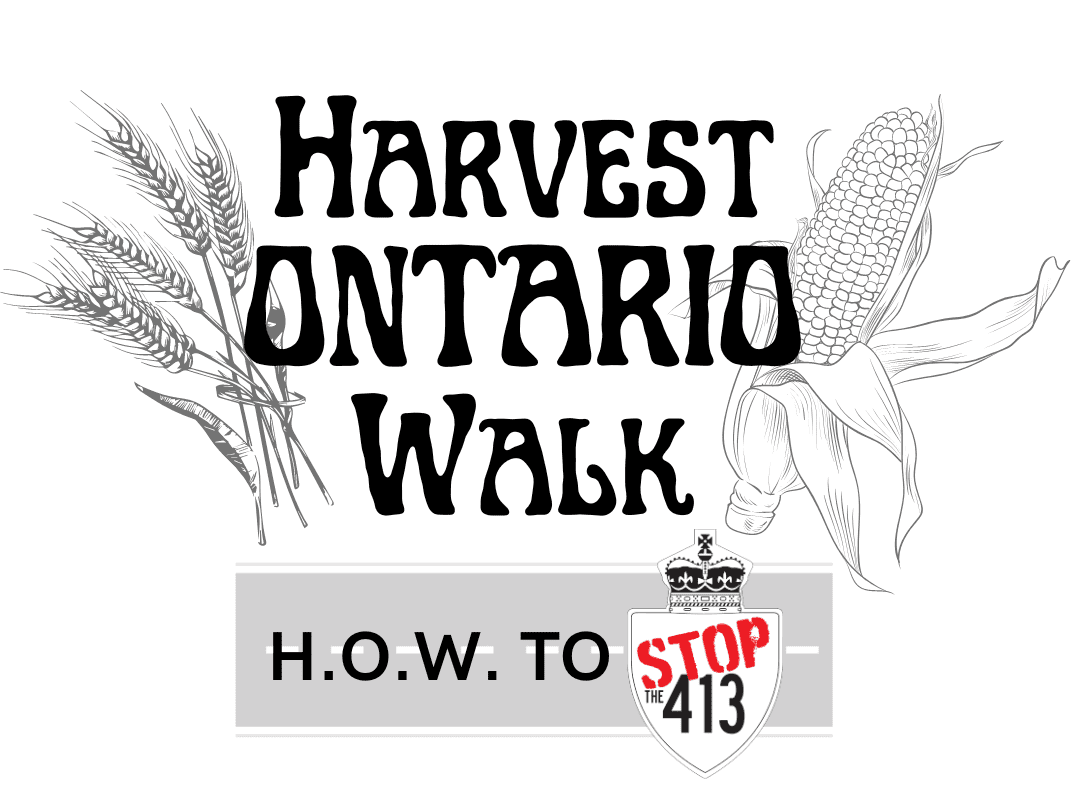 Click the icons on the map below to get details on the different walking and cycling options.
Registration for specific walks is now closed -- but you are still welcome to arrive at the Brampton Fairgrounds between 9:00 and 9:30 AM and join one of the walks starting at the fairgrounds - or contact the organizers of an individual directly to inquire about joining up with them.
SCHEDULE OF EVENTS AT BRAMPTON FAIRGROUND
9:00 AM – Volunteer sign-in and set up
9:30-10:00 AM – Arrivals of walkers at Fairgrounds and Cassie Norton Climate Sing-Along.
10:00 AM – Opening Ceremonies
10:15-11:00 AM – Walk
11:00 AM – Classical Piano – Edwin Vlasics
11:20-11:35 AM – Morris Dancers
11:35-12:05 PM – Mark Yan and Harpin' Norm Lucien
12:05-12:20 PM - Cassie Norton – Sing-A-Long Part II (Even Better the Second Time Around!)
12:20–12:30 PM - "Do It Now (Sing for the Climate)" led by Whole Village Singers and Friends
12:30 PM – Welcome  and Rally Cry!
12:40 PM - Speeches.  Featuring: Dave Meslin, Divya Supra, Ontario Green Party Leader Mike Schreiner; NDP Environment, Conservation and Parks critic, Sandy Shaw; and Liberal Party MPP Mary Margaret McMahon.
1:30 – 2:00 PM – Morris Dancers and Music
CLICK HERE FOR THE HARVEST WALK SONGBOOK
Show Your Support Online
Click here to tweet out a link to this page so your Twitter followers can see the map and sign up for the Harvest Ontario Walk to Stop the 413.  You can also use the share icon on the map above to email or tweet the map or post it to Facebook.