The Problem:
Plastic pollution has reached every corner of the planet, including the Great Lakes. In fact, 80 per cent of litter in the Great Lakes is plastic.
Despite the Blue Box program, Ontario has one of the worst return rates for plastic bottles in the country. Over 1.5 billion plastic bottles are not recycled in Ontario and end up in landfills or the environment every year.
The Solution:
In Ontario, we are working to put a price on plastic bottles which will encourage much greater recycling and keep the bottles out of the landfills and the environment. The program could generate revenues that go towards protecting the Great Lakes. We're also educating Canadians about the impacts plastic bottles have on the environment.
1. Take Action
Tell Coca-Cola, Nestlé and Pepsi to step up and support a deposit return program for plastic bottles in Ontario.
Sign our petition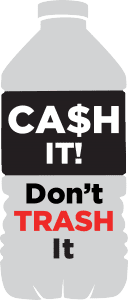 3. Refills, not landfills
Take back the tap and use refillable water bottles instead of bottled water.
4. Join Our Community
Sign up for our water newsletter to receive the latest updates and to learn more about how you can help reduce plastic pollution.