Public health studies show that people who live near roads and highways are exposed to a harmful amount of air pollution from cars, buses and trucks, causing higher risk of life-threatening heart and lung conditions. If you live in a major city, that probably means you.
Getting cleaner vehicles on the road can help reduce both air pollution and greenhouse gas emissions, since they both come out of the same tailpipes. Our new report Clearing The Air: How electric vehicles and cleaner trucks can reduce pollution, improve health and save lives in the Greater Toronto and Hamilton Area provides evidence that a switch to cleaner vehicles could save lives, improve public health, cut air pollution, and drastically cut greenhouse gas emissions in the region.
We worked with the University of Toronto's Transportation and Air Quality Research Group, and the Ontario Public Health Association, to model different scenarios for cleaner vehicles in the GTHA. These included electrifying cars and SUVs at different percentages, electrifying all public transit buses, and replacing older, more polluting trucks with newer, cleaner trucks.
The results: How much can cleaner vehicles improve public health?
The results of this modelling show the massive public health benefits of reducing air pollution and greenhouse gas emissions. Air quality improvements from cleaner vehicles could prevent hundreds premature deaths every year, reduce about 70 per cent of the region's traffic-related greenhouse gas emissions, and lead to billions of dollars in social benefits, including about $10,000 in social benefits for every electric vehicle replacing a gas-powered car.
The maps below show the years of life saved from air pollution reductions for three clean vehicle scenarios.
YEARS OF LIFE SAVED PER 100,000 INHABITANTS IN THE GTHA EVERY YEAR IF 100 PER CENT OF PUBLIC TRANSIT BUSES ARE ELECTRIC
YEARS OF LIFE SAVED PER 100,000 INHABITANTS IN THE GTHA EVERY YEAR IF 100 PER CENT OF CARS/SUVs ARE ELECTRIC
YEARS OF LIVES SAVED PER 100,000 INHABITANTS IN THE GTHA EVERY YEAR IF 100 PER CENT OF TRUCKS ARE CLEANER (2008 TECHNOLOGY STANDARDS)
Compare these and other maps side by side. Visit clearingtheair.ca
The chart below shows the greenhouse gas emission reductions resulting from each clean vehicle scenario.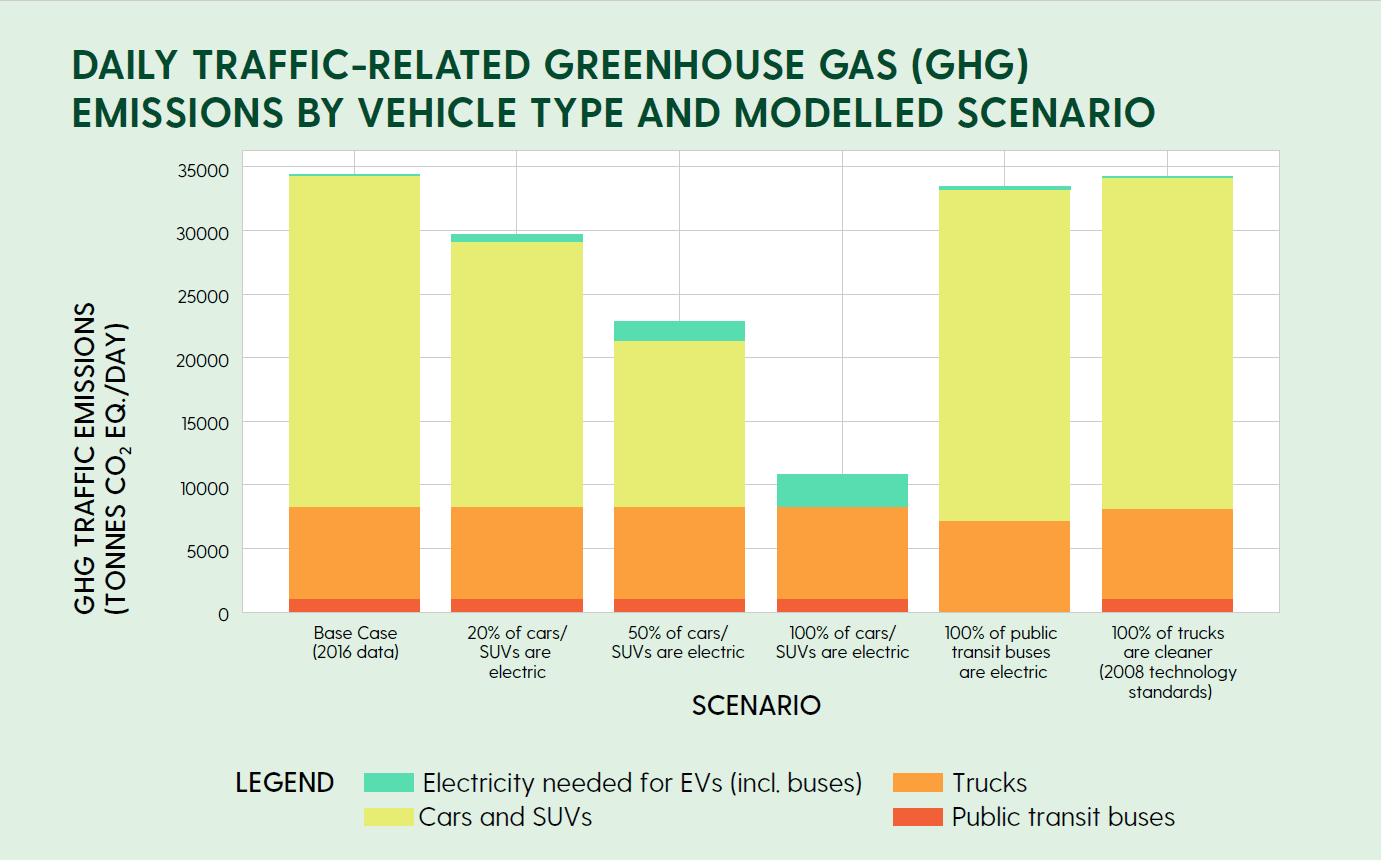 Quick facts from our modelling:
If all cars and SUVs on GTHA roads were electric (EVs), this would prevent 313 premature deaths per year and provide $2.4 billion per year in social benefits.
Newer, cleaner trucks would prevent 275 premature deaths annually and provide $2.1 billion per year in social benefits.
Electrifying all public transit buses would prevent 143 premature deaths per year and provide $1.1 billion per year in social benefits.
A single EV replacing a gas-powered car brings approximately $10,000 in social benefits shared by everyone, not just EV buyers. This does not include health care costs, so the true benefits are likely much higher.
If all cars, SUVs, and public transit buses were electric, this would reduce over 8 mega tonnes of greenhouse gas emissions per year. This is equivalent to the output of two coal plants, or about half of the reductions needed to meet Ontario's 2030 carbon emissions reduction targets, or about 16 per cent of all the greenhouse gas emissions from the GTHA in 2017.
The solutions: how do we get cleaner vehicles on the road?
The pandemic has meant a temporary drop in air pollution as traffic volumes decline. But a pandemic is not the solution we need or want to reduce air pollution. We need smart solutions to improve air quality now, and long after the pandemic subsides. These solutions could even help make us more resilient to respiratory diseases like COVID-19.
To achieve these health and climate benefits, governments need effective policies to accelerate a switch to cleaner vehicles. These policies will save lives by improving respiratory and cardiovascular health, and reducing future climate-related health risks.
Electrifying cars
Implementing a Zero-emission vehicle (ZEV) sales mandates for cars is a proven policy to increase sales of electric vehicles, already in use in Quebec and B.C. A ZEV sales mandate requires that automakers ensure a rising percentage of their car sales are electric by specific dates. This places the onus on automakers to ensure that ZEVs are widely available to consumers, and that promotional dollars are behind them.
Other strong government policies can be combined with a ZEV mandate to electrify cars at a faster pace, including cash incentives like the federal government's current $5000 incentive program, investments in expanding charging infrastructure, and maintaining strong fuel efficiency regulations for cars.
Electrifying buses
Electrifying all public transit buses throughout the GTHA would bring positive public health benefits to densely populated urban areas like Toronto. Some government funding has already helped get a small number of electric buses on the road, but now is the time to fund more. Public transit buses operate mostly in urban environments where more people are walking, cycling, living, and breathing the air, so cleaner buses will have a big impact in improving local air quality. There are economic benefits to boot – many electric buses are made in Canada, so adding more Canadian electric buses to fleets would create jobs. With an infusion of more funding dollars as part of a green recovery, improving public transit buses could go a long way in improving local health and local economies.
Cleaner trucks
Since our modelling found that heavy trucks create a disproportionate amount of air pollution in the region, quick action to get the most polluting trucks off the road will bring big public health benefits. Governments could create scrappage programs for trucks or cars to get the worst offenders – usually the oldest vehicles – off the road for good. Trucks owners could "cash in" older, more polluting trucks and get financial help buying newer, more efficient (or electric) trucks. Local governments can also create Low Emission Zones restricting the most polluting vehicles from areas with dense populations. More than 250 cities in the European Union have already adopted such measures, resulting in significant air pollution and GHG reduction benefits for their residents.
This is just a small sampling of what can be done to get cleaner vehicles on our roads. Now is the time for governments to invest in cleaner air and a healthier population. Implementing evidence-based clean vehicle solutions will bring major public health benefits both now and in the future.
You can find more information on our findings and recommendations in our report here.
Your support during these uncertain times is crucial for us to continue our work in protecting the environment and the health of our communities. If you can, we hope you can make a contribution to support our efforts. 

Stay up-to-date on environmental issues. Join our email community.