The oil and gas industry is alive and well in Alberta despite what you may have read. Oil companies in Alberta reaped billions in dollars in profits in 2018 and yet the Alberta government continues to hand out bags of cash to them.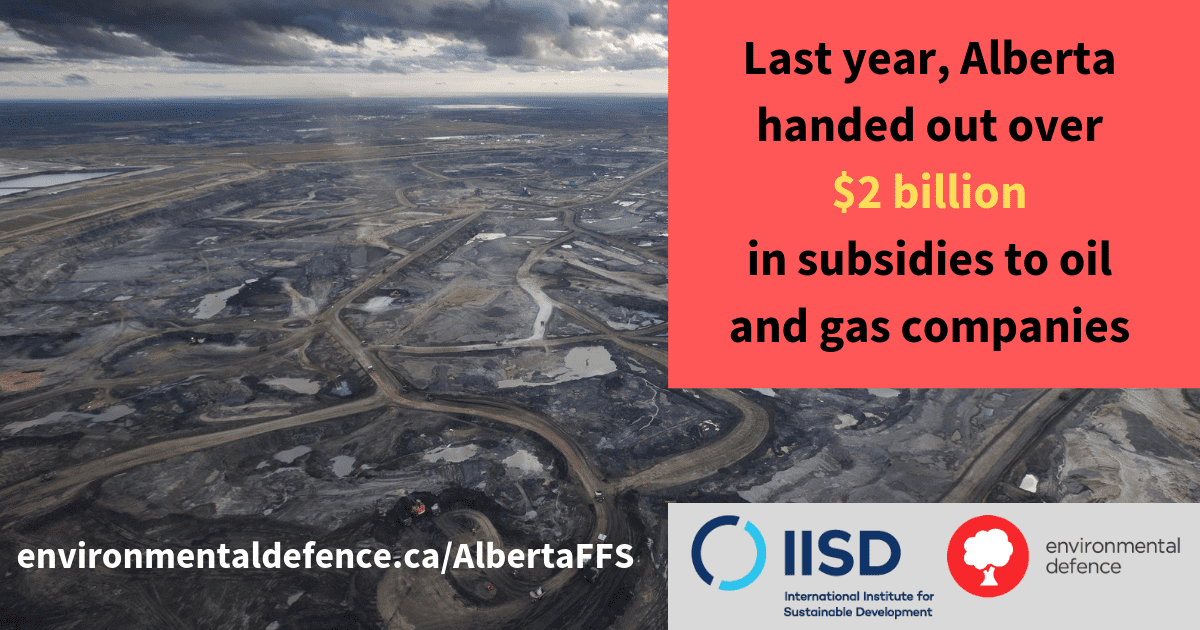 Our latest report, co-written with the International Institute for Sustainable Development, shows just how many of your tax dollars are being funneled to the oil and gas industry each year in subsidies. Royalty structures, tax provisions, research grants, and programs that have already been announced show that the Alberta government gave away more than $2 billion dollars in fossil fuel subsidies for the 2017/18 fiscal year. And the amount of subsidies Alberta gives to oil and gas companies is growing. Just two years ago, it was $1.2 billion, nearly half the amount of subsidies granted for this past year. At a time when Alberta is facing record deficits and the need for more schools, hospitals and mass transit options is high across the province, this money could be spent in ways that make life better for Albertans and not just a few highly profitable companies.
The word 'diversification' was even thrown around to justify some of the newer subsidies, but spending money on one of the largest and most problematic industries in Alberta is hardly diversification.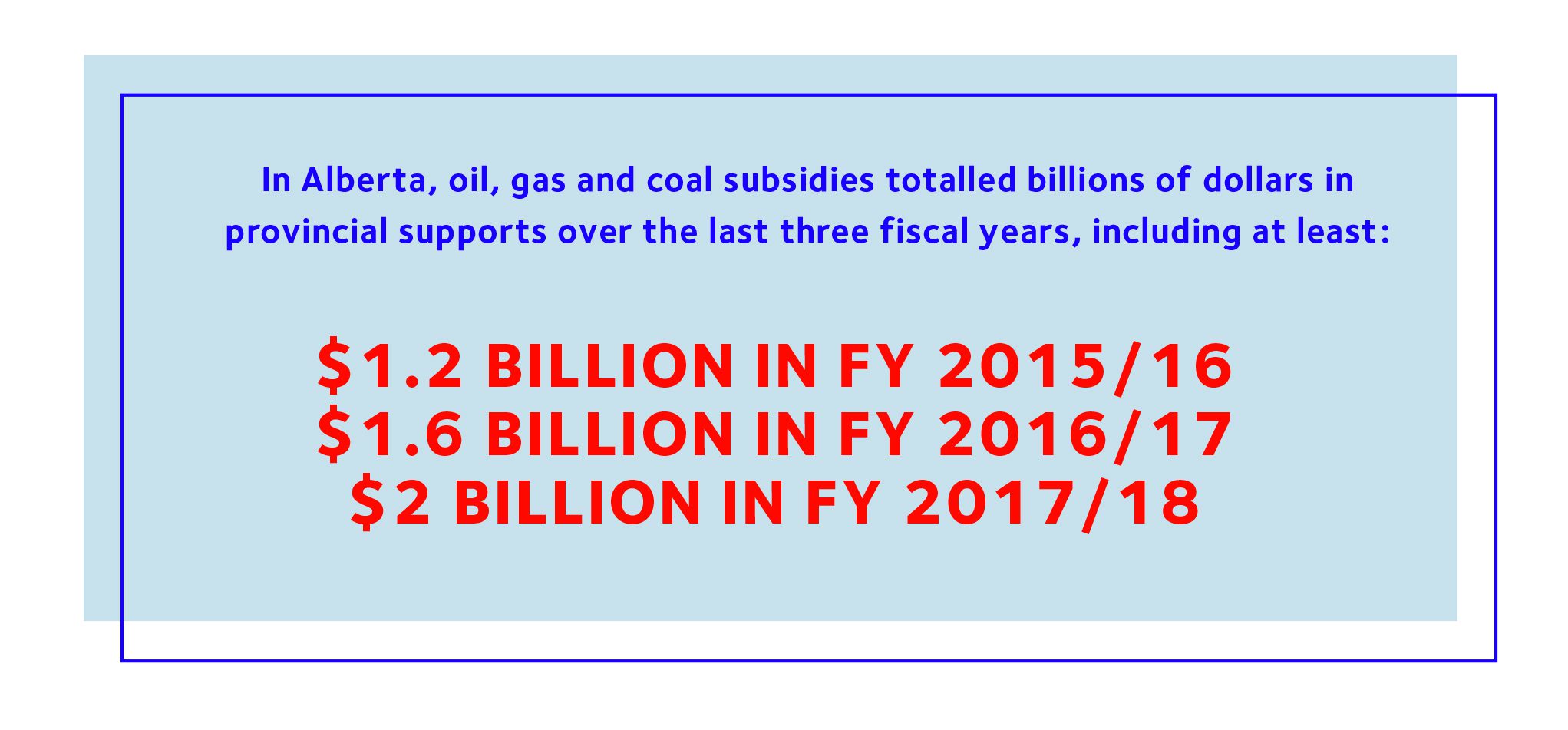 What are we getting for all these subsidies?
Not much. Some companies are creating new facilities, which will create some construction jobs in the short term, but only a few long term jobs. These same companies are expanding the production of a resource that the world is beginning to wind down. Yes, demand for oil isn't going to vanish tomorrow. But the projects being built today have pay back periods that last for decades – essentially they are betting on sustained demand in the long term, which is looking less and less likely. The simple truth is, the more we build today, the harder it will be for Alberta and Canada to reach its greenhouse gas reduction targets and the harder it will be for us to really diversify the economy and make the shift to a low-carbon future.
And the province is losing out on the royalties it collects. Over the last three fiscal years, royalty payments were reduced by an average of $1.16 billion each year. In 2017/18 the province of Alberta collected just $2.37 billion in royalties but could have collected an additional $1.46 billion if not for the royalty adjustment program – a type of subsidy it provides to oil and gas companies.
The fossil fuel subsidies Alberta provides are in contradiction to the province's efforts to reduce carbon pollution through the carbon levy and the programs it funds to increase energy efficiency, provide more public transit and invest in renewable energy. In fact, it doesn't seem fair that while everyday Albertans are doing their part to fight climate change, the government is throwing money at a profitable industry that is allowed to increase their pollution, which accounts for over a quarter of Canada's greenhouse gas emissions and growing.
Canada has committed to phase out its inefficient fossil fuel subsidies by 2025 and Alberta should do the same. It's time for the Alberta government to lay out its plan to end these subsidies once and for all.
Read the report on Alberta's subsidies to the fossil fuel industry here.
Join our email list for news and information about climate change and the clean economy.