Every year, a crown corporation most Canadians have never heard of—Export Development Canada (EDC)—provides billions of dollars in support to oil and gas companies – support which can be the deciding factor on whether a project moves forward. This fossil fuel finance is inconsistent with Canada's commitment to phase out fossil fuel subsidies and entirely incompatible with Canada's climate targets.
Take action: Tell Canada's government to stop funding fossils.
A new report from our partners at Oil Change International shows that EDC provides, on average, over $10 billion in government-backed support for oil and gas companies every year. Between 2012 and 2017, EDC provided twelve times more support for oil and gas than for clean technologies.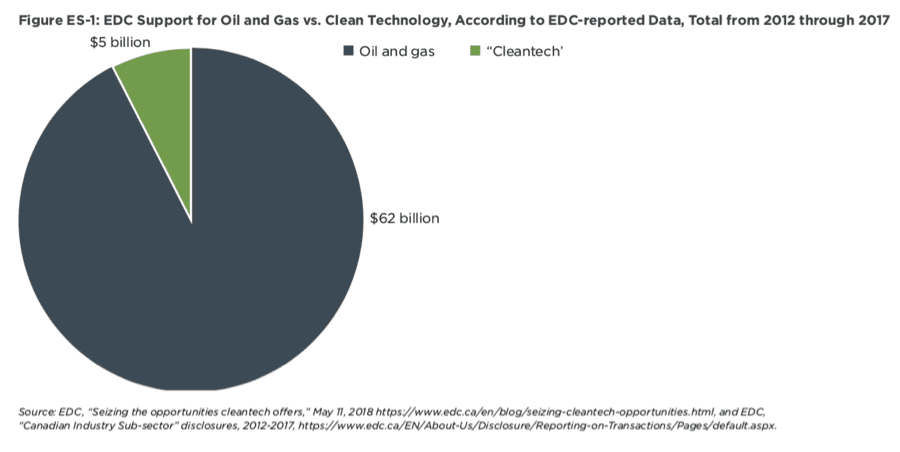 EDC is Canada's official export credit agency, which means it is mandated to facilitate export growth in Canada's international industries and businesses. It does this through a variety of government-backed supports for export-oriented companies, such as financial services and insurance for companies pursuing projects with high levels of risk.
EDC's financing of oil and gas companies is not a traditional fossil fuel subsidy because the agency operates as an independent business rather than using public dollars. But EDC is a crown corporation, wholly owned, backed and controlled by the Canadian government. It is accountable to Parliament and overseen by the Minister of International Trade Diversification. What EDC does, Canada is doing.
That's why it's a problem that EDC is funnelling billions of dollars to climate polluters. It's incompatible with Canada's climate commitments under the Paris Agreement and out of step with momentum across the international finance community to shift financial flows away from fossil fuels to clean energy. Last year, the World Bank Group committed to end financing for oil and gas extraction after 2019, while many other multilateral development banks, public finance institutions, insurance companies, and large banks have reduced or ended their financing or support for fossil fuel activities.
The latest science calls for a rapid shift away from fossil fuels, but Canada continues to support new fossil fuel infrastructure that locks in rising emissions and has still not announced a clear path to phase out fossil fuel subsidies by 2025.
In fact, the new report shows that EDC support for oil and gas actually increased during the first two years of the current federal government compared to the final two years of the previous government, from $20.9 billion to $22.4 billion.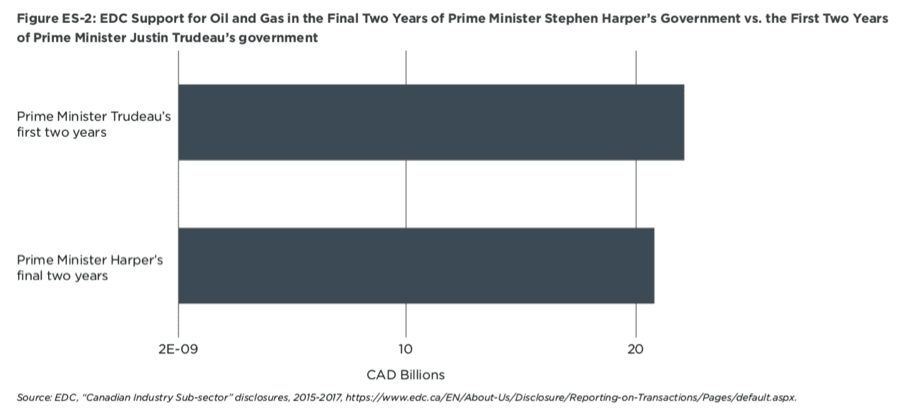 Up to 30 per cent of EDC's support for oil and gas is aimed at financing the domestic operations of Canadian companies, rather than fulfilling EDC's original mandate of export-focused international finance. From 2013 to 2017, EDC facilitated at least $4.4 billion in activity to support some of the largest companies involved in oil sands expansion and transportation.
In fact, this year, EDC guaranteed $1 billion or more in loans from banks to support the federal government's purchase of the Trans Mountain Expansion pipeline. EDC also provided at least $1 billion in financing to back the pipeline's construction.
The new report on EDC comes at an opportune time for Canada to shift financial flows away from fossil polluters and toward climate solutions. The federal government is currently reviewing the legislation and policy that mandates EDC. The government should end EDC's financing and support for fossil fuels by 2020 and ensure EDC's climate change policy aligns its investments with Canada's climate commitments.