Greenbelt recipe: Mixed Vegetable Pakoras with a Savoury Peach Chutney
Protecting over 2 million acres of land in the Greater Golden Horseshoe, the Greenbelt is home to some of the most productive agricultural land in Canada. This is due to a unique blend of climate, soil types and geography, such as the Great Lakes and the Niagara Escarpment which work together to extend the growing season. One of the greatest ways to experience the diverse agriculture in the Greenbelt is to visit a farmers' market and try out local fruits, vegetables, and farmer creations.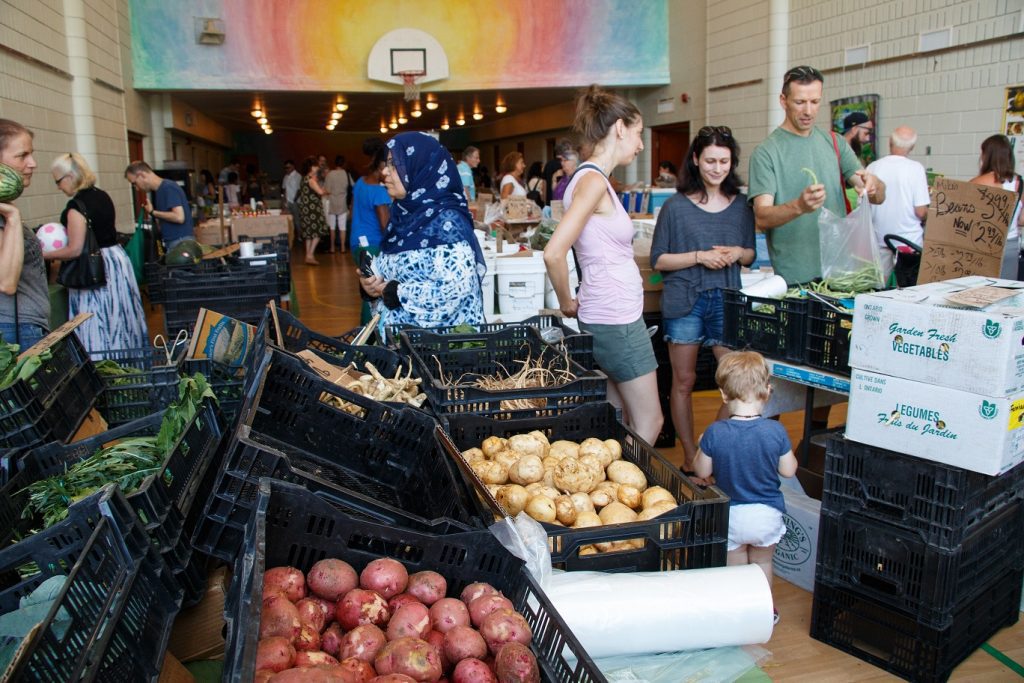 Throughout the year, the Greenbelt offers a variety of produce depending on the season. My most recent trip to the farmer's market included trying things I've never tried before! From sheep-milk kefir to coronation grapes, friendly farmers did not hesitate to let me sample what they've grown and gave me tips and tricks for cooking with them.
I returned home from the market with my tote bag full of fresh peaches, cauliflower, eggplant, green chillis and more. From savouring produce at the peak of freshness to meeting the people who grow your food, there are countless reasons to support farmers' markets and Greenbelt-grown food.
I wanted to combine all the different flavours in one dish so I decided to put a Canadian spin on a classic Indian snack: Mixed Vegetable Pakoras with a Savoury Peach Chutney. The crispy crust encases all kinds of local and seasonal vegetables and the peach chutney adds a refreshing taste with every bite. Luckily, your local farmers' market has all of the fresh ingredients (marked with an *) needed to make this light and fluffy snack. The remaining ingredients can also be found in grocery stores.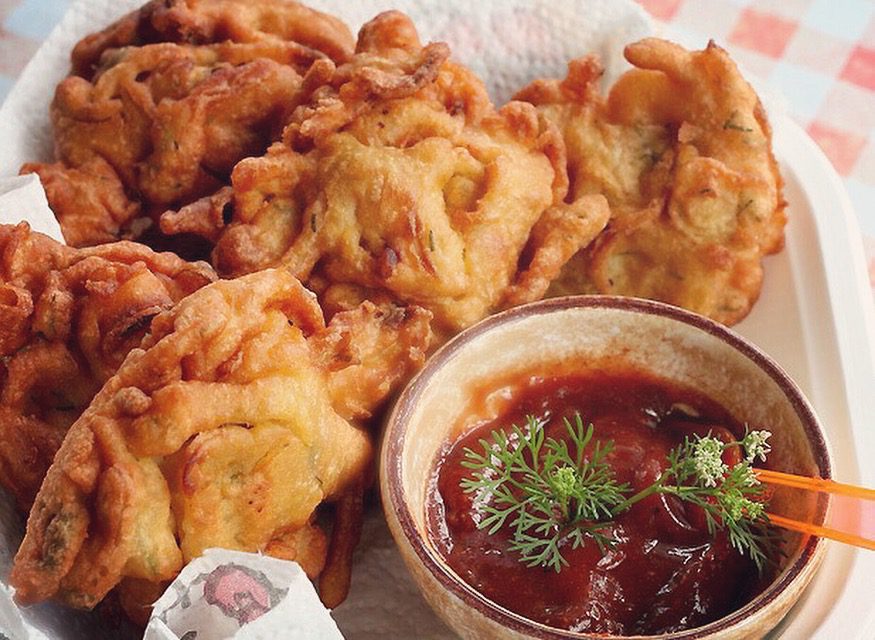 Mixed vegetable pakoras
(makes 20-25 pakoras)
Ingredients:
2 cups gram/chickpea flour
1 cup lukewarm water
1 teaspoon salt
1 cup roughly diced eggplant*
½ cup diced yellow onion*
1 cup roughly grated cauliflower*
½ cup chopped cilantro*
1 tablespoon chopped mint leaves*
1 teaspoon crushed garlic*
2 teaspoons ground cumin
1 teaspoon ground coriander seeds
1 tablespoon diced green chilli (to taste)*
Sunflower, vegetable, or canola oil (for frying)
Peach Chutney (recipe follows)
Method:

In a large bowl, mix gram/chickpea flour with salt and slowly pour water on top. Mix until there are no lumps and set aside.
Mix your farmer's market vegetables and spices (eggplant through green chilli) in a separate bowl.
Heat oil in a deep frying pan. Pour batter on top of vegetable and spice mixture, mixing thoroughly.
When oil is hot, drop in a tablespoonful at a time of pakora mixture making sure not to crowd the pan.
Deep fry until crisp and golden-brown on all sides.
Remove the pakoras with a slotted spoon and place on a paper towel to absorb excess oil.
Serve hot with peach chutney (recipe below).
Notes:
For a healthier option, bake the pakoras instead of frying by adding ½ teaspoon of baking soda and baking for 20-25 minutes at 350C.
You can substitute with any seasonal local vegetable, including zucchini, carrot, and spinach.
Savoury peach chutney
(makes 2 cups of chutney)
Ingredients:
¼ cup cider vinegar
¼ cup loosely packed brown sugar
2 tablespoons raw honey*
1 jalapeno pepper, seeded and diced*
1 cup diced white onion*
1 tablespoon finely chopped garlic*
1 tablespoon grated ginger*
1 teaspoon ground cumin
¼ teaspoon cinnamon
Pinch of ground cloves
½ teaspoon salt
1 lb. peaches, pitted and quartered*

Method:
Bring vinegar, sugar and honey to a boil in a pot over medium heat.

Add the remaining ingredients except the peaches and simmer covered for 10 minutes.

Add the peaches and simmer uncovered for 15-20 minutes on low.

With a wooden spoon, break down the peaches. If still firm, allow to cook for a few more minutes.

Remove from heat and cool for 15 minutes.

Serve at room temperature with the mixed vegetable pakoras (recipe above).

Transfer the remaining to an airtight jar and store in the fridge for up to 1 month.

Notes:
You can savour the peach chutney with toast, grilled chicken, or on top of baked brie – the options are endless!
Ontario peaches are available from July through September. You can try this recipe with different seasonal fruits such as cherries or pears.
If you love the Greenbelt as much as we do, show it some love!